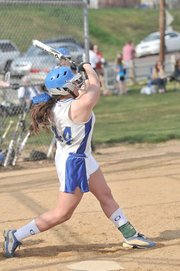 Arlington — Bishop O'Connell catcher Jillian Ferraro's talent for hitting softballs helped her earn All-American status and a scholarship to play for the University of North Carolina. On Monday afternoon, however, it was a swing-and-a-miss by Ferraro that could help the senior become an even better hitter.
Ferraro struck out leading off the bottom of the third inning against Elizabeth Seton, a game Bishop O'Connell would win 12-0 in six innings. It was the first time Ferraro struck out in a Knights uniform since her sophomore season in 2011. She was upset at first, later saying she had tears in her eyes. But after the game, Ferraro said she will likely benefit from no longer having to think about keeping alive her streak.
"It's hard … you probably saw tears in my eyes — I get really mad," Ferraro said. "But tomorrow I'll wake up and probably, honestly, feel better. I did feel pressure. … You do think about it."
In her final at-bat of Monday's game, Ferraro ripped a single to center field.
"After a while you're like, OK, when's it coming? When's it coming? I could tell my swing started to get very mechanical trying to just hit the ball," Ferraro said. "Once I struck out, the last time I went up to bat I looked at my bat and I just said, believe, and it's time to hit the ball, and I hit the first pitch probably harder than I've hit any base hit this season [that wasn't a] home run.
"Now that's not in my head anymore. I could strike out 10 more times or I could not strike out again. At this point, I've broken the streak."

— O'Connell senior Jillian Ferraro
"Right now I'm either pretty much missing the ball a little bit or hitting a home run. Now I feel like I'm going to be able to get back into my groove. Honestly, the game before [Wednesday's contest against] Stone Bridge, that works out for me. It's a big game. Now that's not in my head anymore. I could strike out 10 more times or I could not strike out again. At this point, I've broken the streak."
Ferraro being a power hitter makes the streak even more impressive. Last season, she batted .542, tied her own school record with eight home runs and knocked in a school-record 55 RBIs — all without striking out. This year, she's hitting .433 with five home runs and 25 RBIs in nine games. She finished Monday's game 2-for-4 with three RBIs.
O'Connell head coach Tommy Orndorff said Ferraro striking out could help the team down the road.
"[During last year's] state final, she was just trying to put the ball in play so she wouldn't strike out," Orndorff said. "She was like 0-for-3 and didn't give us anything. I think in the long run, that will probably work out better for us."
Ferraro was already putting up big numbers this season. No. 44 not facing the pressure of avoiding a strikeout could be downright scary for opponents of an O'Connell team that has been nothing short of dominant in 2013. With Monday's victory, the Knights improved to 9-0 and have outscored opponents 112-1. O'Connell is ranked No. 2 nationally in the latest MaxPreps.com top 25 poll.
Another major reason for O'Connell's success is University of Missouri-bound pitcher Tori Finucane. The senior threw her third no-hitter of the season on Monday, striking out 13 in six innings against Elizabeth Seton. Finucane entered Monday's contest with a 0.15 ERA, which dropped after her performance in the circle. She's allowed nine hits and one earned run in 53 innings while walking 12, hitting one batter and striking out 122.
Most of Finucane's success this season came during games played in cold weather. Monday's contest was played in warmer conditions.
Did Finucane notice a difference?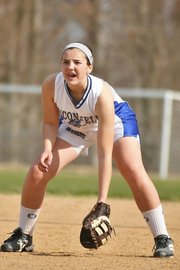 "I can actually move," she joked. "My back was getting really, really tight before. Now I feel a lot looser and the ball is spinning off my hand a lot easier."
Finucane has also been a force at the plate. On Monday, she went 2-for-3 with a double and her fourth home run of the season.
Along with O'Connell's pair of All-Americans, Orndorff said the team is starting to get production throughout the lineup. Against Seton, freshman first baseman Olivia Giaquinto had a pair of hits and two RBIs while batting eighth.
"I felt really good," she said. "… I was pretty confident."
Giaquinto's season average improved to .333. She also has a home run and 12 RBIs. Orndorff said she has the potential to be standout.
"She's kind of raw in some areas," he said, "but she's really starting to pick things up."
Junior second baseman Amanda Ehlers went 2-for-3 with three RBIs and sophomore right fielder Erin Sweeney was 2-for-3 with an RBI.
Bishop O'Connell will travel to Ashburn, Ferraro's hometown, to face Stone Bridge at 6:30 p.m. on Wednesday, April 10. The Loudoun County public school program started 7-0 this season.
"If we're good as everyone says we are, then we'll go out there and we'll play our game," Ferraro said. "It's a test. If we don't deserve the recognition, it will prove tomorrow and that's OK."