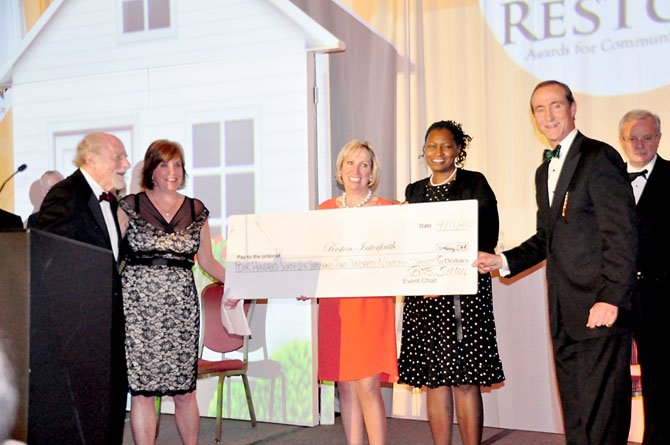 Reston residents came together to pay tribute to their best Thursday, April 11, at the Hyatt Regency Reston. The annual Best of Reston awards recognized individuals and organizations whose efforts make the community a better place.
The event also serves as one of the primary fundraisers for Reston Interfaith, a nonprofit that provides assistance to the less fortunate. The event marked the halfway point of the two-year challenge put out by Reston founder Robert Simon last year to raise $1 million between April 2012 and April 2014, which will mark Simon's 100th birthday.
Photo Gallery
Best of Reston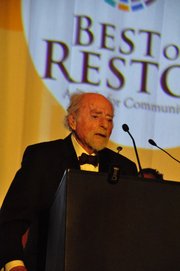 Click Photo for Flash
"The longstanding 22-year relationship between the Greater Reston Chamber of Commerce and Reston Interfaith, between businesses and the nonprofit community, is unequalled in any other community," said Mark Ingrao, president and CEO of the Greater Reston Chamber of Commerce. "Robert Simon's goal of raising $1 million over two years to double the affordable housing stock in Reston, is not only visionary but the right vision for this community."
When the Best of Reston first started 22 years ago, Reston Interfaith owned three houses; now they own 50. They currently serve around 20,000 people per year. This year's event raised $466,293, the highest ever total for a Best of Reston, which puts them well on track to meet Simon's challenge.

"Robert Simon envisioned a place where neighbors understood the importance and dignity of each individual," said Kerrie Wilson, CEO of Reston Interfaith. "Or foundations are firm and holding strong, and in every corner of this room are the people who sill stand to make a difference."
The Robert E. Simon award was created in 2009 to honor past Best of Reston winners who have continued to serve their community.
Bill Bouie, a board member of the Fairfax County Park Authority who has also served on the Reston Community Center, Reston Hospital Center and Wolftrap Foundation for the Arts boards, as well as with the Initiative for Public Art Reston, was named this year's winner.
"It's certainly an honor, and I'll continue to serve as long as I can," he said. "I've learned that if you have the opportunity that someone presents to you, just remember to say yes."
This year also marked the debut of the Vade Bolton-Ann Rodriguez Young Leaders award. Named after two longtime community volunteers, the award went to Amanda Andere.
Andere serves as executive director of FACETS, a local nonprofit, as well as on the Reston Association Board of Directors, Fairfax-Falls Church Partnership to Prevent and End Homelessness and others.
"She's so knowledgeable in so many areas and people want to learn from her, to know what she thinks about things and how she feels about a situation, how she would address something," said Meredith Hovan, director of Resource Development at PRS, a local nonprofit that serves people with disabilities.
Andere credited her faith for inspiring her to serve, and dedicated the award to the people around her.
"This award is not about me. It's about the people in my life who love, encourage and inspire me to live in the service above self," she said.
Doug Bushee was recognized with the individual community leader award. A Restonian since 1999, Bushee founded the CORE Foundation, which assists private and public groups with fundraising. CORE has helped found the Reston Spring Triathlon, another Reston Interfaith fundraiser, as well as the Reston Youth Triathlon.

"I do this for my children. They're the reason I serve. I want what we all want, to make this world a better place for them," Bushee said.
He is also active in Reston Little League.
"Coaches have the ability to be huge role models for the kids, and Doug is always a positive one for the kids," said Chris Brasco, parent of a Reston Little League player.
Ed Robichaud was recognized as being "the energizer volunteer," because he keeps going and going and going. A former airline pilot, he is active in the Reston Historic Trust, the W&OD Trail Safety Patrol, the Reston Bicycle Club, Herndon-Reston FISH and the Travelers Aid Society.
"Every organization Ed is a member of, you can bet your life that Ed will do a fantastic job. He's very unassuming and gets the job done in such a professional manner," said Ellen Graves, a board member of the Reston Historic Trust.
Robichaud also plays violin in the Reston Community Orchestra, teaches computer classes at the Reston Community Center and serves as vice chair of the Reston Association's Elections Committee.
"When we have a meeting and we're deciding on a program or event project, everyone sort of turns around at once and says 'Where's Ed?'" said Vicky Wingert. "And Ed always quietly nods and says 'yes,' and the job always gets done."
As if his credentials were in doubt, Robichaud also took the time to mention upcoming events of Giving Circle of HOPE, Reston Museum, Reston Orchestra and Herndon-Reston FISH, all organizations he is involved in.
May Bernhardt, owner of Mayflowers, a floral studio at Reston Town Center, was given the small business leader award. Bernhardt's shop is the top performing retailer in Reston Town Center, and she is well known for donating pieces to community events throughout the year.
"You can't have the kind of success she has had without being a great leader. If you've ever been to her shop, you can feel the connections that team has, they work very closely together," said Joe Ritchey, a longtime friend.
Bernhardt also organized the Reston Town Center Walk to End Homelessness in 2012, which raised almost $6,000 for Reston Interfaith. She is planning to expand the walk for this year.
Several local organizations were also honored. The Friends of the Reston Regional Library was given the award for civic or community organization. The group was founded in 1972 and features more than 250 volunteers.
"They process over 80,000 books every single year, that's 80,000 donations, individually looked at and decided it they're appropriate, if they go to the library collection, a sale, and they help generate more than $120,000 per year in proceeds for the library," said Andrew Pendergrass, the branch manager. "They've been critical in enhancing the technology in the library as well."
"For the longest time, I thought the Friends of Reston Library Book Sale was a way for people to get books inexpensively, one of the best ways to encourage literacy," said Brian Jacoby of the friends. "It is, however, how we fund vital programs at the library, which is important now because of budgets being slashed."
YMCA Fairfax County Reston was also recognized as a community organization, due to their support for at-risk youth through camps and after school programs at Dogwood Elementary School, through grant money.
"Just this past year the grant was terminated by the government. And Gene Jones sat at the board meeting and announced, 'that's alright, we'll fill the void, we'll figure out how to get the extra $250,000 because these kids need us," said Karen Cleveland, founding chair of the YMCA Reston. "Scholarships are given for pre-school, fitness, summer camps and co-memberships to the YMCA. All of that money is raised form the private sector so we never have to turn any one away."
This year's corporate business leader was John Marshall Bank, which located it headquarters in Reston in 2012. Bill Ridenour, president of the bank, said Reston has been an ideal choice for their headquarters.
"Even though our company has been in Reston since 2012, many of us have participated in activities here for many years," he said. "We enjoy being in Reston, we enjoy participating in as many events as we can, to participate in our community."