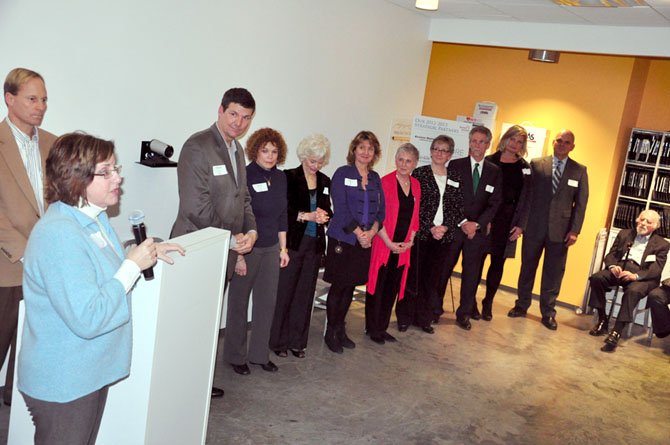 Reston — Four individuals and four organizations were named Best of Reston for 2012 at Google's Reston headquarters Thursday. Feb. 2. The annual awards, which are awarded to those who serve their community, will be given at the 21st Best of Reston Awards April 12.
"We're celebrating the people and businesses who make our outstanding community," said Valerie Novak, one of this year's co-chairs.
The individuals recognized were Janet and Vade Bolton, as well as Boofie and Joe O'Gorman.
Janet and Vade Bolton have volunteered with Reston Interfaith since 1985. They have also served with such groups as The Closet, the Embry Rucker Community Shelter and more.
Vade passed away in December, but Janet has continued her volunteer activities, serving at the FACETS Hypothermia Prevention Program, and a captain for the Reston Sprint Triathlon.
"They have been partners in a mission to make our community a fair, just and compassionate place. They honor the dignity of each individual with whom they work and advocate for big picture changes in the way we address homelessness in our community," said Judy Redpath, chair of the selection committee. "They are known for challenging and for inspiring everyone around them to serve."
The O'Gormans got their start in coaching their children's athletics, with Joe coaching basketball and soccer and Boofie serving as president of the Reston Swim Team Association. For the past five years, they have supported up to 30 Fairfax County police officers and firefighters in the annual Reston Triathlon.
"They bring new vitality and leadership to organizations as diverse as the Reston Triathlon, the YMCA Fairfax County-Reston, Reston Interfaith and Wolftrap," Redpath said. "Their philosophy of giving back has been embraced by their two daughters, and has had a ripple effect in this community."


Best of Reston
The following individuals and organizations were named Best of Reston for 2012.
Janet and Vade Bolton, "volunteer champions changing the odds for people in need in Fairfax County."
Boofie and Joe O'Gorman, "steadfast to the Reston vision of a place to live, work, play and serve for generations to come."
Graceful Spaces, "providing a graceful transition from homelessnes to home ownership."
Reston Little League, "teaching all-American values through an all-American game."
Wee Play, "channeling a fun, caring and positive environment to our community's children."
Dominion Power, "powering the community with volunteerism and corporate philanthropy."
The winners will be recognized at the Best of Reston awards on Thursday, April 12 at the Hyatt Regency Reston.
LOCAL ORGANIZATIONS Graceful Spaces and Reston Little League won the Civic and Community Organization Award.
Jean Boston, Karen Hale and Anne Strange, who run Graceful Spaces, use their skills to assist families in need.
"These three long time Restonian women utilize their talents and their love for interior design and feng shui to assist families to regain self-sufficiency as they transition from living in a shelter to home ownership," Redpath said. "They integrate simple living with style, charm and environmental stewardship."
Reston Little League consists of more than 700 boys and girls, and has seen its share of success on the field, with one of their teams winning the Virginia State Championship in 2011. They have been around for more than 40 years, and feature more than 450 parent volunteers who serve as board members, umpires and coaches.
"At the core of their mission is love of baseball, respect for community and teaching lessons of sportsmanship," said Mark Ingrao, chair of the Greater Reston Chamber of Commerce. "Regardless of skill level or ability to pay, this volunteer organization has offered boys and girls the chance to play baseball for 40 years."
Wee Play was awarded the Small Business Leader for this year. It consists of a 3,000 square foot gym and indoor playland for children, and owner Kathy Brennan opens the studio weekly to students at the Laurel Learning Center and children at the Embry Rucker Shelter.
The Corporate Business Leader for this year was Dominion Power, for their corporate philanthropy efforts. They support the Girls Excelling at Math and Science program at Dogwood Elementary School, the Future Renewable Energy Effort project at Rachel Carson Middle School and contributed a $10,000 grant for clean up projects along the W and OD Trail.
"We are very fortunate to live in a place where there are so many people and so many good works to nominate," Redpath said.


THE EVENT will raise money for Reston Interfaith, and this year's goal is $400,000. As of Thursday's event, they had raised $215,000. More information on the event can be found at www.restoninterfaith.org.