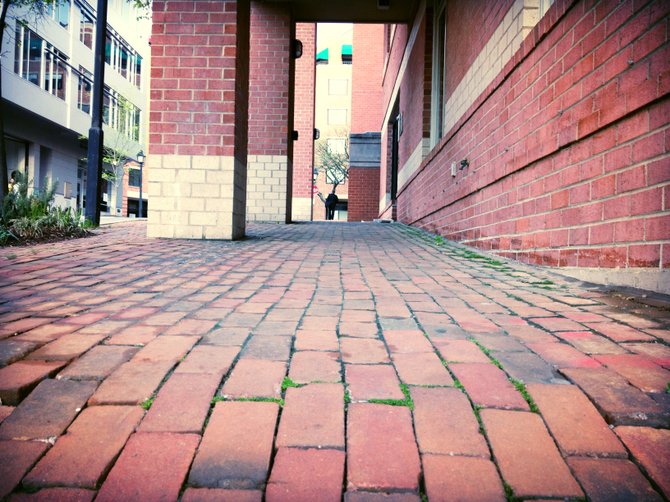 They may be charming, but many people say Alexandria's brick sidewalks have become a dangerous burden. Now they are asking City Hall to do something about it.
"I was with my 19-year-old niece here in Old Town yesterday, and she tripped," said former School Board chairwoman Mollie Danforth. "So it isn't just older disabled people who have problems."
Last weekend, Danforth spoke to City Council members in her capacity as a member of the Commission for Persons with Disabilities. Along with members of the Commission on Aging, the coalition is calling on City Council to pave the way for a new policy on brick sidewalks. Together, they are calling for action now, before new brick sidewalks are created along in the Eisenhower Valley and near the Braddock Road Metro.
"Any rough textured surface for sidewalks is an inconvenience at best and a safety hazard at worst." said Bob Eiffert, a member of the Commission on Aging. "They become maintenance nightmares with holes, dips and rises throughout."
OLD TOWN IS ALREADY full of brick sidewalks in the historic district, a feature dating back to the earliest days of the city as a colonial seaport. Nobody is asking for all those historic bricks to be removed. For members of the coalition, the concern is future development. The East Eisenhower Small Area plan calls for several new brick sidewalks, for example. And the Braddock Small Area plan calls for new brick sidewalks leading to the Metro station.
"I don't know what the answer is because brick is a big part of Old Town," said Vice Mayor Allison Silberberg. "But we should discuss it."
The issue has been gaining momentum for years, and recent projects have included a discussion of the issue. When council members considered a development special-use permit for a new hotel at the intersection of Prince Street and Daingerfield Street, for example, council members called for a concrete sidewalk with decorative brick banding at the edges.
"We are pursuing that in every area we can," said Councilman Paul Smedberg. "But we need to consider codifying it."
DANFORTH CALLED on City Council members to adopt a policy similar to one in Boston, which calls for a moratorium on new brick sidewalks. The Bean Town policy says existing concrete paving cannot be replaced with brick, although brick outside a minimum five-foot-wide concrete travel path is allowed. Although existing brick sidewalks can be repaired, old pavers must be replaced with wire-cut brick.
"I know I had an exciting walk from the back City Hall to the front this morning over the rough brick," said Danforth, who suffered a stroke several years ago. "I would love to be able to get around better, especially in the winter."
Danforth pointed out that the Americans with Disabilities Act requires Alexandria sidewalks to have a five-foot wide continuous smooth surface for walkers — a requirement that many sidewalks will probably never meet. For new construction, though, Danforth says that city leaders should adopt a policy of having decorative brick on the outside of a five-foot wide smooth surface.
"You can count on me to help you as we proceed with this," said Councilwoman Del Pepper, who is known for her preference for brick architecture.
CITY OFFICIALS say they will look into the issue and prepare a memorandum for City Council members, who may end up considering the issue as a docket item or taking up the matter in a work session. That means future brick sidewalks may be dismantled before the mortar is mixed.
"There are ways that I think we can address the aesthetics and balance the form and function issues," said Rich Baier, director of the Department of Transportation and Environmental Services.