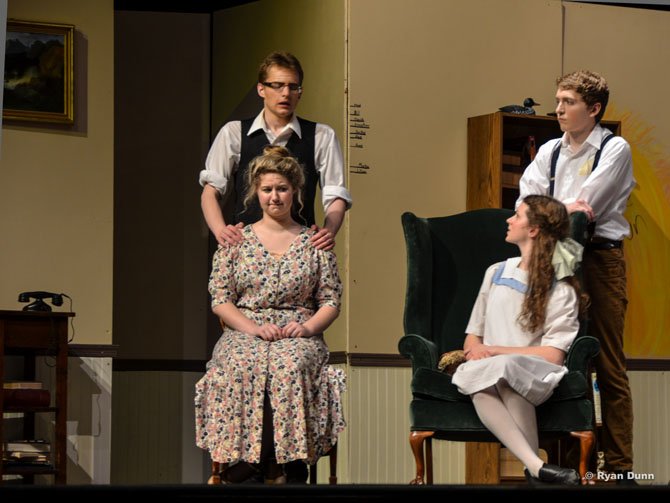 When Herndon High School theatre director Zoe Dillard was selecting plays for the 2012-2013 theatre season, she did not expect she would be choosing "Cheaper By the Dozen." "It was a shift for us," said Dillard. "It was an alternative to Thornton Wilder's 'Our Town.'"
The plays share some similarities. They are both set in 1920s America, and are "straight plays," not musicals.
Dramatized by Christopher Sergel, "Cheaper by the Dozen" is the story of the Gilbreth family and how they cope with some changes familiar to many families. "I think it is a heartwarming, humorous family production, people will often recognize some part of their family in it," said Dillard. "This was a memory play, and an American story, very nostalgic. It fit in with this season's theme, a season of reflection."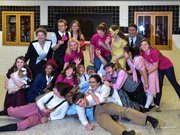 "There was a lot of hard work put into this production," said Alissa Clayton, Herndon High student and lighting technician for the show. "I think it really helped the show go smoothly."
From Thursday, April 18, to Saturday, April 20, the Herndon High School Theatre team produced the play before audiences at Herndon High School. The role of Mr. Gilbreth was played by Chris Hrozencik with Paul Morgan as understudy. "I thought of the play as a dense comedy," said Hrozencik. "I have been in theatre productions since third grade, and in high school, plays since freshman year," said Hrozencik. "My character, Mr. Gilbreth, just wants to convey the idea of being a good parent, not breaking down and just staying strong."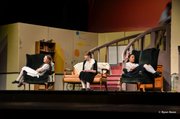 Megan Overton played Anne, one of Mr. and Mrs. Gilbreth's daughters. "I identified a lot with Anne from my personal experience," said Overton. "The play is a drama, it has its funny parts but it is kind of sad." Overton, now a senior in high school, has participated in high school theatre since her freshman year. "I hope to go into musical theatre."
The next and final production of the year for Herndon High School Theatre will be William Shakespeare's final masterpiece, "The Tempest." Play dates are May 31 and June 1.