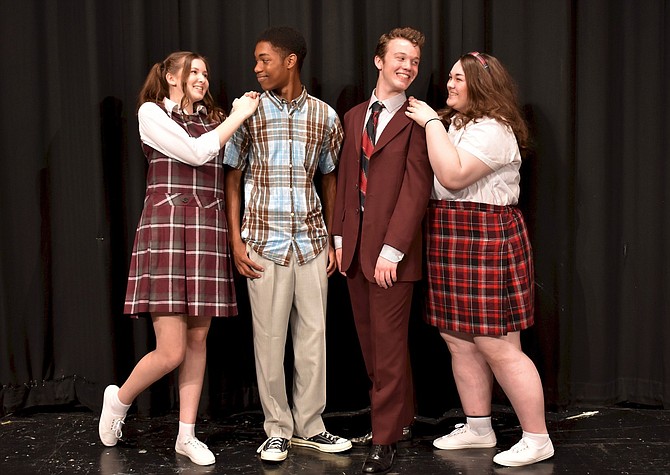 Good morning, Baltimore. It's 1962, and overweight white teen Tracy Turnblad is thrilled when her dancing talent lands her a spot on the Corny Collins TV show. But, bothered by the fact that black teenagers can only be on the show once a month, she decides to integrate it.
That's the premise of Westfield Summer Stage's upcoming musical, the iconic "Hairspray," at Westfield High. Show times are Friday-Saturday, July 20-21 and July 27-28, at 7 p.m.; and Sunday, July 22, at 2 p.m. Tickets are $15 at the door or via www.westfieldtheatre.com.
With a cast and crew of 70, the show includes students from 10 different schools in Fairfax and Loudoun counties. And, said Director Rachel Harrington, "The thing that impressed me most is that they're quick learners. In the first week of rehearsals, they picked up half the dances — and they're not easy. They're also multi-talented, from tap dancing to singing to becoming these crazy characters."
The scenes take place on the Baltimore streets, in Tracy's home and at the TV studio. And both the set and costumes are designed to be colorful and eye-catching. "We also have a lot of fun hairstyles — because it is 'Hairspray,'" said Harrington.
"The show's humor is heartwarming and charming and is something the whole family can enjoy," she continued. "And the heavily choreographed dance numbers are a spectacle to watch. In my opinion, seeing this show is the best way to spend a summer night."
It also packs a powerful message, said Harrington, that "We're not different from each other. We all have people we love. And once we can find those similarities, we can all work together toward the same goal."
Playing Tracy is South Lakes High senior Meredith Kilmartin. "She's bubbly and excitable," said Kilmartin. "Her fairytale dream is to dance on the Corny Collins Show and have its singer, Link Larkin, fall in love with her. She's a caring person who doesn't notice her size as much and believes that nothing can ever stop her."
Calling this her "dream role," Kilmartin said, "My mom and grandmother lived through desegregation in Alabama, so this show means a lot to me. And there aren't lots of big people in media, but what makes Tracy the hero isn't that she's fat — she's a real person who cares about others."
Her favorite song is "You Can't Stop the Beat" because "It's such a big, dance song and is so happy. And it really brings everyone together." She said audiences will enjoy seeing the actors' easygoing chemistry with each other and "Our dancing will wow them. They're going to love this show because it's amazing and inspiring and still means something today."
Westfield junior John Henry Stamper portrays Link. "He has good intentions, but is pretty naïve," said Stamper. "He's hesitant to get into a relationship with Tracy because he's afraid it'll negatively affect his career. He wants to make it big and look good for the talent scouts. He's a pretty-boy crooner, and Tracy's progressive and outspoken. But eventually, she starts to rub off on him and he changes his views."
Stamper says it's "a blast" playing Link. "He's filled with personality, but only on screen. And I get to do a lot of dancing." Stamper especially likes the number, "Without Love," sung by the story's two couples, Tracy and Link, and Penny and Seaweed. "It's where Link embraces his relationship with Tracy," he said.
"Hairspray" will appeal to the audience, he said, because "It's high-energy and everyone's having a good time. And the choreographers, Josh Nixon and Jonathan Faircloth, did a fantastic job all with the dances. But it also deals with topics that were prevalent then — racism and the cultural division between white and black communities — and are back again now."
Playing Penny, Tracy's best friend, is Kaya Trippel of Ashburn's Briar Woods High. "She's sheltered, her mom's really controlling and she wants to break out of it," said Trippel. "She's shy and nerdy at first, but eventually becomes more confident. It's fun and interesting because she goes through such a big transition. And she has lots of funny lines and good singing moments."
Trippel's favorite song is "I Can Hear the Bells." "Tracy's singing about how Link bumped into her, and now they're going to 'get married," she said. "It's so relatable." Calling the show "vibrant and full of life," Trippel said, "We've been working hard, and people will really enjoy it."
Westfield junior Jalin Dew portrays Seaweed, the black love interest of Penny, the daughter of a bigoted, white woman. "He's a gigantic flirt, very charismatic, but there's also something deeper," said Dew. "With his skin, he's always trying to prove himself. Since it's the 1960s and the height of the Civil Rights movement, race was a sensitive subject for people of all colors. So people are constantly discriminating against Seaweed in their daily lives, which makes it a lot harder for him."
Dew loves his role and getting to interact with everyone onstage in a happy and energetic manner. Furthermore, he added, "I have to tell Seaweed's story in the best way possible because it's relevant, not only to the '60s, but to today, as well."
He especially likes his song, "Run and Tell That," and believes it's the most upbeat and fun number in the whole musical. "The music and dancing are fast and happy," said Dew. "But at the same time, the words hold a heavy weight because Seaweed's singing about being comfortable in your own skin and proud of who you are."
Indeed, he said, the show's message is its most important part. "People should love each other as if they were your brother or sister, no matter what they look like," said Dew. "And it's important, especially in our time, to people of all ages."
Playing Tracy's mother, Edna, is Briar Woods senior Benji Lord. "She's timid, kind of confused and not ready to accept the fact that being big is OK," he said. "But when she does accept herself as overweight, she isn't sure others will. She's funny without knowing it and loves her husband and daughter. Tracy helps her get out of her shell, and she tries to protect Tracy from getting hurt."
"This has been a dream role for me, for so long," continued Lord. "I'm comfortable with the makeup, and this part allows me to work on my comedic timing — and my ultimate goal is to bring the audience happiness and make them laugh."
His favorite number is "Timeless to Me," which Edna and her husband sing to each other. "It's funny and tender," he said. "It shows the loving relationship between them and how supportive they are of each other." Overall, said Lord, "People will like this show's humor and the different views it presents. We take the audience on a journey; but in the end, we all come together and show that 'You can't stop the beat.'"