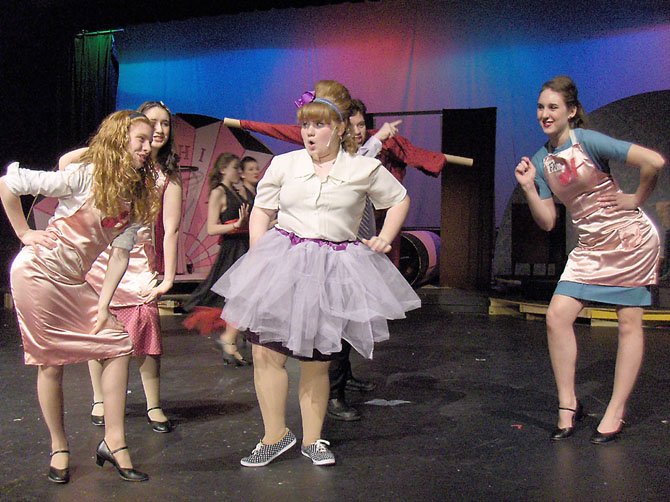 It's time to turn back the clock to an era of big hairdos. Robinson Secondary School's production of Hairspray tells the story of a stout girl named Tracy, who is out to pursue her dreams of being on TV. Tracy's dreams come true when she is cast on "The Corny Collins Show," but she quickly decides that her new dream is to integrate TV so that she can dance with all of her friends. With bold characters, fun songs, and cans upon cans of hairspray, this production is a spectacle not to be missed.
Tracy Turnblad (Hannah Sikora) uses her pep and smile to charm the audience and make them cheer for her throughout her journey. Accompanying Tracy through the ups and downs is Link Larkin (Jamie Green), a slick and talented singer who quickly falls for Tracy. His portrayal of a suave teenage boy was enough to make any girl swoon.
Tracy's best friend Penny Pingleton (Katie Rogers) is a sweet and innocent girl whose charming facial expressions and physical comedy captured the audience from the moment she stepped on stage. Penny soon falls for Seaweed J Stubbs (Ivonte Milligan), a black teenager with some killer dance moves. With moves like his, Penny certainly wasn't the only one in the auditorium to fall for him.
Motormouth Maybelle, Seaweed's mother and a powerful black woman, was actually played by a boy, Michael Lamar, which is not traditional. Lamar, however, knew exactly how to play a character in drag. His comedic timing was flawless and he could certainly work those heels! Lamar then proceeded to perform, "I Know Where I've Been," and stunned the audience with his powerful and emotive voice. He was truly incredible.
Of course, there could never be a musical without the bad guys. In this case, Velma (Rachel Van Meter) and Amber Von Tussle (Carys Meyer) use their social status and money to lie and cheat their way through the show. Velma, the producer of "The Corny Collins Show," was absolutely despicable; yet at the same time a very likeable character. Velma's vocal expression was spot on, and her true evil shined through.
The costumes were very accurate to the 60s, incorporating colors and patterns that have since gone extinct. There were a few breaks in uniform, but the job they did reviving the 60s was impressive.
This production was lucky enough to have a pit orchestra, and a very good one too. They were precise and consistent throughout the whole show. A pit should add to the show, and that is exactly what this pit did.
Overall, the show was peppy, colorful and fun. Bravo for a job well done.