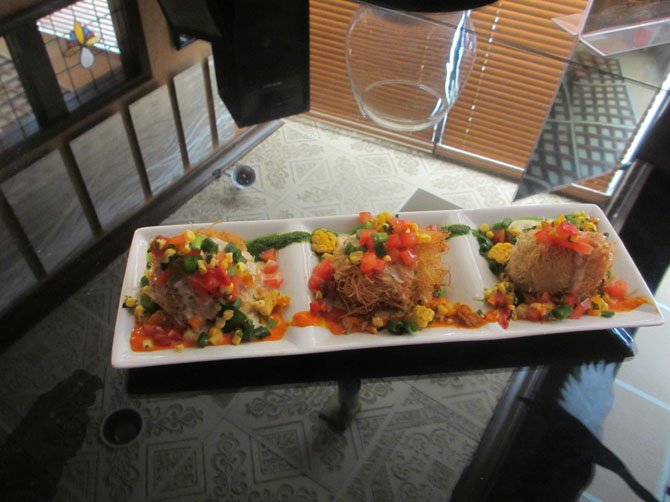 VVFD Taste of Vienna at-a-glance
Saturday, April 28, from 11 a.m. to 8 p.m. Grounds of Vienna Volunteer Fire Department, 400 Center St. South, Vienna. The outdoor food festival takes place rain or shine. Thirty local restaurants participating. Admission to Taste of Vienna is free but food vendors sell their samples.
Free bounce house for children. Face-painting available.
Live entertainment schedule: 12 noon, Tom Lohrmann; 1 p.m., Overland; 2 p.m, Natalie York; 3 p.m., Natalie York; 4 p.m., Terry Lee Ryan; 5 p.m., School of Rock; 6 p.m., Shenandoah Run; 7 p.m., Overland.
Proceeds from Taste of Vienna benefit the Vienna Volunteer Fire Department.
For more information on Taste of Vienna, see http://www.tasteo...">www.tasteofvienna....
You'd better hit the gym now if you want to prepare for the Vienna Volunteer Fire Department's [VVFD] first annual Taste of Vienna food festival, scheduled on April 28. Thirty of the Vienna area's most popular restaurants will set up tented tasting tables on the grounds of the VVFD from 11a.m. to 8 p.m. Food vendors sell and set their own pricing for samples.
"We saw an opportunity to have another small-town community event," said Taste of Vienna Chairman Anthony Stancampiano, a 2001 James Madison High School graduate. Stancampiano is a Fairfax County police officer by career, a VVFD volunteer EMT in his parallel universe. "This is a fun community event that benefits the fire department."
Food vendors pay a fee for participation. Net proceeds from contributions from corporate sponsors, participants' fees, beer and wine sales, and the 50-50 raffle will go toward the purchase cost of VVFD's new fire truck, on delivery for late fall of 2012, costing the Vienna station over a half a million dollars.
The Virginia Department of Alcohol Beverage Control gave VVFD, a nonprofit, a one-day permit to sell wine and beer.
It was about a year that Stancampiano was at lunch with other members of the VVFD, brainstorming on fundraising opportunities that were community-centric. Stancampiano considered the size of VVFD's parking lot and its potential. Towns nearby to Vienna have food-focused festivals, such as Reston's Taste of Reston. Vienna has a small-town community feel but it has nothing like a "taste of," Stancampiano thought. By June of last year, Taste of Vienna was taking shape and the committee of about ten people have been building partnerships since then.
Counting in the thirty Taste of Vienna restaurants scheduled to participate are Alegria, Bazin's on Church, Caffe Amouri, California Tortilla, Chef Geoff's Tysons Corner, Church Street Pizza, Crepe Amour, Culinaria Cooking School, Donatos Pizza, Famous Dave's BBQ, Kabob Tavern, La Sandia, Maple Avenue Restaurant, Maplewood Grill, Noodles & Company, Outback Steakhouse, Panache Tysons, Peking Express of Vienna, Pure Pasty Co., Purple Onion Catering Co., Robek's, Silva's Patisserie, Sweet City Desserts, Sweetleaf, Tara Thai, Tequila Grande Mexican Café, Turmeric, Vienna Inn, Whole Foods Market, and Yirasai Sushi & Grill.
The Taste of Vienna presenting sponsor is Northern Virginia Magazine, and corporate sponsors include Navy Federal Credit Union, Trans National Replacements, and The Business Bank. The festival sponsor is Viva Tysons Magazine, and wine sponsor, Vienna Vintner.
Stancampiano and colleagues are already looking into possibilities for expansion next year. Close Cherry Street for adding food vendors? They're considering that …
"My vision for this down the road is to see the 50th annual Taste of Vienna, to start a tradition celebrating the many excellent and diverse restaurants the Vienna area has to offer," said Stancampiano.
The Vienna Volunteer Fire Department Taste of Vienna fundraiser runs Saturday, April 28, from 11 a.m. to 8 p.m. in the parking lot of the fire department at 400 Center St. South, Vienna. Cherry Street, abutting Waters Field, will be one-way. Turns from Center Street on to Cherry Street permitted. Parking in the immediate area will be scarce. The outdoor event will run as planned rain-or-shine.
Proceeds from Taste of Vienna benefit the Vienna Volunteer Fire Department. For more information on Taste of Vienna, see www.tasteofvienna.org. You can follow and "like" Taste of Vienna at
https://www.facebook.com/tasteofvienna/info#!/tasteofvienna.