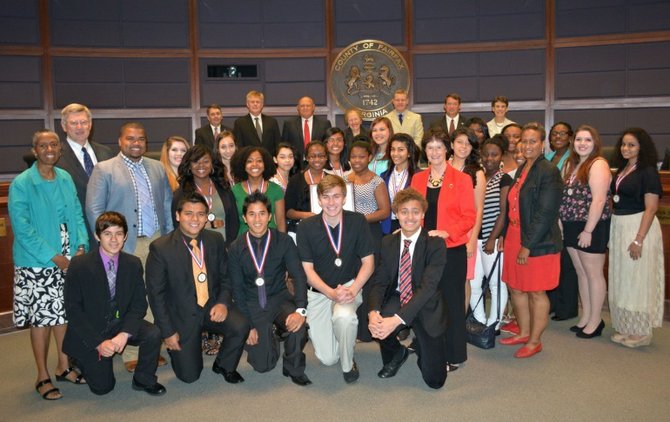 The Fairfax County Board of Supervisors honored the Herndon High School Step Team at its July 30 board meeting for winning the 2013 Youth Step USA National Championship. The team of 24 boys and girls in grades nine through 12 beat teams from around the country at the National Championship held in late May in Harrisburg, Pa. to recapture the national title that it also held in 2011. The step team is the only team in the nation to have won the championship twice. Team coach Gary Bushrod, who was a member of the team while at Herndon High School, was also named Coach of the Year. Faculty co-sponsor Kelly Winningham also was a member of the team while at Herndon.
The team participated in seven competitions this year, leading up to the national event, and won first place in six of them.
Stepping is a percussive dance performance in which the participants' entire body is used as an instrument to produce complex rhythms and sounds through a mixture of footsteps, spoken word, singing and handclaps. It is now practiced worldwide, having been originally developed by African American fraternities and sororities.
"This is a great accomplishment. The team and Coach Bushrod should be very proud," said Dranesville Supervisor John Foust. "This outstanding team practiced tirelessly and demonstrated that they are outstanding athletes and competitors."