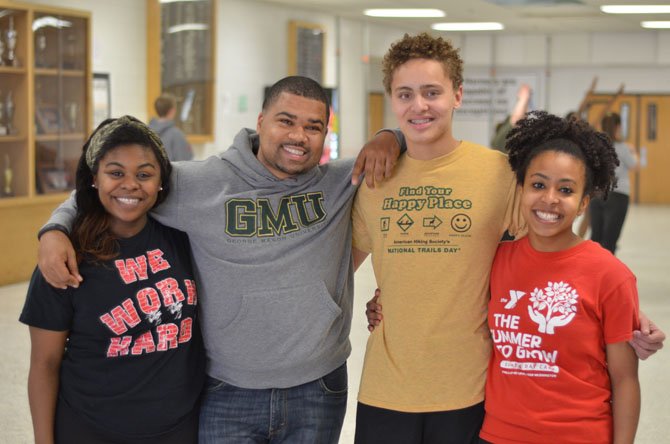 High school step teams from around the area will be arriving at Herndon High on Saturday, Feb. 22 for the annual StompFest. "This will be the biggest event we have ever had," said team captain Hannah Vaughn. The Herndon High step team was founded in 1994, and StompFest has been an annual event for sixteen years.
"We hold it in February in celebration of Black History Month," said Coach Gary Bushrod. Bushrod attended Herndon Middle School and Herndon High, and participated in the step team where he became a team captain. "We get to host the show and will reveal our new uniforms," said Bushrod. "Some of the best step teams in the Washington D.C. area will be competing for cash prizes."
Upon graduation from Herndon High in 2000, Bushrod went on to pursue his bachelor's degree in Business Management at Hampton University, and graduated in 2004. While at Hampton, he was a member of the James Hall Step Team, and choreographed a routine for the Gamma Theta chapter of Alpha Kappa Alpha Sorority, Inc.
Stepping is a percussive dance performance in which the participants' entire body is used as an instrument to produce complex rhythms and sounds. It is now practiced worldwide, having been developed by African American fraternities and sororities. "We invited a lot of step teams to this event," said team captain Sumayya Sulaiman. "We always work hard to live up to expectations."
Since 2009 Bushrod has been an active leader for the Herndon Step Team, but this year will be his last as coach. Later this year he will be departing for New York. During his time as step team coach, Bushrod helped the Herndon High Step Team achieve the 2011 Youth Step USA National Championship, a title reclaimed in 2013.
StompFest will be held Saturday, Feb. 22 at 6 p.m. in the Herndon High School auditorium. Admission is $10 and the doors open at 5 p.m.