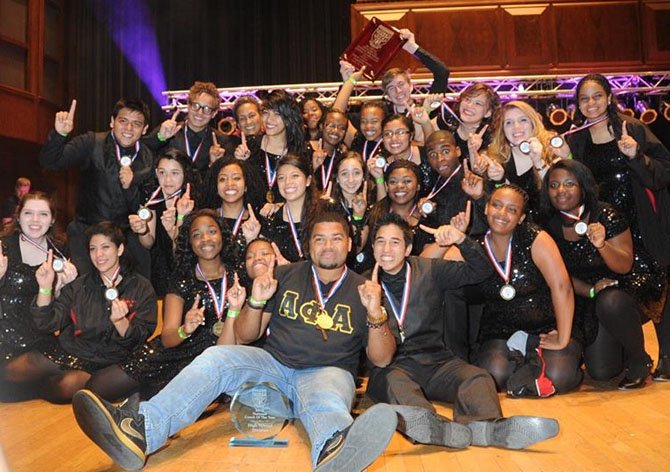 Herndon — The Herndon High School Step team stood onstage holding hands, waiting anxiously for the results in the 2013 Youth Step USA National Championships Saturday, May 25. As the names of the top five finishers started coming in, coach Gary Bushrod started hearing every name but theirs.
"As they counted down the top five teams, they kept reading the names of the teams we knew we were fighting for the number one spot," he said. "I knew we had either won or done very poorly."
The former turned out to be true, as the Herndon High team won its second national championship with a score of 394 out of a possible 400. Kelly Winningham, the team's sponsor and a counselor at Herndon High School remembers the moment when Herndon was announced as champion.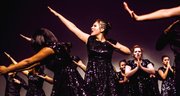 "I was so nervous for them, just watching their faces," she said. "And when the announcement was made, I just started crying. I felt so happy for them, because I had seen how hard they worked all year for this."
It was the second championship in three years for the team, who won in 2011 and came in second in 2012, losing by a single point.
"Last year's second place finish definitely gave us extra motivation," said junior Sumayya Sulaiman, the team's captain. "We knew how successful we can be, and we came into this year with a lot of new members, so we were ready to work hard."
ONLY NINE of the 24-member team returned this year, and Bushrod said he was expecting more of a rebuilding year.
"Collectively, we all wanted another national championship, and I thought it was certainly a possibility, but didn't count on it," he said. "But over the summer, the captains got in touch with the rising ninth graders, reaching out, hosting practices at home, and it started to show."
Though the team brought back less then 10 returning dancers, the veterans immediately took a leadership role.
"From day one the returning members of the team showed up fully committed and adapted quickly to the new people," Winningham said. "They made time to get together after practice, holding their own practices, and it really paid off with the way they perform together, they blend so well. Nationals was a culmination of that."
Each season starts out at the start of the school year, with practices and performances at Herndon's basketball games, as well as the school's Homecoming pep rally and parade.
"We're together all year, and I think we form a bond that you don't even get with seasonal sports like soccer and football," said senior Juli Diaz-Perez, one of the team's co-captains. "We sit together at lunch, we get together after school, we're very close."
In February, they host Herndon's annual StompFest, which gives them a chance to show off their moves and new routine, but as the hosts, they don't compete.
After StompFest, the group participates in weekly competitions, both locally at other schools and up and down the East Coast.
Sulaiman said her favorite moment of the season was during their first competitive performance at George Washington University.
"Before that performance, we were building the team and watching other teams compete, and now we were up on stage doing what we do best," she said. "That was the moment we were all waiting for, and we did pretty well, which made me very happy."
AS THE SEASON PROGRESSED, Bushrod said he could see the team gaining momentum.
"We won some local competitions and really got our confidence going," he said. "As we started practicing our routine for Nationals, it became a really good show, and the dancers were really intense out there. I could tell then that we would be gunning for a win."
This year was the 15th year Herndon High has hosted StompFest, and next year will mark the Step Team's 20th year at the school.