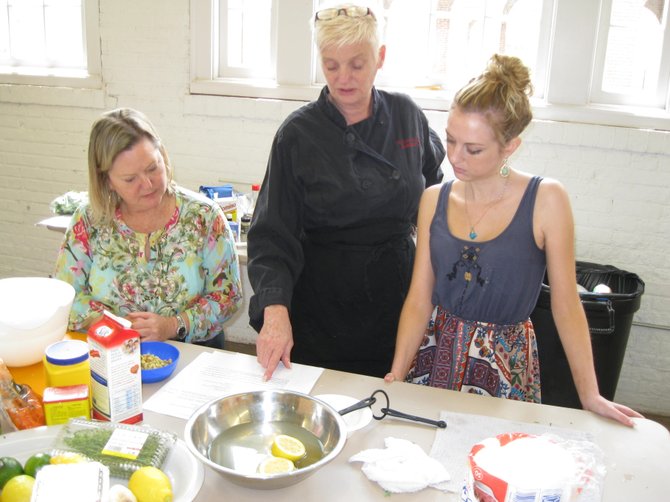 Chef Kathleen Linton, 52, of Lorton teaches culinary arts classes at the Workhouse Arts Center in Lorton—everything from "Cajun-Louisiana Secrets" to "Cooking with Beers" to "Catch the Burger Craze."
Last Saturday, the specialist in Southern and Thai cuisine held a one-day workshop on vegan cooking. The cost was $65/Workhouse member; $75/nonmember, and $25 for the cost of food.
For those who aren't familiar with vegan, Linton explains: "Nothing with a mother. No milk, no dairy, no eggs, no meats and no cheese."
Using a calm, no-pressure-style teaching approach, she added: "My theory on cooking is if you learn the basics, you can cook any type of cuisine at all." And if you make a mistake? "Nine times out of 10 you can correct it."
The menu for the vegetarian class included: tofu and peppers with spicy peanut sauce, stuffed garden zucchini with spinach and walnut pesto, artichoke and tomato bisque, old bay tofu "fish" cakes, and vegan lemon sugar cookies for dessert.
Patricia, 50, and Ken Smalls, 54, of Lorton were learning to prepare artichoke and tomato bisque. "I wanted to eat healthy, and taking a vegan course taught me to do that," said Ken, a program analyst with the OPM in the district.
The class showed proper preparation, cooking and safety techniques—like using the appropriate knife and the importance of using fresh ingredients.
"I always double or triple it when it comes to using fresh herbs," said Linton. "It makes a huge difference with flavor. I always use fresh ingredients, never dry."
This is the first cooking class for Patricia Smalls, an occupational therapist, who learned short cuts like cutting up vegetables all at once. "This is a way to get a variety of different ideas; I've never cooked with tofu before," she said.
This was also a first for Terry Holman, 55, of Lorton, who works at the Department of the Interior. She said she learned some new vegetarian recipes, like soups, and how to do vegetables in a different way. "I'm going to bring a stool the next time," she said. "The tables are too high."
Lynn Boyd, 55, of Manassas attended with daughter Catherine of Lorton. The dental office administrator made recipes using zucchini and tofu. "I was afraid of [tofu]," she said. "I had no idea what to do with it."
Her daughter Catherine, a defense contractor, learned to distinguish between silken tofu and firm tofu as well. What appealed to her was cooking with other students: "I never cooked with big groups before. That was interesting how everybody had a skill and how it came together to make a recipe," she said.
Chef Linton's son Branden, 21, was the designated dish washer during class. He says he's learned a lot from his mom, and considers himself an intermediate chef. His favorite foods to prepare are grilled steaks and burgers. "I like simple stuff, he said. "Whenever we go to the global market, I know what things are used for," he added. He makes a point to say that he's not a total foodie snob—indulging in Sheetz gas station cuisine on occasion.
So how did their recipes turn out? When the cooking finished in about two hours, the students sat down to eat their creations on plastic plates. They could also wrap up the leftovers to take home with them.
"It's just lovely," said Patricia Smalls. "The tofu is quite tasty with the peanut sauce."
Her husband agreed: "I can taste all of the spices and freshness in this bisque. I just love it."
"It's exquisite," said Holman of the colorful veggies. "It's flavorful; it's healthy. It combines vegetables I would never have thought of combining."
One of seven children, Linton learned to cook in her family growing up because that meant she didn't have to clean. She started a catering business at age 18, and received a grant to attend FCTI, a culinary school in St. Augustine, Fla., where she later taught cooking. She's been catering for 20 years and teaching cooking classes for 10 years. Inspired by TV's Julia Child and "The Galloping Gourmet," she even had her own TV show, "Kathleen's Cuisines," in Florida. In September, she'll be preparing dishes at Scripts Organic Café, owned by Janet Dobbs at the Workhouse Arts Center.
Starting this fall, Linton will be teaching classes at the Workhouse, "Healthy Cooking Classes" and "Tour of World Cuisine," which includes "Meet the Mediterranean," "The Flavors of France," "Inspired Indian Cuisine," "German Cooking," "Italian Delights," "Cajun-Louisiana Secrets," "Lebanese Cooking," "Southern Comfort Food," and "Paella and Tapas."
She also teaches private classes and culinary field trips with Girl Scouts for grades 2-11, and for ages 5 and up, "Scary Halloween Treats," "Christmas Cookie Exchange" and "Gingerbread Houses", which have been displayed at Mount Vernon in the past. For Valentine's Day, she'll be teaching ages 16 and up on "Aphrodisiac Appetizers" and "Surprise Your Sweetheart."
For more details, register at the Workhouse at 703-584-2900 or registrar@workhousearts.org; or call Kathleen Linton at 703-626-9490 or email: Sorosky2000@yahoo.com.