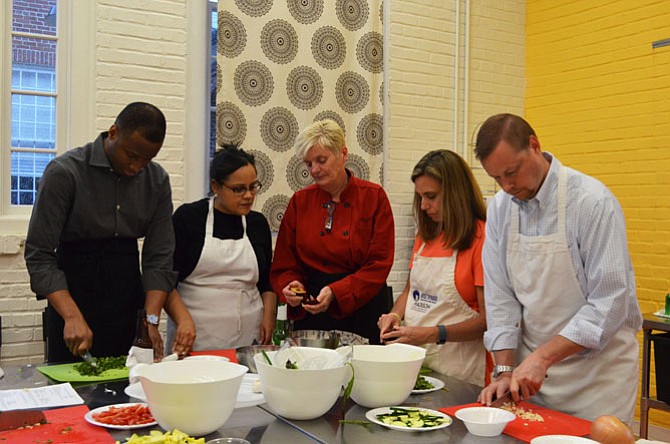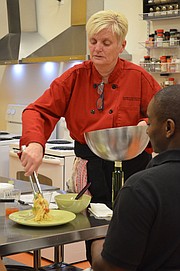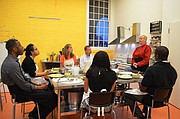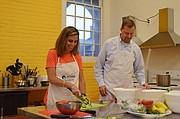 It was Date Night at the Chef's table in Lorton on Saturday, May 16. Three couples registered for a class and learned how to cook a four-course gourmet meal.
Chef Kathleen Linton teaches the cuisine classes at the Lorton Workhouse Arts Center. A Chef for 35 years, she has been teaching at the Workhouse for five years.
"It's fun to see the couples' interaction," said Linton. She teaches multiple classes, specializing in ethnic cuisine such as Thai, Spanish and even Southern. She explains that the Date Night classes are different from general stock class. "I like to teach them why food is cooked in a certain way, the theory of cooking. Cooking is about all five senses, especially smell. If it doesn't smell good than it won't taste good," she said.
The kitchen smelled like watermelon gazpacho as Christian McCarty of Burke arrived. He surprised his wife Kara with the Date Night. "I didn't know what I was doing tonight until we got here, and then I still wasn't sure" said Kara, pleasantly surprised.
Knife skills was the first lesson. Chef Linton went to every student, demonstrating the proper way to hold the knife and cut in a sliding motion.
"Not chopping, sliding," said Linton, scolding Reginald Johnson of Woodbridge. "You told on me," he said jokingly, turning toward his wife Tella Johnson. This date night was a birthday present for Reginald.
With all the vegetables, herbs and fruits sliced and divided the class heads toward the stove, heating the onions and zucchini they labored to cut.
"I do all the cooking in the house," said Kara McCarty while watching her husband cook vegetables for the second course. "We have three small kids, so its not exactly gourmet."
The salad was prepared, the pasta was boiling and dessert slowly roasting in the oven. The last thing to be made before sitting down to eat was a the Plum-Cinnamon-Honey Coolers. Rose and Andre Prince of Reston got that assignment. Together with Linton they blended sliced plums, cinnamon, a huge dollop of honey and two citrus sodas to make the coolers.
"There's little measuring for this drink," said Rose. "It makes me a tad nervous not knowing how much to add."
During dinner the couples talked about their kids. "Isn't it a rule to not talk about your kids when you're out on a date?" asked Rose to the others, producing a round of laughs. All the couples have children at home and enjoyed a night away from the mac and cheese and sauce-less pasta.
After dinner everyone is required to help with cleanup and packaging the leftovers to take home.
"Can you believe you did all that in two hours?" Linton asked as the couples finish cleaning.
Date Night Chef's Table is a two hour event at the Lorton Workhouse Arts Center. Classes are held every month on the third Saturday. Chef Linton also teaches other cooking classes at the Workhouse Arts Center. For more information visit https://reservations.workhousearts.org/Info.aspx?EventID=100.