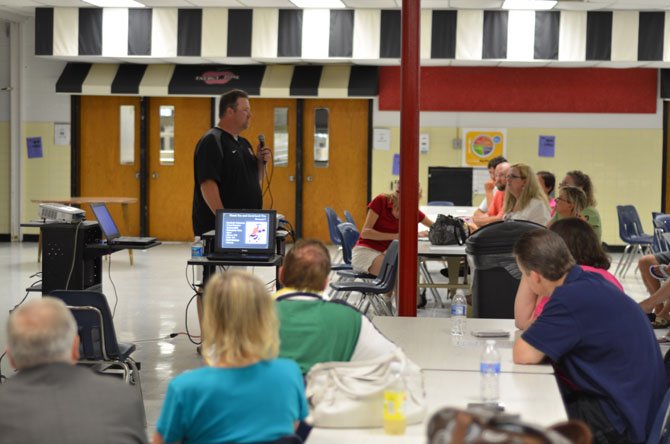 Coaches' Night was held on Aug. 19 at Herndon High School. The coaches of fall sports and athletics for Herndon High School students met with parents at the school cafeteria. "It is an informational session where you get and see who your coaches are and meet other parents," said Jonathan Frohm, director of Student Activities and Athletics.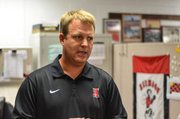 Frohm spoke with the parents and other Herndon High coaches and faculty at the high school cafeteria. "We are in the people business, a bunch of individuals come together to make a team, but it does not just happen," said Frohm. "We have these informational sessions in the fall, spring and winter."
Fairfax County Public Schools go back into session on Sept. 3. The coaches who attended that night were for fall sports such as football, field hockey, cross country, volleyball and cheerleading.
Frohm is a 1989 graduate of Herndon High School and for four years was the assistant director of student activities at Herndon before taking over as the director.
The audience at the cafeteria consisted of more than 100 participants. Frohm shared a slideshow presentation with some general information. Athletic trainer Lisa Petruzzi also came up and spoke a few words. Petruzzi has been employed with Fairfax County Public Schools since January 2001. "The best treatment is rest and hydration," said Petruzzi. "Proper hydration is essential, and we want athletes to aim for a gallon of water a day."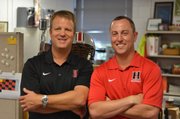 Herndon High was recently recognized as one of the schools which had earned the Safe Sports School award from the National Athletic Trainers' Association. The award recognizes schools that have taken steps to keep their student athletes free from injuries.
"It is a new award, it started last year, and Fairfax County applied," said Petruzzi. "We are excited about it, Herndon was one of the first schools in the country to receive this high level of national recognition for the safety we provide to our students."
To learn more about the sports programs at Herndon High School, visit the webpage at http://www.herndonathletics.org. To learn about the Safe Sports School award, visit the webpage at http://www.nata.org/NR03292013.