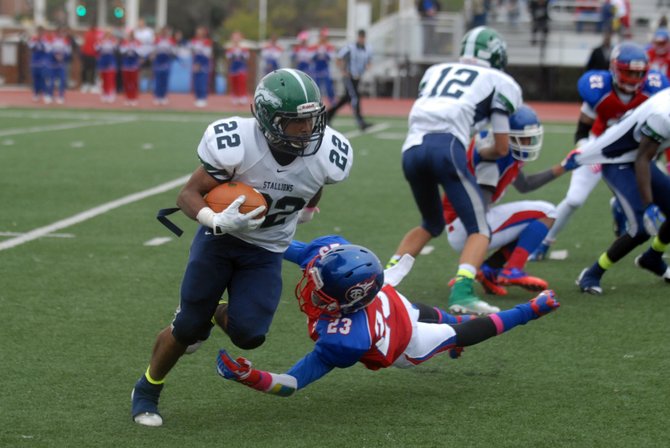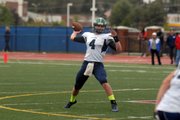 At the conclusion of Saturday's game at T.C. Williams High School, South County football coach Gerry Pannoni voiced displeasure with the Stallions' effort.
"We played undisciplined," he said, "We played sloppy, we didn't play smart."
But they played well enough to win.
In a matchup of 4-1 teams from Conference 7, South County overcame penalties, turnovers and big plays by the Titans to beat T.C. Williams, 44-37. Running back LeVaughn Davis' 22-yard touchdown run gave South County a two-score lead with less than five minutes remaining and the Stallions held off a late TC rally. Trailing by seven points, the Titans drove to the South County 31 with six seconds remaining, but quarterback Darius Holland's pass into the end zone fell incomplete.
South County was flagged for numerous penalties, committed two turnovers and allowed three TC touchdown runs of at least 51 yards. Despite their struggles, the Stallions improved to 5-1 with key contributors Robert Avery (RB/DB), Ed Kargbo (LB) and Campbell Buhrow (RB/LB) set to return within the next few weeks.
"I guess if there's a silver lining, it's we're winning without several of our very good kids and they're close to coming back," Pannoni said. "… We're finding a way to win, but that wasn't good enough. That was bad. That was a bad performance, I thought."
After a 15-yard South County penalty in the second quarter, Pannoni called timeout, walked onto the field and chewed out the Stallions offense in the huddle. On the following play, quarterback David Symmes connected with Kevin Quigley for a 32-yard touchdown, giving South County a 21-0 lead with 10:16 remaining in the first half. The Stallions led 28-16 at halftime and 36-23 early in the fourth quarter.
"We played undisciplined," he said, "We played sloppy, we didn't play smart."

--- South County football coach Gerry Pannoni
"That's not the style of play we want to represent," Symmes said. "We want to be able to dominate mentally and physically. I'd rather win by 21 than seven points and have it down to the last [six] seconds [with TC] chucking it up into the end zone."
Did Pannoni's on-field pep-talk help?
"He definitely has a great presence and we listen to him," Symmes said, "especially when he's screaming at us."
Symmes completed 6 of 12 passes for 73 yards with two touchdowns and an interception. He also carried nine times for 35 yards.
Davis carried 35 times for 147 yards and two touchdowns. James Simon rushed for 82 yards and a touchdown on 13 carries and sophomore fullback Thomas Wheeler scored on a 1-yard run.
South County is averaging 49.5 points per game.
T.C. Williams dropped to 4-2, but showed resiliency in defeat. Trailing 21-0 early in the second quarter, the Titans faced third-and-11 at their own 12-yard line, having gained just seven yards to that point. Running back Malik Carney took a handoff and gave the Titans a spark with an 88-yard touchdown run.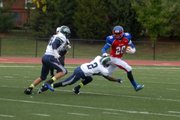 Trailing by 13 points early in the fourth quarter, Carney received another third-down carry and raced 85 yards into the end zone, cutting the South County lead to 36-30 with 10:05 remaining.
Carney, who is committed to UNC as a linebacker, finished with 15 carries for 220 yards and two touchdowns.
Davis' 22-yard touchdown run and a two-point conversion by Gerald Hulett gave South County a 44-30 lead with less than five minutes remaining. TC responded with a three-play, 82-yard scoring drive to pull within seven. Holland, who struggled most of the afternoon, connected with Timmy Rattanaphone for a 43-yard gain on second-and-nine before finding a wide-open Alex Bledsoe for a 38-yard touchdown, cutting the South County lead to 44-37 with 3:35 left.
TC's final drive started at its own 25-yard line with 50 seconds remaining after South County turned it over on downs. Holland moved the Titans down to the Stallions 31 and spiked the ball with six seconds left. His desperation pass on the final play fell incomplete.
"We made lots of mistakes on both sides of the ball which contributed to our loss," TC head coach Dennis Randolph said. "… But the thing that impressed me was we stuck in there. We could have very easily --- when we were down five and then they scored again, went up 13 --- we could have just stopped right there and said hey, it's over … but the kids came back."
Holland, who missed last week's game against Annandale with an elbow contusion, completed 6 of 29 passes for 120 yards and a touchdown. The junior, in his first season as a varsity starter, went 1-for-14 in the first half and misfired on 19 of his first 21 attempts.
"It's his first season as a varsity player and there's no substitute for experience," Randolph said. "Hopefully he gained some valuable experience tonight."
Holland made a play with his legs in the third quarter, when his 51-yard touchdown run cut the South County lead to 28-23.
"I made a move and got [in the] open," Holland said. "[I] saw the light and I was out."
Mahlique Booth rushed for 50 yards and a touchdown for the Titans. Rattanaphone had an interception.
South County will host West Potomac at 7:30 p.m. on Friday, Oct. 18.
"We shot ourselves in the foot with penalties," Pannoni said. "Whether it was a holding, whether it was a personal foul, if you want to keep playing in December, that's the kind of stuff you can't do."
T.C. Williams will travel to face Lee.
"We had some execution problems, but overall, you can come out of this game saying we aren't willing to lay down," TC lineman and UNC commit Jeremiah Clarke said. "We fixed our problems from [the loss to] Centreville [and we're] ready to fight back at the end of games and come back --- stuff that's going to help us later on in the playoffs."
The T.C. Williams football program is looking to end a 22-year playoff drought.