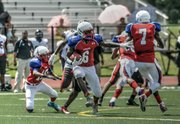 T.C. Williams trailed by a touchdown in the second quarter of its season opener against Dunbar on Sept. 6 when Titans quarterback Darius Holland launched a laser beam of a pass toward intended receiver Jaelin Brown.
The ball ricocheted off Brown and landed right in the hands of Titan teammate Colson Jenkins, who made his way into the end zone for a 43-yard touchdown.
Just like they drew it up, right?
The T.C. Williams football team labored through a hot and humid afternoon, making victory more difficult to attain than it probably should have been. The Titans turned the ball over. They allowed the visitors from Washington, D.C. to hang around. But at the end of the day, T.C. Williams used its superior athleticism and a little luck to pull out a season-opening win.
The T.C. Williams Titans defeated the Dunbar Crimson Tide 28-19 on Saturday. T.C. struggled offensively at times, but the Titans' athleticism allowed them to make something out of nothing. Holland completed just 6 of 17 passes, but those six completions resulted in 121 yards and a pair of touchdowns. The senior also rushed 12 times for 93 yards and a touchdown.
Holland, a physical runner listed at 6 feet 3, 185 pounds, said his instincts and athleticism can sometimes get him out of trouble.
"I think it's more instinctive," Holland said of his play-making ability. "Coach tells me not to overthink stuff. Make it as simple as possible. Sometimes I overthink it and just let my athleticism do the rest."
T.C. Williams trailed by six late in the second quarter, when Holland connected with running back Mahlique Booth for a 17-yard touchdown, giving the Titans a 14-13 lead they would not relinquish.
"I think it boosted the morale," Booth said of his second-quarter touchdown. "It most definitely gave us some forward momentum going into the second half."
Booth, a junior, also rushed 17 times for 98 yards and a touchdown, but said he needs to step up his game.
"I've just got to make sure I work hard and do a lot better job than I've been doing, because I've been slacking on some of my responsibilities," he said. "Knowing that I am the starting running back, I have to pick it up because I should be a leader of this team."
Booth's rushing touchdown was an 18-yard run with 55 seconds remaining in the fourth quarter.
"They're very athletic," T.C. Williams head coach Dennis Randolph said of Holland and Booth. "That's why we run the offense that we do and we have those people in those positions. We have to take what the defense gives us. We don't have the kind of people who are going to overpower people."
Similar to when the ball the bounced off a teammate to Jenkins for a touchdown in the first half, the Titans had another miscue in the second half that turned to gold. Leading 14-13 early in the fourth quarter, T.C. Williams lined up to attempt a 33-yard field goal, when holder Chris Gannon bobbled the snap. However, Gannon alertly picked up the ball and ran down to the 1-yard line for a first down. On the next play, Holland ran around right end for a touchdown.
Senior kicker Brianna Smith booted the ensuing extra point through the uprights, making her the first female T.C. Williams football player to score a point.
"I waited for four years for this," Smith said, "so it's just awesome to finally have that happen."
Smith said she knew that no other female player had scored for the Titans. When her opportunity came, she converted.
"When [Coach Jones] just said, 'Brianna, go,' I went numb," she said. "I was like, you know what, we do this in practice every single day. It's just like practice. I went out and scored."
Randolph said he was pleased Smith got an opportunity to kick.
"I'm very happy for Brianna," Randolph said. "Right now, she's the second- or third-best kicker on the team and we found an opportunity to get her in there. After putting all the work in, she deserves a chance to get in there and kick a little bit. I'm very happy for that. I'm always looking for a way to get her involved and make her feel like everything that she's done is worth it."
T.C. Williams will host Oakton at 1 p.m. on Saturday, Sept. 13.