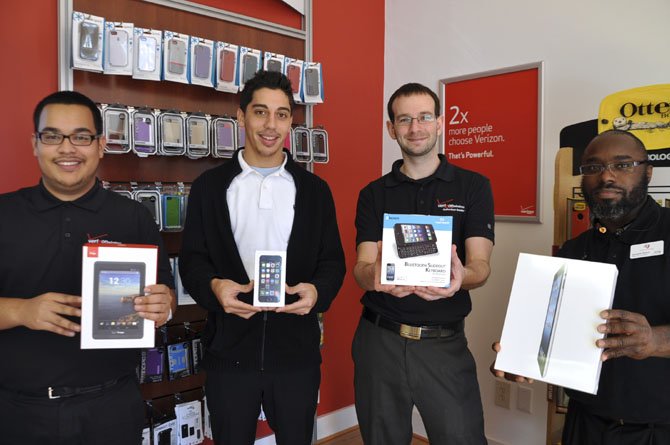 Potomac — The shopping season is here — and it's time to find special gifts for everyone on your list. But instead of rushing to the mall, or heading to the outlets, this year, shop in Potomac. No jostling through crowds, waiting in lines, jockeying for a parking space or driving for an hour, only to find nothing on your list. The best news — shoppers can get lots of help locating that one-of-a kind present just a few blocks away from where they live — in the stores of Potomac.
Here are some ideas for a variety of gifts for all ages — from tiny tots to grandma and grandpa. So head for Potomac, park the car one time — and get all the shopping competed in one afternoon. It'll support small businesses, help the Potomac economy and save time and stress.
JT Interiors, located just east of the Safeway in a house at 9906 River Road is is dressed to the nines for Christmas and Chanukah — and manager Lauren Gregory will be pleased to help locate the ideal present. The store carries baby gifts — blankets, Christian and Jewish baby jewelry, tooth fairy pillows, burping cloths and more. Christmas ornaments especially designed for Potomac with the messages, "Christmas in Potomac" and "God Bless Our Wounded Warriors" are available. Shopping for that special man? Pick him up a humidor, a flask or a wallet. The store also offers cook books, bowls, jewelry, fun food items, Hobo handbags and tablet covers. Check its website at www.jtinteriorsinc.com or call 301-299-0485.
Next head to the Verizon store for tech gifts — and note that there is no line at this Verizon store. It carries all the latest smartphones and tablets. Give loved ones some of the coolest accessories — a keyboard for the Iphone, OtterBox and other cell phone cases every color, chargers, belt clips and more. Salesman Jermaine Boone likes the new Verizon Ellipsis Tablet with its 7" HD screen a 1.2 GHz quad–core processor and a massive 4000 mAh battery, 8GB of storage, 1GB of RAM, 3.2-megapixel rear–facing camera and a VGA front–facing camera. "The Ellipsis is really light and has great graphics. It has been incredibly popular and a good alternative to the more expensive iPad," Boone said. Visit Manager Jason Vogel or salesmen Jermaine Boone, Luis Navarro or Luis Rivera for all one's tech needs. For more information go to www.The WirelessWarehouse.net or call them at 301-641-5200.
Then wander across the street to the Potomac Promenade Shopping Center to check out the newest store in the mall — Potomac Outfitters. Manager Adam Klaffky will help you select the perfect present for those rugged outdoor types. This store carries a variety of running shoes and clothing, kayaking and stand-up paddleboarding gear, and clothing for all outdoor sports. Some of the featured brands are Patagonia, Asics, Newton and Hoka One One. This store is owned by Sunny Pitcher who also owns Potomac Paddlesports. They offer whitewater summer camps, sea touring trips and instruction and beginner paddling instruction. To find out more, go to www.potomacpaddlesports.com or call 301-365-7151.
For your next purchase, drop by the Village Eye Center to select from their variety of sunglasses for that special person. Its most popular brands are Ray ban, Maui Jim, Chanel, Oliver Peoples and Robert Mac. New for this year are Sports Goggles – the perfect gift for skiers and snowboarders because the lenses can be ground to their prescription, thus eliminating the need to put goggles over glasses. These are made by Rec Specs. Dr. William McConarty is the optometrist to call for your eye check-up and new glasses, frames or contact lenses. Give him a call at 301 - 299-6513 or go online at www.villageeyecenter.com.
It's time to make the perfect selections for children and Toys Unique is the place to go for advice on "what's hot for kids" as well as to find exceptional toys. Owners Jarunee Chantraparnik and her husband are experts in finding just the right gift for Christmas, Chanukah — or birthdays. This year she recommends the Rainbow Loom for boys and girls ages 8 – 14, Squishables for girls and boys of any age, Klutz Tool Box Jewelry for girls who like crafty gifts, Calico Critters School Bus for children 3-8 and Elenco Snap Circuits, an electronics kit for children ages 8 to 108. For more information, call them at 301-983-3160.
Also on the shopping list might be gift cards for a meal from such Potomac Village restaurants, including Mix, River Falls Tavern, Hunter's Inn, Potomac Pizza, Vie de France, Fortune Garden, Old Angler's Inn, Normandy Farms, Tally Ho, Renatos, River Falls Market, Starbucks or Five Guys.