Potomac — No need to travel outside Potomac when searching for that ideal gift for the holidays this year. A vast assortment of gifts is available just around the corner at two gift shops — Leila Fine Gifts and Jewels and Occasions Unique Gifts and Gift Baskets. Both are close-by in the Cabin John Shopping Center — and both shops are owned by Churchill graduates who grew up in Potomac.
Photo Gallery
Gift ideas from Cabin John Shopping Center.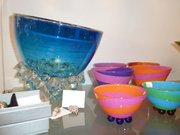 A vast assortment of gifts is available just around the corner at two gift shops — Leila Fine Gifts and Jewels and Occasions Unique Gifts and Gift Baskets.
Click Photo for Flash
Leila Fine Gifts and Jewels was opened this past June by Deb Shalom, who still resides in Potomac. Her shop, named for her mother, is her first foray into the gifts and jewelry arena. "I just love it," she said. "To be surrounded by colorful, beautiful things is heaven for me. I'm here 7 days a week. I'm pleased with how the business is growing. I have new items coming in daily. I love seeing customers pleased to find that 'perfect gift'." The store is located near California Tortilla at the northeast end of the shopping center.
Shalom describes her shop as "fun and funky." She purchases many pieces from local artists. "Much of my merchandise comes from craft shows. I buy mostly American–made items, but some of my most distinctive gifts are from Italy and other parts of Europe. I also have quite a few artisans from Israel as I travel there every year because my husband is Israeli."
The selection of gifts is varied and interesting — and the buyer can find everything from hostess to wedding gifts. The store carries beautiful cut stainless steel trays by Melanie Dankowitz, who grew up in Potomac and unites traditional Jewish motifs with contemporary themes, glass bowls from the "Thorne" series by Andrew Madvin, Italian jewelry by Antica Murriana Venezia, stained-glass frames by Silver Spring artist Susan Fullenbaum, pearls, silk scarves and cashmere wraps, belts and jewelry, candlesticks, champagne glasses — and even a "Manshelf" with gifts for that "hard-to-buy-for" gentleman.
The store will host a Trunk Show by Bethesda's Judy Bliss from 12 – 4 p.m. on Saturday, Nov. 17. "Startling combinations of colors, textures, stones and shapes are what I do," said Bliss. Her jewelry is created from semi-precious stones and pearls, contemporary in style, bold and colorful. Leila also hosts a gold selling party monthly. Shalom will be featuring a "Black Friday through Sunday" clearance sale on Nov. 23-25. Leila is open Monday-Saturday from 10 a.m. – 8 p.m. and Sunday from 11 a.m. – 6 p.m.
Located inside Cabin John Mall is one-year old "Occasions Unique Gifts and Gift Baskets," owned by Stephanie Menick of Bethesda. Menick worked at Party Etc., a gift store located in the same mall as a teenager. She loved the gift business and had always aspired to own her own shop. She established a corporate gift basket company from her home in Gaithersburg and then, four years ago, launched her first gift shop at National Harbor, and then opened the Cabin John "Occasions" last year.
The colorful, eclectic store features a host of gifts to suit every need from Christmas and Chanukah gifts to specific ones for a hostess, teacher, parents, grandparents, a best pal, a wedding, bar or bat mitzvah — or, as aptly named — for any and all occasions. There are gifts for every budget; many are priced at under $15. The store also provides wrapping.
"Some of our most popular gift items are Scout Bags of every shape and size, knit scarves that match fingerless gloves that turn into mittens, decorative cell phone cases with matching ear buds and portable back-up batteries, unique frames, plaques, and napkins with cute sayings that make them a personal and distinctive gift, vintage sports signs for teams, tailgating buckets with goodies, fun jewelry and wonderful gift books," said Menick. "We have a lot of different edible gift items for Christmas and Chanukah, including kosher truffles, candy and chocolate covered pretzels. We also offer soaps that are gorgeously wrapped for unique hostess gifts or stocking stuffers."
Menick also creates custom gift baskets to suit any need or theme. Some of the favorite and most requested baskets are for birthdays, Chanukah and Christmas. Other popular baskets are Italian Gourmet, Baby, Coffee/Tea, Housewarming and Popcorn Movie Night. The buyer can pick out all the items in the basket, or Menick will pull together original items and then present them as "one-of-a-kind baskets that are individually created for the receiver of the gift," Menick said. Occasions also designs and supplies baskets for corporations, silent auctions, and charity events.
"Gifts are an important — and people need a place to find that perfect gift for every occasion," said Menick. "I try to provide that place in the Potomac area."
Occasions will hold a "Black Friday" sale on Friday, Nov. 23. From 9 a.m. -12 noon, everything in the store will be 20 pecent off. Occasions is open Monday through Friday from 10 a.m. – 7 p.m., from 10 a.m. –6 p.m. on Saturday and 12 - 5 p.m. on Sunday.