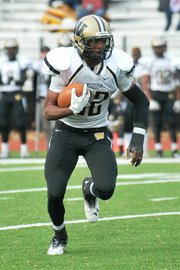 Westfield head coach Kyle Simmons stood on the football field at Lake Braddock Secondary School and revealed one of his assistants had spotted on film a flaw in the opponent's kicking game, creating an opportunity for a block.
Later, Lake Braddock head coach Jim Poythress stood outside the Bruins' locker room and said he made the right decision to attempt a field goal, though he had considered another option.
One play didn't win or lose Saturday's 6A North semifinal contest between the Westfield Bulldogs and Lake Braddock Bruins, but it's safe to say the Bulldogs are still alive because of a single tide-turning special-teams touchdown.
Lake Braddock led by 13 points and lined up to attempt a 30-yard field goal with less than six minutes remaining in the fourth quarter. The run-heavy Westfield offense had managed just three points and was without its top threat, running back Tyler Thrasher-Walker, who left the game in the second quarter with a leg injury. The Bulldogs had little reason to believe they could come back and win.
And then junior safety James Gibson returned a blocked field goal 92 yards for a touchdown.
Gibson's return sparked an improbable Westfield comeback. The Bulldogs then got a defensive stop, scored the tying touchdown, kicked the go-ahead extra point — thanks to a Lake Braddock penalty — and sacked Bruins quarterback Caleb Henderson for a safety on the game's final play to pull out a 19-16 victory on Nov. 30.
"One thing about Westfield that I love," Bulldogs running back Evan Gray said, "… we don't give up."
Westfield (11-2) will face Centreville (13-0) for the 6A North title at 1:30 p.m. on Saturday, Dec. 7 at Centreville High School. The winner advances to the state championship game.
Saturday will mark Westfield's third consecutive trip to the region final. The previous two years, the Bulldogs entered the game undefeated but lost to a team it had beaten during the regular season. In 2011, Westfield lost to Centreville. In 2012, the Bulldogs lost to Oakton. This season, Centreville beat Westfield in the regular season, 28-0.
"One thing about Westfield that I love … we don't give up."

--- Westfield running back Evan Gray
After Saturday's win against Lake Braddock, Simmons said an assistant coach had noticed something on film that made the Bulldogs confident they could block Lake Braddock extra-point and field-goal attempts. After the Bruins scored their second touchdown of the game, Ra'Shaune Rice blocked the ensuing PAT, keeping the Lake Braddock lead at 13-0 in the second quarter — a play that would have a major impact later in the contest.
"One of my assistants breaks down [the opponent's] specials teams every week and said that their extra-point/field-goal [team's] operation is a little slow, and when I talk about the operation I'm talking about the snap, the hold and the kick," Simmons said. "Throughout the week, we had really been preaching how that there was an opportunity to get close (to the kick)."
With Lake Braddock leading 16-3, Westfield defensive lineman Chase Koon blocked what appeared to be a low-trajectory kick and Gibson snagged the ball at his own 8-yard line.
"I was waiting," Gibson said, "to get my opportunity to do something."
Gibson capitalized on his opportunity. He took off down the right sideline and avoided several Lake Braddock would-be tacklers to get into the end zone.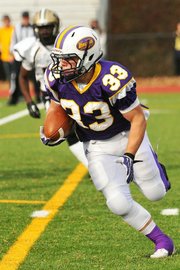 "I thought he was tackled five times," Simmons said, "and he just kept going and going and going. It may be the game. It really may be the game."
While a made field goal would have forced Westfield to score two touchdowns and a pair of two-point conversions in less than six minutes to tie the score, the attempt gave Westfield a chance to block the kick and return it for a quick score. Huddleston had converted a 22-yard field goal in the third quarter, something Poythress mentioned when talking about his decision to attempt the late field goal.
Would Poythress make the same decision if he had another chance?
"If I knew they were going to block it, no," Poythress said outside of the Bruins' locker room. "But the fact of the matter is we had hit a field goal before that. … If we make that we win. The game's over. They blocked it. The kid made a play and he takes it all the way back.
"… We can second-guess all we want. They won, we didn't. They move on, we're turning our stuff in right now. It's sad. I feel sad for the kids. I thought of [going for it on fourth down instead of kicking the field goal]. … If we go for it and don't make it, they still have 80 yards to go down 16-3. But because we had made the field goal before, I felt like we had shored up any leak from the extra point that we missed. … I still think it was the right call."
After the Gibson touchdown return, Lake Braddock faced third-and-3 at its own 29-yard line. Senior quarterback Caleb Henderson, who is committed to the University of North Carolina, ran for a couple yards and lost his helmet at the end of the play, which was wiped out by a false start penalty. By rule, a player must come out of the game for one play if his helmet comes off while on the field, meaning the Bruins were without their Division I signal caller for a critical third-and-8. Sophomore quarterback Kyle Edwards ran for six yards on third down and Lake Braddock had to punt.
Westfield took over at its own 22-yard line with 3:04 remaining. The Bulldogs marched 78 yards in eight plays, tying the score at 16-all with a 3-yard touchdown run by Gray with 15 seconds on the clock. Westfield kicker Conor Bouveron missed the ensuing extra-point attempt, but Lake Braddock was flagged for roughing the kicker, giving the Bulldogs another chance. After multiple penalties, Bouveron made the kick and Westfield held on to win.
"It's like the football gods were against us," Poythress said. "The best team doesn't always win. I think that we were the best team, I felt like — I still feel that way. But they stuck with their game plan and played hard and never gave up and I think that's a tribute to them."
Thrasher-Walker rushed for 107 yards before leaving the game with a leg injury in the second quarter. Simmons said Thrasher-Walker, a senior, continued cheering on his teammates while using crutches on the sideline.
"It shows the type of character that he has," Simmons said. "He's in tears here at the end of the game — and he may never play for us again, I don't know — but he's in tears just because he's so happy for his teammates for what they did on the field. You love coaching guys like that."
During the week leading up to the game, Gray, the team's starting fullback, took tailback in reps in practice for the first time since the summer, Simmons said. Those reps paid off when Gray had to take over for an injured Thrasher-Walker.
"[Thrasher-Walker] told me, 'It's all on you now. I want you to be the leader. I want you to run this offense,'" Gray said. "By then, I knew I just had to try my hardest. I don't have as much experience as him, but I knew I just had to keep trying."
Gray lost a fumble near midfield with 7:04 remaining in the fourth quarter, but Lake Braddock's ensuing drive ended with the momentum-turning blocked field goal. On the second play of Westfield's final drive, Gray ran for 41 yards to help set up the winning score.
"The drive before [the blocked field goal], I fumbled," Gray said. "When I fumbled, I was like, I really just ruined the momentum, the shift, everything. My heart was just broken. And then all of the sudden I see Gibby running and I was like there's still hope. There's still hope."
How did it feel to score with 15 seconds left?
"Like I was king of the world," Gray said. "I can't even lie."
Lake Braddock's Henderson completed 12 of 17 passes for 140 yards. He also rushed for 41 yards and a touchdown.
"[H]igh school football is over," Henderson said. "I'm going to miss it terribly."
Lake Braddock running back Trevor O'Brien carried 17 times for 74 yards and a touchdown. Vince Sica caught five passes for 103 yards.
Lake Braddock finished the season 12-1 and won its fifth consecutive district championship.