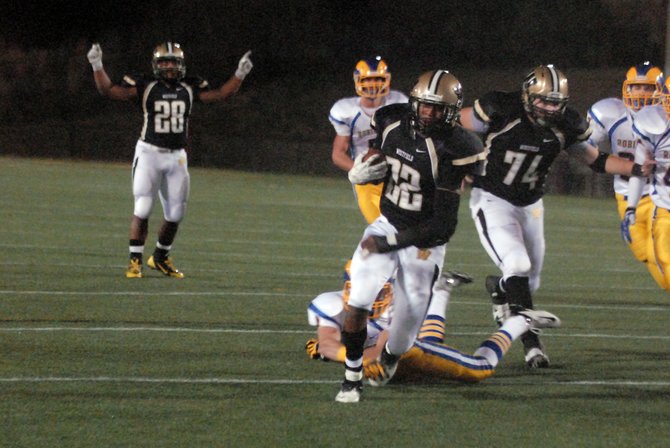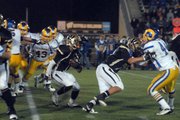 On a night when the Westfield offense did not complete a pass, a dominant effort by senior running back Tyler Thrasher-Walker and a wrinkle coaches have been developing the past three weeks were enough to get the Bulldogs into the region final four.
The No. 3-seed Westfield football team defeated No. 11 Robinson 21-14 on Friday night in the 6A North region quarterfinals at Westfield High School. The Bulldogs, a run-oriented team to begin with, got all of their offensive production on the ground against the Rams, gaining more than 300 yards. Junior quarterback Mason Scoville attempted two passes, each falling incomplete.
Thrasher-Walker carried 29 times for 203 yards and scored each of Westfield's three touchdowns. His 41-yard touchdown run with 9:25 remaining in the third quarter gave the Bulldogs a 21-7 advantage.
"We just knew that we had to [man] it up," Thrasher-Walker said. "[The ground attack] was working early in the game and we're like, it's not broke, no need to fix it."
Westfield will travel to face undefeated Lake Braddock, the No. 2 seed, in the semifinals at 1:30 p.m. on Saturday, Nov. 30. The Bruins beat the Bulldogs 28-24 during the teams' regular-season meeting on Sept. 20 at Lake Braddock.
While the Westfield offense was one-dimensional in the run/pass sense on Friday night, the Bulldogs unleashed a wrinkle that kept Thrasher-Walker from being the only threat.
"We just knew that we had to [man] it up. [The ground attack] was working early in the game and we're like, it's not broke, no need to fix it."

--- Westfield running back Tyler Thrasher-Walker
Senior receiver Devon Burns took snaps as a wildcat quarterback and carried seven times for 100 yards. The speedster's first four carries went for 14, 27, 17 and 29 yards, respectively.
"I'm really proud of the offensive staff," Westfield head coach Kyle Simmons said. "We put a couple different things in. We've been building on it week after week trying to not be so predictable. We like our bread and butter --- we like our inside/outside zone, we like our counter --- but we just tried to add to that to [give] some teams some things to think about.
"… Not a completed pass in the whole game, so getting Devon the ball in a different way is something that we've been working on and have gotten a little better at each week. We'll add to that next week also and try to get an arsenal of things that he can do back there in the backfield."
Burns transferred to Westfield from Freedom-South Riding last year and was deep threat in the Bulldogs' passing game. With Westfield not passing the ball as much this season, running the wildcat with Burns is a way for the Bulldogs to put the ball in the hands of one of their top playmakers.
"As a coaching staff, if he's not getting the ball in the passing game then it's our job to find a way to get him the ball," Simmons said. "We'd be dumb to leave him out there by himself, not getting anything accomplished."
Burns said he was frustrated about not getting the ball early in the season, but enjoys running the wildcat.
"I was a little frustrated at the beginning, but as the year went on, we're a team [and] teams go through this a lot," Burns said. "Not every team is going to have a really, really good [passing game] every year. You have to work with what you have."
The Westfield ground game wasn't the only source of success for the Bulldogs on Friday night. The Westfield defense got a huge stop with the game on the line, forcing a turnover on downs at the Westfield 35-yard line with 1:43 remaining. Robinson started its final drive at its own 5-yard line with 7:07 remaining in the contest. After a dropped pass wiped out what could have been a huge gain on first down, the Rams marched into Westfield territory with hopes of tying the score. An 8-yard pass from Rowlett to Shaquan Jackson on third down gave the Rams a fourth-and-5 at the 35, but Rowlett's fourth-down pass fell incomplete.
Robinson had all three of its timeouts remaining, but Thrasher-Walker gained 30 yards on four carries to help the Bulldogs run out the clock.
"We played against a very fine football team," Robinson head coach Dan Meier said. "Give them credit; they have a great program and they play hard. Year in and year out, they're always there. You know when you come over here, you're in for a battle."
Meier, who retired as Robinson's principal at the end of the 2012-13 school year, agreed to coach the Rams on a one-year interim basis. This allows Matt Eline, who was named Robinson's new principal during the summer, to help select the next Robinson head football coach. Meier said he does not plan to coach the Rams next season.
"Anything I could to help the school," Meier said. "I'll do that all my life. It's my school I love the school and I think our team represented the school well."
Westfield scored the game's first points on its second possession after Ra'Shaune Rice's interception return gave the Bulldogs the ball at the Robinson 22-yard line. Two plays later, Thrasher-Walker scored on a 19-yard run, giving Westfield a 7-0 lead with 4:58 left in the opening quarter.
Robinson answered on its ensuing possession with a 14-play, 55-yard drive ending with a 5-yard touchdown run on fourth-and-2 by quarterback Jack Rowlett. The drive lasted 7 minutes, 34 seconds and tied the score at 7-all.
Westfield's next possession started at the Robinson 44-yard line. Five plays later, Thrasher-Walker scored on a 4-yard run, giving the Bulldogs a 14-7 lead they would not relinquish.
Trailing 21-7, Rowlett found a wide-open Endi Ackerman for a 32-yard touchdown, cutting the Westfield lead to 21-14 with 6:35 remaining in the third quarter, but the Rams would get no closer.
Rowlett completed 6 of 11 passes for 106 yards with one touchdown and an interception. He also scored a rushing touchdown.
Robinson running back Joe Wilson carried 15 times for 96 yards.