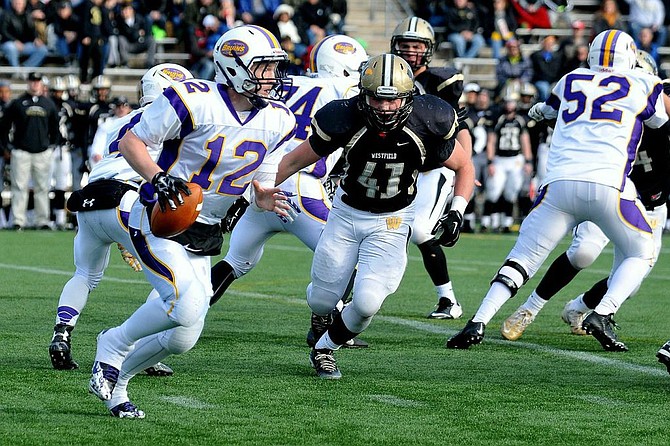 Facing third-and-11 on the third play from scrimmage, Lake Braddock quarterback Kyle Edwards retreated toward his own end zone, trying desperately to find a place to throw the football while eluding a pack of Westfield defenders.
As the Bulldogs closed in, Edwards attempted to get rid of the football, but Westfield defensive lineman Brandon Flores tipped the pass in the air. The ball dropped into the arms of linebacker Jack Clancy, who stepped into the end zone for a touchdown.
Edwards' interception placed Lake Braddock in a 7-0 hole less than 90 seconds into Saturday's 6A North region semifinal contest. It turned out to be the first in a long line of Bruin miscues.
Lake Braddock turned the ball over three times in the opening quarter, leading to a pair of Westfield touchdowns and the Bulldogs cruised to a 42-20 victory on Nov. 29 at Westfield High School. It was the second year in row Westfield beat Lake Braddock in the region semifinals.
The Bulldogs led 35-0 at halftime and 42-0 in the fourth quarter before the Bruins scored a trio of late touchdowns to make the score appear closer than it actually was.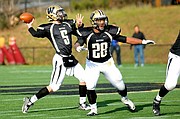 Westfield's lone loss of the season was a 36-23 defeat against Lake Braddock on Sept. 19. On Saturday, the Bulldogs pounded the Bruins and earned a trip to their fourth consecutive region championship game. Westfield (12-1) will travel to face defending state champion Centreville (11-2) at 2 p.m. on Saturday, Dec. 6.
Things couldn't have started much worse for Lake Braddock. After the Bruins' first drive ended with a pick-six, Lake Braddock's second drive reached the red zone, but Edwards was intercepted in the end zone by Westfield's Donteiro Moore.
After the Lake Braddock defense forced a three-and-out, a 68-yard Westfield punt pinned the Bruins back at their own 3-yard line. Edwards fumbled on the next play and the Bulldogs recovered, leading to a 2-yard touchdown run by Evan Gray and a 14-0 Westfield advantage.
"It was huge because their quarterback, as everybody knows, is one of the best in the state, honestly," Westfield linebacker Clancy said of the Bulldogs forcing three first-quarter turnovers. "I'm just proud of our defense."
Lake Braddock turned the ball over three times in its first 12 offensive plays.
"We jumped on them really quick there at the beginning," Westfield head coach Kyle Simmons said. "That certainly gave us some momentum and I'm sure it made them, offensively, feel a little uneasy. That was a big start for us."
Facing third-and-20 at its own 10 during its ensuing possession, Lake Braddock elected to quick kick, giving Westfield the ball at its own 48. Five plays later, running back Terrell Bethea scampered 36 yards for a touchdown a 21-0 lead.
On the second play of the second quarter, Westfield quarterback Mason Scoville connected with Hank Johnson for a 34-yard touchdown and a 28-0 advantage.
Scoville connected with Tyler Scanlon for a 2-yard touchdown with 4:17 left in the first half, increasing the Bulldogs' lead to 35-0. Westfield's final touchdown came with 10:27 remaining in the fourth quarter, when Scoville hit Scanlon with a 19-yard pass, giving the Bulldogs a 42-0 lead.
Scoville completed 9 of 10 passes for 104 yards and three touchdowns.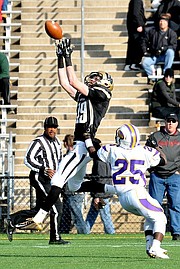 "When he's comfortable and he's playing well," Simmons said of Scoville, "we're at our best."
Terrell Monticue led the Westfield ground attack with 72 yards on three carries. Bethea rushed seven times for 50 yards and Gray carried 11 times for 43 yards.
"Last week, we struggled a little [on offense], bit but we fought through it in the second half," Scoville said. "This week, we were going pretty well."
Running back Dejoun Lee scored three touchdowns for Lake Braddock. Edwards completed 29 of 58 passes for 382 yards. He was sacked six times and limited to 10 yards on the ground on 16 carries.
The win sets up a region final rematch with Centreville, which beat the Bulldogs 35-14 last season on its way to a state title and an undefeated record. Westfield won the regular-season meeting between the teams this season, 42-41, in double overtime on Oct. 10.
Centreville is a talented team with multiple players committed to play at the Division I level. The Wildcats ended last season nationally ranked and opened this year with a nationally televised game against Gonzaga, a private school in Washington, D.C. Despite Centreville's credentials, Westfield safety James Gibson, who is committed to play for Army, said he's pleased to be facing the Wildcats.
"We beat them before, I think we can definitely do it again," Gibson said. "I'm just happy that it's Centreville. We know those guys and it's going to be fun. A lot of people think they're unstoppable. They had that game on ESPN. We know them. We know our strengths, we know we can beat them. I'm not worried about any of their commits or anything like that. That's what a lot of people say: When you play a team like Centreville, you have to worry about [their commits]. We're just going to play."
Simmons views Westfield as the underdog.
"I don't think anybody gives us a shot at winning the football game," Simmons said, "but we think we can win it, so I figure we'll show up and play."