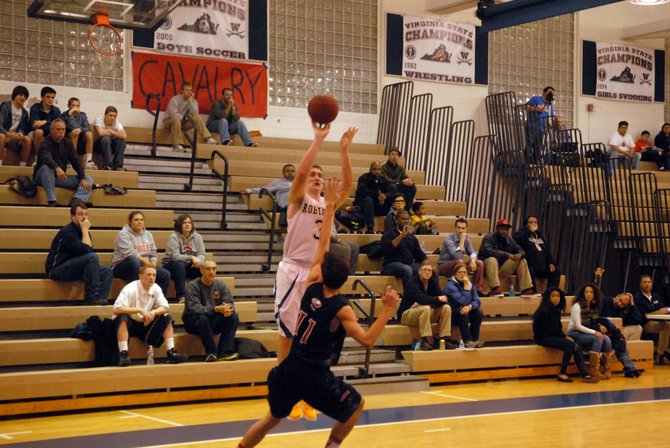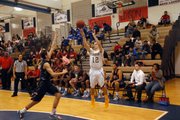 The Robinson boys' basketball team knocked down 14 3-pointers and made several key defensive stops while outlasting the Edison Eagles in double overtime on Friday night.
The Rams also caught a break or two along the way.
Robinson senior guard Joe Bynum banked in a 3-pointer to force a second overtime period and junior guard Joey Powell's ill-advised-attempt-turned-clutch 3-pointer sealed the victory as the Rams opened their season with a 95-91 win over Edison during the Red Jenkins Tipoff Classic at W.T. Woodson High School.
Robinson led 90-89 with less than 30 seconds remaining in the second overtime when Powell hoisted up a 3-point attempt from the right wing. While a miss might have given Edison possession with a chance to take the lead, Powell made the shot and gave the Rams a two-possession advantage.
"That was very much a no-no-no-yes shot," Robinson head coach Brian Nelson said. "When I met [Powell] at halfcourt and hugged him, I said, 'That was a terrible decision, but it was an outstanding shot.'"
Edison (0-1) had two-possession leads at the end of regulation and the first overtime period, but each time Robinson (1-0) found a way to extend the game.
Edison led 76-72 when Robinson senior guard Jared Steen buried a 3-pointer to cut the Eagles' advantage to one with 11.4 seconds remaining in the first overtime period. After a pair of Edison free throws bumped the lead to three, Bynum banked in a 3-pointer at the other end to force a second OT.
After the game, Nelson joked that Bynum "called" bank on his clutch 3-pointer. For Bynum, it was one of many memorable moments on a night he scored 28 points and knocked down eight 3-pointers.
"It was just an amazing feeling," Bynum said. "I've never been in that situation before and I just knew I had to have the confidence to take that shot. … It was probably one of the best games I think I've ever played. I was just feeling it. My teammates had the confidence to pass it to me and I wasn't letting them down. I was just knocking down the shots."
Bynum's final 3-pointer gave Robinson an 89-84 lead with 1:33 left in the second OT.
"Yeah, we got a little lucky when that 3 banks in, but sometimes you make your own luck a little bit," Nelson said. "As hard as our kids fought, we deserve a little break there."
"I don't have the most individual talent around, but I have kids who bust their humps in the offseason to make themselves better and that is what shows in a game like this."

--- Robinson boys' basketball coach Brian Nelson
Edison led 66-62 late in the fourth quarter. After a bucket by Robinson senior guard Ashrifi Nai-Tetteh cut the lead to two, the Rams came up with a steal and tied the game at 66-all with a bucket by senior guard Matt Fall. Robinson got another steal and took a brief 68-66 lead with a pair of Fall free throws, but Edison senior Marcus Brumsey Jr. scored at the other end to force overtime.
"I just think we played with heart the whole game," Steen said. "Heart sometimes will overcompensate for the other team's [athleticism]."
Fall scored 22 points for Robinson. Steen knocked down a trio of 3-pointers, went 4-for-4 from the free-throw line in the second overtime period and finished with 15 points. Powell totaled 10 points.
"That game came down to just our kids gutting it out and playing with heart," Nelson said, "and never quitting."
Robinson finished one win shy of reaching the state tournament last season, falling to Wakefield in the Northern Region semifinals. This season, Nelson said the Rams will have a balanced scoring attack to go along with an inside presence from 6-foot-8 senior center Taylor Downey.
"That's something that we emphasize is our depth," Nelson said. "… [Downey has] really worked hard since last year to gain some weight, he's gained some confidence and he's a force for us now. … He didn't do a lot last year, so when you see him come out as our five-man to open the game, if you remember what you saw last year, you're probably not very impressed. But I think he's in line for a very good season."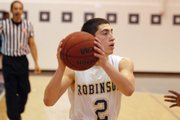 Edison is an athletic team led by standout senior point guard Chief Amoah, senior guard Brumsey and four athletes who transferred to the school this year. Junior guard Tyvez Monroe, who led the Eagles with 24 points and five 3-pointers Friday night, transferred from Bishop O'Connell. Junior forward Damien Jones Jr. (Flint Hill), junior forward Isaiah Buck (DeMatha) and senior forward Ahmed Hemoh (Potomac) also transferred to Edison this year.
Brumsey finished with 22 points against Robinson, Buck had 13 and Amoah had 11.
Amoah practiced on Thursday for the first time in three weeks after battling a hip-flexor injury, Edison head coach Terry Henderson said.
Henderson's Eagles reached the state tournament in 2012. The coach said this year's team wants to return to states.
"I think with it being early in the season, first game, that competition is what we needed," Henderson said. "We've had some good scrimmages, but some things came kind of easy to us, so I believe this is a great wake-up call and I think we'll respond well."
Henderson praised Robinson's effort.
"Robinson, they played extremely hard," Henderson said. "In order for them to stay in a game like that with our athleticism, they have to be able to knock down the 3 and they did a great job of doing that tonight."
Robinson will face Fairfax at 5:30 p.m. tonight during the final day of the Red Jenkins Tipoff Classic at Woodson. Edison will take on Woodson at 7 p.m.
"I don't have the most individual talent around, but I have kids who bust their humps in the offseason to make themselves better and that is what shows in a game like this," Nelson said. "When a kid like … Joe Bynum, who came off the bench for us all year last year, and he comes out … as a leader, as a captain, in his first opportunity to kind of be the man, he comes out and drops 28, that's a testament to how hard he has worked."
More like this story