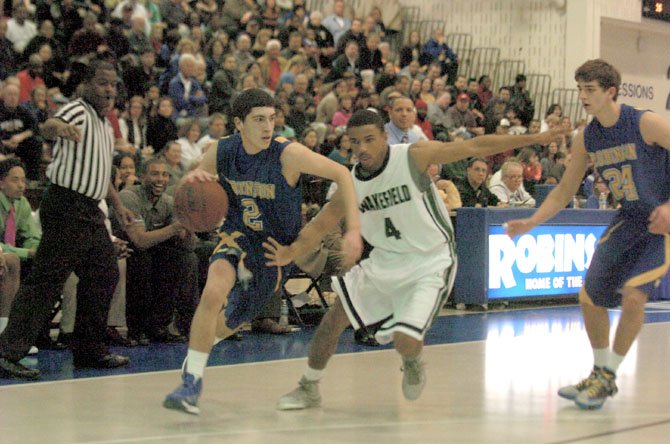 Fairfax — Robinson boys' basketball coach Brian Nelson wasn't pleased with the Rams' approach to their Northern Region tournament semifinal matchup with Wakefield on Feb. 22 at Robinson Secondary School. But despite a season-ending loss to the Warriors, Nelson was happy Robinson reached the region final four one year after a first-round exit.
Wakefield defeated Robinson 68-58 to advance to the region final and earn a state berth. The Rams trailed 13-10 early in the second quarter before the Warriors took control with a 19-2 run. Wakefield led by double digits the entire second half and by as many as 20 points.
Nelson gave the Warriors credit, but said the Rams helped beat themselves.
"Wakefield is a great team, but our challenge was entirely mental tonight," Nelson said. "We didn't react to the big stage the way we needed to start that game. … We beat ourselves in the first half and it was mental. We went to the basket soft, we didn't rebound, we let them do what they wanted on offense without a whole lot of resistance from us and we really let them get comfortable.
"That was one thing that we talked about was if we allow them to get in their comfort zone we're in trouble, and they got there really quick."
Robinson junior guard Matt Fall, who was named to the all-tournament team, led the Rams with 15 points. Senior Keegan Ruddy finished with 13 points, including a trio of 3-pointers, junior Avyn Johnson had 10 points and junior Joe Bynum had eight.
Robinson ended the season with a 19-9 record and finished Concorde District runner-up to Herndon.
"I think it's an outstanding year," Nelson said. "One thing that we talk about since I've been here is every team has outdone the previous year. Last year, we won the district, [but we] got knocked out of regionals. This year, didn't win the district, but we made the region final four. I just finished telling our returning guys a new bar has been set and your goal is to out-do what we just did this year and most importantly to learn from this experience so the next time we're back on the big stage, we know what it's like."