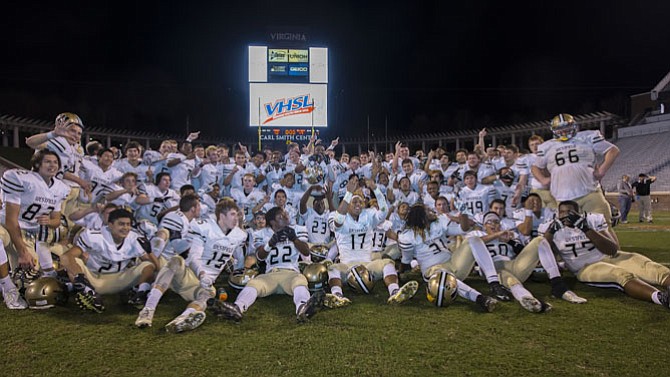 Westfield receiver Tyler Scanlon, four of his teammates and head coach Kyle Simmons sat at a table and answered media questions following the VHSL 6A football state championship game on Dec. 12 at the University of Virginia's Scott Stadium in Charlottesville.
When a reporter asked Scanlon, a two-sport standout, about his experiences in last year's state basketball final — a 47-46 loss to Colonial Forge — and this year's football final, the 6-foot-7 senior, who will play basketball at Boston University, noted the contrasting journeys to reach the respective championship games.
During the 2014-15 basketball season, the Bulldogs were confident they would reach the state final. The 2015 football season, however, was a much bumpier ride.
"I've never been a part of a team [with which] there were so many setbacks, but at the same time, nobody hung their heads," Scanlon said. "We just kept pushing forward and found a way to get hot at the end."
Whether it was having multiple players suspended during the season, dealing with the death of a former teammate, or a quarterback change during the playoffs, Westfield faced its share of adversity this year. In order to bring home the program's first state title since 2007, the Bulldogs had to fight through one more challenging evening.
Westfield squandered two 14-point leads, lost four fumbles and at one point trailed in overtime. None of it stopped the Bulldogs, however, as Westfield defeated Oscar Smith 49-42 in triple overtime to capture the 6A state championship.
After the teams matched one another touchdown for touchdown in the first two overtimes, Westfield took the lead for good when running back Tim Beard scored on a 10-yard run during the first play of the third overtime.
Three plays later, Oscar Smith faced fourth down at the 2-yard line and quarterback Shon Mitchell's pass fell incomplete, giving the game — and state championship — to Westfield.
"At the end, our kids didn't quit," Simmons said. "I thought it was pretty impressive the way they fought back, even after [the Tigers were] big-playing us in the second half and we had an awful third quarter, but we kept fighting. I know they're dog tired, but it paid off."
Westfield led 28-14 late in the third quarter, but Oscar Smith cut the Bulldogs' advantage to seven with a trick play. Shelton Hood took a handoff and threw a 55-yard touchdown pass to Larry Chapel with 1:05 left in the third quarter.
Westfield appeared ready to extend the lead back to 14 early in the fourth quarter, but quarterback Rehman Johnson fumbled inside the Oscar Smith 5-yard line. The ball was scooped up by Tigers defensive back Khalik Perry and returned 89 yards for the tying touchdown with 10:34 remaining.
Neither team scored for the remainder of regulation. Westfield kicker Brian Delaney missed a potential go-ahead 43-yard field goal attempt with 1:21 left on the clock and the game would head to overtime, where the Bulldogs found a way to win.
"I felt like we were losing our grip on the game there at a couple points and that's' why I'm so proud of these guys to keep fighting back," Simmons said. "Yes, I thought it was slipping away, I really did."
Westfield started strong, building a 14-0 lead, but a roughing the punter penalty against the Bulldogs early in the second quarter swung momentum in favor of Oscar Smith. Instead of giving the ball back to Westfield down two scores, Oscar Smith drove down and found the end zone for the first time and would later tie the score at 14.
"I think it was a momentum change for us," Simmons said, "but we found a way to get it back."
Offensively, Westfield struggled with turnovers, losing four fumbles, but the Bulldogs made enough plays to win the game.
Running back Tim Beard carried 37 times for 234 yards and three touchdowns, including a pair of scores in overtime.
"The big thing is [the Oscar Smith defense was] very aggressive coming up the field," Beard said. "Their aggressiveness, we just took advantage of it and ran north and south."
Johnson, making his third start at quarterback after taking over for Scanlon entering the region semifinals, completed 6 of 10 passes for 106 yards and a touchdown. He also carried 20 times for 110 yards and three scores.
"We all had faith in Rehman," said Scanlon, who earned Conference 5 Offensive Player of the Year honors while playing quarterback. "That's really where he's matured over the last three or four months. He's a completely different kid. In the second half, you saw how much he persevered through the mistakes. He played well and that's really what we needed."
Scanlon, who moved back to receiver, the position he played last season, had two catches for 41 yards, including a 30-yard touchdown reception from Johnson in the second quarter.
"That's my job — I'm 6-7, I should get that ball," Scanlon said. "If I didn't get it, I'd be realty disappointed with myself. If you want to win state championships, you've got to make those plays."
Defensively, Westfield surrendered 502 yards, including 424 through the air, but made enough stops to get the job done. The Bulldogs intercepted Oscar Smith quarterback Mitchell three times, including twice in the red zone, and forced four total turnovers.
Westfield linebacker Kevin Petrillo had two interceptions, including a pick at the Bulldogs 2-yard line during the game's opening possession, after Oscar Smith had moved the ball down the field with ease.
"Previous to that play, they did the same two plays right in a row — they hit right up the seam, right in the middle," Petrillo said. "So instead of dropping more to the side, I dropped more straight back and I was right there and the ball came right to me."
Simmons praised the junior linebacker.
"I don't know if it's his athleticism or his brain — I'm not sure which," Simmons said. "He's such a studier of the game. He's a good athlete, but at the same time he puts himself in really great positions and he understands what they're going to try to do based on his study, which puts him in good position to make plays."
Defensive lineman Jay Aiello finished with 2.5 sacks, a forced fumble and a fumble recovery. Cole Huling had an interception.
The victory put the finishing touch on a challenging season.
After beating Washington-Lee 30-10 in the season opener on Sept. 3, the Bulldogs, missing several players due to suspension, suffered their lone defeat of the season against South County on Sept. 11, 26-19. In November, former Bulldogs kicker and 2015 Westfield High School kicker Conor Bouveron died. In the third round of the playoffs, the Bulldogs made a switch at the quarterback position, replacing Scanlon, who moved to receiver, with Johnson.
"This season taught me a lot of lessons," Simmons said. "There was a point I was sitting at home somewhere midway through the season going, "I can't do this anymore" because of all the struggles we were going though. I just didn't know that I was doing a very good job, but we just kept plugging away. The lessons that I have learned and the lessons these guys have learned will pay off for their entire life, and mine too. ... I actually saw it the week we found out about Conor's death. I saw a change in our team. ... From a coaching standpoint, it just seemed like they kind of looked at each other and said, hey, we're lucky to be here. We could do something special and maybe we need to be a little less individuals and a little more team. You hear that from older coaches and people that have had success all the time about the importance of team and how that can overcome a lot of things and I think that's what I saw out of these guys the last three or four weeks is playing more like a team."
Westfield finished the season with a 14-1 record. The Bulldogs were ranked No. 25 nationally by USATODAY.