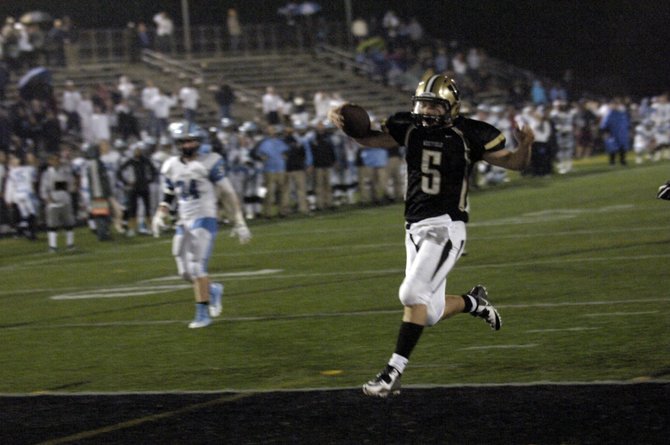 Senior quarterback Mason Scoville put the Westfield football team in position to beat defending 6A state champion Centreville on Friday night with a performance that head coach Kyle Simmons said was the best he'd seen from the second-year starter.
Following Scoville's five-touchdown effort, it was the Westfield defense that sealed the victory with a dramatic double-overtime stop at the goal line.
After Centreville running back Kyle Richbourg's 8-yard touchdown run pulled the Wildcats within one point in the second overtime period, head coach Chris Haddock elected to try for a two-point conversion. After each team called a timeout, running back Xavier Nickens-Yzer took a direct snap and ran to the right, but the Westfield defense stopped the senior just short of the goal line, giving the Bulldogs a 42-41 victory at Westfield High School.
Centreville defeated Westfield twice last season, including a 35-14 victory in the 6A North region championship game, and hadn't lost to a public-school opponent since 2012. The Bulldogs were able to gain a measure of revenge Friday, thanks in large part to the performance of their quarterback.
Scoville completed 12 of 17 pass attempts for 179 yards and two touchdowns. He also scored three rushing touchdowns, including both of the Bulldogs' overtime scores. It was a big-time performance on a big-time stage from a quarterback who spent most of last season handing the ball to the Bulldogs' running backs.
"Mason was a huge part of this win," Simmons said. "[The] things he did tonight allowed us to win this football game, from an offensive standpoint. He's more comfortable this year, which allows him to lead more. With being more comfortable, he's making better decisions. Tonight was about the best I've seen him play, so I hope there's more to come of that."
Centreville and Westfield ended regulation locked in a 28-all tie. The Wildcats had the first possession of overtime and scored on running back Taylor Boose's 2-yard run on fourth down. The Bulldogs answered quickly, with Scoville scoring on a 10-yard run on first down.
"I wasn't really thinking," Scoville said of his first overtime scoring scamper. "I just hit [the hole] and went and luckily it worked out."
Westfield had the first possession of the second overtime and found itself facing third-and-goal at the 14. Scoville dropped back to pass before scrambling up the middle of the field for a touchdown.
"I saw that they were bringing a blitz and they went to the outside, so I knew that the middle was going to be open," Scoville said. "I looked outside and they had it covered, so I just took off."
Richbourg scored on second down of Centreville's ensuing possession. Rather than kick the tying extra point and force a third overtime, the Wildcats went for two and the win, but came up just short.
Simmons said he thought about going for two after Westfield scored in the first overtime, but decided against it.
"I just felt like we were playing well defensively and I didn't want to screw it up," Simmons said. "Defense was playing well, offense was playing well, let's go another round."
Centreville built a 14-0 first-half lead thanks to a pair of touchdown passes from quarterback Joe Ferrick to receiver Charles Tutt. The first was a 17-yard fade on third-and-10 with 19 seconds remaining in the first quarter. The second was a 38-yard deep strike into the end zone with 6:09 left in the second quarter.
Westfield running back Evan Gray scored on a 22-yard run with 3:51 remaining in the first half, and Centreville entered the locker room with a 14-7 halftime lead.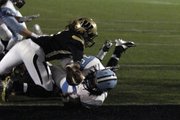 The Wildcats held three separate seven-point leads in the second half, but each time the Bulldogs managed to tie the score.
Scoville's 22-yard touchdown pass to Tyler Scanlon tied the score at 14 with 7:16 left in the third. Boose put Centreville back on top with a 14-yard touchdown run later in the quarter, but Westfield responded with Scoville fighting his way into the end zone on a 1-yard sneak, tying the score at 21 early in the fourth quarter. The eight-play, 79-yard Bulldog scoring drive included a 38-yard pass from Scoville to Scanlon on third-and-9, and a 19-yard pass from Scoville to Cole Brown down to the 1-yard line.
Richbourg gave Centreville a 28-21 lead with a 50-yard touchdown run with 9:45 remaining. Three plays later, Scoville connected with Justin Barrow for a 47-yard touchdown on third-and-16, tying the score at 28 with 8:23 left in regulation.
"When [Scoville] realized he was going to start [as a junior], he was nervous at first," Gray said. "That's why we were more of a [running] team. … This year … he's a leader, he works hard [and] he always pushes us. He makes plays like [he did tonight]. It's amazing. It's great to have a quarterback like him."
Gray carried 23 times for 139 yards and a touchdown. Scanlon had four receptions for 76 yards and a touchdown, and Barrow caught four passes for 71 yards and a score.
Centreville's Boose rushed for 207 yards and two touchdowns on 33 carries. He also caught three passes for 16 yards. Richbourg carried nine times for 84 yards and two scores. Ferrick completed 6 of 11 pass attempts for 98 yards and two touchdowns.
Tutt had two catches for 55 yards and two scores, but suffered an ankle injury near the end of the first half.
Westfield improved to 5-1, including 1-0 in the Concorde District, and has won three straight. Centreville dropped to 4-2, including 1-1 in the Concorde.
The Bulldogs will host Robinson (6-0) at 7:30 p.m. on Friday, Oct. 17. The Wildcats will host Oakton (3-3).
"I'm excited, I'm going to celebrate the win, but we do have to keep in mind this is a regular season game," Simmons said. "[Centreville is] a good football team and they're going to be in the playoffs, which means if we're going to go far, there's a good chance we're going to see them again. Winning the first one's nice, we'll celebrate, but probably most importantly for us and the kids is that they see they can compete against a top-level team."