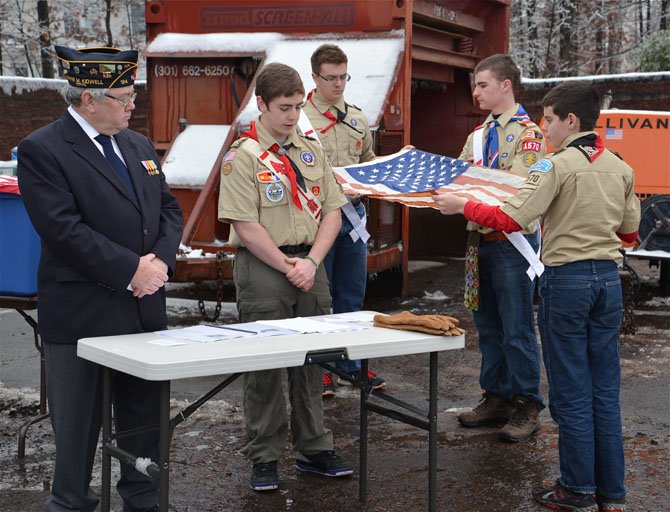 We've all seen images of the American Flag being burned in protest both here and abroad, but did you know that burning the Flag is also done when it is "retired" after being deemed unserviceable? And that it is done so in a ceremony marked with respect and honor?
Boy Scout Roger W. Lambert II, Troop 1570, of Herndon did know that fact and chose to turn the ceremony into his Eagle Scout Project. Despite the frigid temperatures and the icy conditions on Monday, Dec. 9, partnering with the Herndon/Reston American Legion Post 184 and the Town of Herndon, Lambert gathered other troop members at the Herndon Maintenance Yard on Sterling Road and lead the service that saw the respectful destruction of some four hundred flags that he had carefully reviewed and deemed ready for retirement. "If we find a flag that is still in good shape, it is put back in use," said Lambert.
The flags being retired had been collected at Post 184. "People often call and ask us what to do with a flag if it gets torn or otherwise damaged," reported Post Commander David Kirby who was on hand for the event. "We are always prepared to accept them and ensure that they are properly disposed of."
A small crowd of scouts and scout leaders, family members and special guests such as Les Baron, Scout Executive with the National Capital Area Council of Boy Scouts of America braved the poor weather to attend the proceedings. Lambert welcomed those gathered, and then opened the ceremony calling for a "Presentation of the Colors," which was followed by an Invocation. Scout Ian Sauer, once freed from his "presentation" duties, gave a short speech on the history of the American Flag before one representative flag was unfurled and brought to a cordoned-off area where several fire barrels were being carefully attended by scout leaders and their charges.
As the flames took the ceremonial flag, Lambert led the assembly in the singing of "God Bless America." A Benediction closed the event, but before the attendees dispersed to enjoy refreshments – and head for warmer environs – the sound of "Taps" echoed throughout the Maintenance Yard. The official program may have come to its end, but Lambert and his comrades then began the real work of the afternoon – the careful, respectful and honorable retirement of all those flags.