Continuing a series of enthralling professional touring theater productions, George Mason University's Center for the Arts is presenting "Fahrenheit 451" by renowned science fiction and fantasy writer Ray Bradbury. It is another in an "amazing assortment of performances," said Tom Reynolds, Center for the Arts director of artistic programming.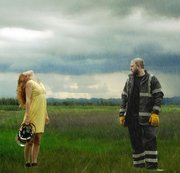 One of his best-known works, "Fahrenheit 451" (originally called "The Fireman" in 1953) is about people living in a time of censorship; a time when the government is all-knowing. The show will be presented by New York City-based Aquila Theatre founded to produce "the greatest works for the greatest numbers."
"It was a pleasure to burn" is the opening line of "Fahrenheit 451." These words set a dark mood as firemen set books on fire to suppress unorthodox thinking. The unconventional is to be suppressed. Nothing is private. Bradbury, himself, adapted his novel for the stage as well as the 1966 movie directed by François Truffaut, starring Julie Christie and Oskar Werner.
While written six decades ago, Bradbury conjured a world where "news" would be delivered to homes through "picture walls" long before the now ubiquitous digital wireless delivery of information to our homes and shown on large monitors.
"People may be aware of the title name from the movie and original literary work. Now they can see it live, in person," said Desiree Sanchez, director of the Aquila production. "With a live performance, the audience will be engaged and emotionally connected quite differently" then when reading the book.
According to Sanchez, "Fahrenheit 451" is "absolutely amazing and incredibly fascinating. Bradbury was clairvoyant in what he wrote. We did not change his text, but did set it in contemporary times rather than deep into the future." Sanchez also noted that the production will use eye-popping mood setting projections and mood-setting lighting along with music by the influential rock band, Nine Inch Nails, founded by Trent Reznor.
Where and Where
Aquila Theatre presents "Fahrenheit 451" at George Mason University's Center for the Arts, 4400 University Drive, Fairfax. Performance Sunday, Jan. 19, 2014 at 7 p.m. Tickets: $22-44. Call 888-945-2468 or visit www. cfa.gmu.edu
Sanchez noted that the show focuses on the "important message of what can happen if we stop reading and become less aware of what is around us." "Fahrenheit 451" also raises many questions about the impact of technology on people's lives. "Is life more empty with less in-person contact?" was a question raised in an interview with Sanchez.
And as Bradbury wrote, "Stuff your eyes with wonder... See the world. It's more fantastic than any dream made or paid for in factories."