The year 2013 provided several exciting moments in local sports. For Woodson, the boys' basketball team's epic comeback earned the Cavaliers a Northern Region title. West Springfield's Caroline Alcorta had a memorable senior cross country season. Lake Braddock's boys' basketball team won its first district title since 2002, South County's girls' track team won a pair of state titles and the Edison girls' basketball team won a region championship.
Here is a look at the top moments in Burke, Springfield, Fairfax, and Fairfax Station sports for 2013.
Woodson Boys' Basketball Wins Region Title with Crazy Comeback
Trailing Wakefield by 19 points entering the fourth quarter of the Northern Region championship game, it appeared the Woodson boys' basketball team would have to settle for the state playoff berth it clinched by winning in the semifinals.
Twelve minutes and one furious comeback later, Woodson was heading to states with the program's first region championship in the school's 50-year history after a 75-70 overtime victory.
Wakefield led by as many as 22 points in the second half and held a 52-33 advantage entering the fourth quarter. But Woodson, which had struggled offensively for three quarters, opened the fourth with an 11-0 run, cutting the Warriors' lead to eight. The Cavaliers, a strong outside-shooting team, continued their comeback with a barrage of perimeter shots. A Peter Murray 3-pointer cut the Woodson deficit to five. Forty seconds later, Alex Boock's 3-pointer cut Wakefield's lead to 55-52. Murray made another 3-pointer with 1:20 remaining, tying the score at 59-all and the game went to overtime.
In the extra period, Damian Bell's 3-pointer gave Woodson a 62-61 lead --- the Cavaliers' first lead since the 5:33 mark of the second quarter. After a Wakefield free throw tied the score at 62, Woodson's Tommy Stepka knocked down a 3-pointer with 2:10 left in overtime,giving the Cavaliers a lead they would not relinquish.
How did the Cavaliers pull it off?
"It's funny because I've been asked that several times," Woodson head coach Doug Craig wrote in an email. "Our kids were just so confident. I remember them coming into the huddle between the third and fourth quarters. Our kids were absolutely not panicked, unnerved, or distraught. There was just a sense of resolve. They just knew they were going to get back in the game, even with how well Wakefield had played. Our kids had a supreme confidence that we could shoot our way back into the game because we had been a team all year that could score points in bunches. We talked very calmly about what we wanted to do. Then went right out and got the lead down from 19 to 10 points in 1 minute, 48 seconds. From there we could just feel the confidence in our huddle. I'd never seen a team just handle that adversity so well. They really weren't fazed a bit about being behind."
In the final 12 minutes, Woodson outscored Wakefield 42-18. The Cavaliers outscored the Warriors 26-7 in the fourth quarter to force overtime.
Murray and Boock each scored 19 points for Woodson. Stepka scored 12 points, and Eric Bowles and Bell each had 11. Murray was named tournament MVP while Stepka and Boock made the all-tournament team.
"Damian Bell, who was perhaps our 10th or 11th guy on the depth chart, hadn't played much the last month of the season. We were going so bad offensively and Damian could really shoot it. We went to him in the last minute of the third quarter through the end of the game. We were looking for a spark and he scored 11 points in the last 13 minutes of the game. He hit a 3 and all of a sudden the confidence spread like wildfire. In the fourth quarter and overtime, we hit like nine threes by four different players. All of a sudden guys that were struggling all night seemed to find their confidence. It really all began with the 3 Damian hit in the last minute of the third quarter. He'll be the guy I will always laud to future teams about staying prepared to play. Biggest game in school history and he hasn't played in a month and comes up huge and really propelled us."
After the game, the Cavaliers paid tribute to former Woodson coach Red Jenkins.
"After the game in the locker room was pretty special and no one got to see it," Craig wrote. "It was the school's 50th anniversary and our first region championship. We had won 19 district titles and been in the regional championship game several times without winning. So many great teams and players (Tommy Amaker, Pete Holbert, Greg Williams, etc.) at Woodson through the years that never quite got it done. After the game our players and coaching staff invited several people in the locker room that had been a big part of Woodson basketball over the years. We had two of the three former head coaches (Red Jenkins and Mike Pflugrath), two former DSA's (Tom Casey and Phil Turner), a couple of former assistant coaches, as well as our principal and current athletic staff. The team presented the regional championship trophy to Coach Jenkins and asked him to accept it on behalf of all the players, coaches, assistant coaches, managers that had been so close and had never quite got it done. Fifty years and so much history, we were so fortunate that Coach Jenkins and others could still be there to be a part of it. A lot of people over the years put in work to get the program there. Our kids really understood how important it was to the school community and wanted to share the moment with some of those people."
Woodson went on to reach the state semifinals.
Spartan Harrier Alcorta Produces Fantastic Senior Season
Caroline Alcorta's senior cross country season was one to remember.
After the West Springfield harrier won the Conference 7 championship on Oct. 30, Alcorta won the 6A North region title on Nov. 6 with the third-best time in the history of the Burke Lake Park course (16:31). After committing to the University of North Carolina, Alcorta went on to win the Group 6A state championship on Nov. 15 at Great Meadow, finishing with a course-record time of 17:13.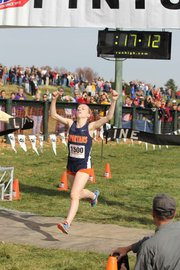 Next, Alcorta won the Foot Locker south regional on Nov. 30 in Charlotte, earning her a trip to nationals. On Dec. 14, Alcorta earned All-American status by placing third at the Foot Locker Cross Country Championships national meet in San Diego. She finished with a time of 17:31.
"I think my favorite part of the XC season for Caroline was her winning states," West Springfield head coach Chris Pellegrini wrote in an email. "It was the first individual XC state championship in our girls' history, and she looked relaxed and comfortable the whole time."
Pellegrini noticed Alcorta's level of confidence grow.
"I think one of the reasons why Caroline has had such a great fall was because she has gained a lot more confidence from her previous seasons of running," Pellegrini wrote. "Her mentality heading into each race has been excellent, and she's provided the other girls on the team a great example of the type of approach that is successful. This type of approach has allowed her to just go out and execute the race plan, rather than worrying too much.
"Her performances at Foot Locker South and Foot Locker Finals in San Diego were really gravy at the end of the season, and it was nice to see that she can match up well at the highest levels."
Edison Girls' Basketball Wins Northern Region Championship
The Edison girls' basketball team stumbled out of the gate in the 2013 Northern Region championship game, falling behind South Lakes 20-5 at the end of the first quarter and trailing by as many as 17 points.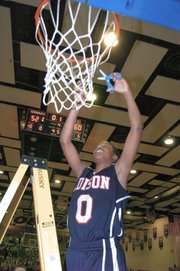 But thanks in large part to then-freshman Jada Graves, who scored a game-high 23 points, the Eagles battled back and won their first region title since 2007, beating South Lakes 60-52 on Feb. 23.
South Lakes' 6-foot-2 center Abby Rendle finished just shy of a triple-double, totaling 14 points, 12 rebounds and nine blocks. But Rendle didn't stop the 5-foot-9 Graves from being aggressive on offense.
"I'm not scared of anybody," Graves said after the game. "I was going to take it and try to get her in foul trouble. If she blocks it, [I'm] just going to go again."
South Lakes led 50-47 with 4:27 remaining in the fourth quarter, but Edison answered with back-to-back 3-points from Megan Hendrick and Lindsey Krisak and closed the game on a 13-2 run.
"I remember vividly when it hit me late in the game that we were going to pull off the win!" Edison head coach Dianne Lewis wrote in an email. "South Lakes was a very good team and I knew the game could go either way. And when it was apparent we were going to get the win, I was trying very hard not to smile until the buzzer went off. But, I was just so happy for the girls. No one expected it from them and that's why the win was most special."
Edison finished the season with a 24-5 record after falling to Colonial Forge in the state quarterfinals.
"Last year's team consisted of six players new to varsity basketball (five freshmen)," Lewis wrote. "Another three players played the previous year but were still trying to find their role on the team. Early in the season was a challenge; I would teach a new drill and we would have a question and answer period longer than the drill! But what I realized about them is that they wanted to learn and they were not afraid to compete against the best! There are no drills to teach passion for the game, and that's what they had. It was very refreshing!"
Lake Braddock Boys' Basketball Wins Patriot District Title
In back-to-back February nights, the Lake Braddock boys' basketball team knocked top seed and eventual region champion Woodson out of the Patriot District tournament and defeated South County to win the district title.
Lake Braddock defeated South County 50-40 on Feb. 15, giving the Bruins their first district title since 2002. Lake Braddock trailed by two with 3:05 remaining in the game, but closed the contest on a 15-3 run.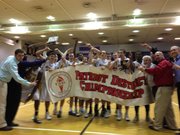 "(My) fondest memory of the moment would have to be the sheer joy on our guys' faces," Lake Braddock head coach Brian Metress wrote in an email. "Having been beaten badly by Woodson at Woodson earlier in the year and again on our own home court toward the end of the season, the upset of them in the semis, followed by then beating one of our arch rivals, South County, really made it special for the guys."
Lake Braddock's Will Gregorits scored 21 points in the district final and was named tournament MVP. A.J. Alexander finished with 16 points.
"The most important reason for our victory, I think, was that we had a gritty group of guys who every day at practice just came out and tried to get better," Metress wrote. "We were a much better team at the end of the year than we were at the beginning. At the beginning of the year we were a team finding it hard to win consistently, but by the end of the year we were a team which was tough to beat night in, night out."
Lake Braddock finished the season with an 18-8 record and reached the region quarterfinals.
South County Girls Win Indoor, Outdoor Track Titles
The South County girls' track team captured the school's first team state championship when it won the indoor title in the winter.
What did the Stallions do for an encore?
Win the outdoor title.
South County won the girls' indoor track state championship with a score of 52 on Feb. 23 in Hampton. The Stallions won the outdoor title with a score of 50 on June 1 in Newport News.
"The most memorable moment was the fact that it was the school's first team state championship and to come back in the outdoor season and win the outdoor state championship is even better," South County head coach TD Holsclaw wrote in an email, "because to duplicate and keep the team focused for that period of time is an accomplishment. Our ladies had a mission and they accomplished it with a lot of pressure on them."
Felicia Majors led the way for South County, winning individual state championships in the pole vault and long jump during indoor, and the 400 during outdoor, along with placing high in several other events.
"I would say the most important reason we were able to win is that we had a very talented athlete in Felecia Majors and when she was tired or down because of another performance, the girls grouped around her for overall moral support to keep her focused," Holsclaw wrote.
"We also had other athletes that stepped up in individual events and relays."