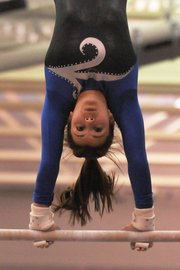 Arlington — Senior members of the Washington-Lee gymnastics team, led by the core group of Mary Lynn Clark, Kylie Auble, Maia Mandel and Madeleine Sendek, will finish their high school careers without having tasted defeat at a regular-season meet — a four-year stretch of success that has included a few championships along the way.
The class of 2013 captured National District titles as freshmen and sophomores. Last season, W-L made it three in a row, but the Generals' talents had matured to the point where a district championship was no longer the high-water mark. W-L went on to capture the 2012 Northern Region championship — the first region title in program history — and finished second at the state meet.
On Jan. 31, the Generals won their fourth consecutive district championship, beating their nearest competitor by nearly 14 points at Washington-Lee High School. Next up for the Generals is the Northern Region meet on Wednesday, Feb. 6 at Lake Braddock Secondary School, where W-L will have a chance to defend its title.
"They were young as freshmen, so we weren't winning the regionals," W-L head coach Joe D'Emidio said about his talented senior class. "Now they're more mature, they know what it's like to win and when we went to states last year [and placed second], they've got a taste and now they really are going for it."
The Generals are showing improvement at a good time. W-L posted a season-high score of 145.5 at the district meet, led by four gymnasts — Clark, Auble, Mandel and Sendek — who posted all-around region-qualifying scores of 35 or better.
"I think the taste of victory is really rewarding to the kids and they want to taste that again."

— W-L gymnastics coach Joe D'Emidio
"I think the taste of victory is really rewarding to the kids and they want to taste that again," D'Emidio said. "They showed it tonight. Even though they knew the competition wasn't as tough, they had the highest team score for the season. I was shooting for 144, but they did one point better than expected."
Clark won her fourth consecutive all-around district title with a total of 36.95. She finished first on bars (9.475) and beam (9.35), placed third on floor (9) and tied for third on vault (9.125).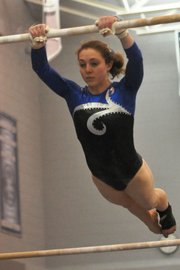 "It's been a long road," Clark said. "It just feels really good [to be part of four consecutive team district titles]. It's bittersweet because it's the last districts ever, but there's no better way to end our gymnastics career."
Does last year's success change this year's expectations?
"Our ultimate goal is to win, but we know that we all really need to hit for that to happen," Clark said. "… We have pretty high expectations for states this year."
Auble placed second in the all-around with a score of 36.325. She placed first on floor (9.275), finished second on vault (9.525), took fifth on bars (8.675) and finished sixth on beam (8.85).
"Kylie is our secret weapon," D'Emidio said. "It's always been Mary Lynn, Mary Lynn, but Kylie has been coming up. Coaches and teams are going 'Who's this girl?' She is scoring very well and if it wasn't for her two falls — the one on beam and the one on bars — she would have won all-around [at the district meet]. She's that strong."
Mandel placed fourth in the all-around with a total of 35.5. She placed third on bars (9.375), seventh on beam (8.45), seventh on floor (8.55) and tied for third on vault (9.125).
Sendek was fifth in the all-around with a total of 35.425. She placed fourth on beam (9.05), bars (8.975) and floor (8.725), and finished eighth on vault (8.675).
The top four all-around finishers and any gymnast with a score of 35 or better qualify for regionals.
W-L sophomore Sophie Hatcher finished sixth in the all-around with a total of 34.675. She had top-eight finishes on floor (second, 9.175) and beam (third, 9.1).
The Northern Region meet is scheduled for 3:30 p.m. start on Wednesday.
"I really hope we can win regionals," Auble said. "I think it will definitely be tough again. I really hope we can pull it together again."