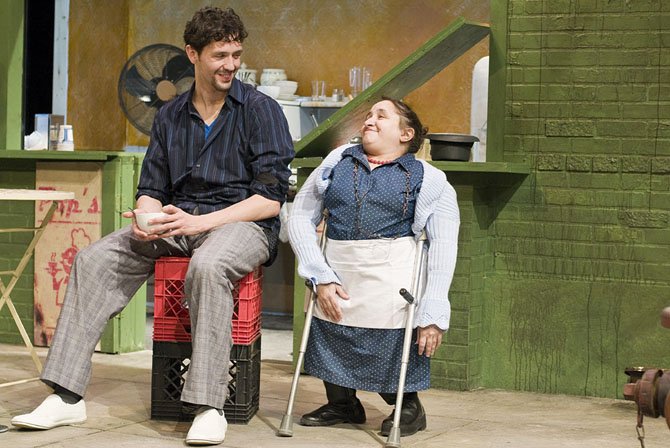 Where and When
"Italian American Reconciliation" at 1st Stage, 1524 Spring Hill Road, McLean. Performances: Now through Sunday, Feb. 24. Friday 8 p.m., Saturday 2 p.m. and 8 p.m., Sunday, 2 p.m. and 7 p.m. Tickets: $15-$25. Call 703-854-1856 or visit: www.1stStagesprin...
The pedigree of playwright John Patrick Shanley is top notch; he was awarded a Pulitzer Prize for his play "Doubt" and won an Oscar for the screen play for "Moonstruck." His "Italian American Reconciliation," now playing at 1st Stage in Tysons, will not disappoint. It is a pleasing romantic comedy with an opera-tinged take on the lives of young strivers learning about love the hard way, through some cartoon-like pain.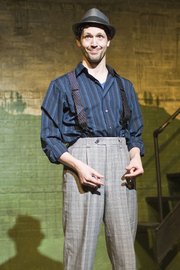 The production is directed by Michael Chamerlin who worked his magic for 1st Stage with last year's snow-driven, whispery-soft, new-age "Almost Maine."
"Italian American Reconciliation" is quite the opposite in speech patterns, tone and location, yet in some ways similar. There are young people messing up as they try to find love and a committed relationship. Chamberlin has the touch. It works.
There is Huey Maximilian Bonfigliano (Matt Dewberry, playing confusion well to a fault) who wants to reconcile with his ex-wife Janice (a tantalizingly rough Anne Nottage). He has "no confidence" in himself and thinks she took his "manhood." She believes that "flowers feel like flames in my hands." She even shot his dog and tried to kill him to make a point of her feelings.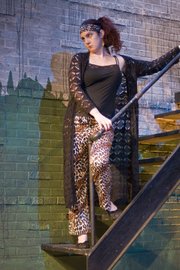 Dewberry asks his best buddy, Aldo Scalicki (energetically positive Drew Kopas) to help him win her back, though Kopas admits that "women still amaze" him and he never wants to marry. And Huey must also break up with a decent young woman who loves him (appealing Dani Stoller).
There is also the all-knowing, mature Aunt May (wonderfully expressive Suzanne Richard) who provides wisdom whenever she speaks a line.
The technical design is a delight. The sound design of Derek V. Knoderer adds to the operatic feel, but more of a Vegas brassy mambo dance style of the late 50's and early 60's. No rock and disco in sight. The audience is treated to music that drips with feelings of a bygone time, full of Dean Martin, Rosemary Clooney, Louis Prima and more. JD Madsen's set is an urban brick wall in Manhattan's Little Italy, but with hidden openings, fire escape stairs and a sometimes hidden well-stocked diner. There is even a glowing pizza-like moon.
"Italian American Reconciliation" is a big and broad-shouldered offering with amusing dialogue, endearing in their-own-ways characters, and quiet insights within the posturing.

As Aunt May says, "the greatest and only success is to be able to love."