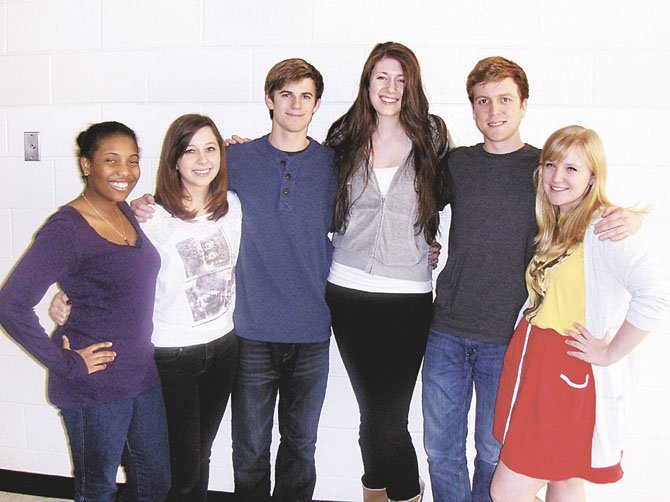 Photo Gallery
Centreville HS One Act Plays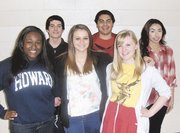 Click Photo for Flash
Centreville — Comedy, drama and everything in between are on tap during Centreville High's One-Act Play Festival. It's slated for Friday, Feb 15, at 7 p.m. and Saturday, Feb 16, at 2 p.m. Tickets, good for both days, are $5 at the door.
Six short, student-directed plays will be presented, and all will run each of the two days. And that Saturday, the audience will receive a bonus, one-act play, "Deliver Us Not," a hilarious conversation among three fetuses in the womb, discussing the world beyond what they know.
"These kids are really dedicated to what they're doing," said Centreville Theater Director Mike Hudson. "They've planned this for two years. They've got great ability to judge the talent of those who've auditioned, and they've made mature choices."
"I can see and hear myself in them when they're running their rehearsals, and it's been eye-opening for me," he continued. "And by being directors themselves, they've realized the reasons for some of my choices."
The student directors are all seniors, and their shows are: "Everything You Want," "Louder, I Can't Hear You," "Circuits," "Conform," "Balloon Shot" and "Cinderella Wore Combat Boots."
'Conform'
Directed by Ashley Rosenstein, "Conform" has a 10-person cast starring Marcus Schmidt, David Strauch and Josh Lee. "It's an absurdist farce about three men in boxes judging society," said Rosenstein. "Throughout the play, they're telling passersby that they should conform to their ideas of the world. But in the end, it's they who conform."
"I love my cast," she said. "They've really taken to this play. They're doing a really good job and love the play as much as I do. It's very funny, has some puns and exaggerations and makes fun of what society does."
Rosenstein is also having a great time directing. "I like having my own vision and seeing how the actors have taken it to the stage and transformed it," she said. "I learned how much hard work it is and how much you rely on your cast. You have the big image, but they have to figure out all the little things their characters can do to bring it all together."
'Louder, I Can't Hear You'
Kent Clingman directs "Louder, I Can't Hear You," a comedy about a dysfunctional family. There are six cast members, with Jemma Stratton in the lead role of the mother, Marge. "The mother is having trouble communicating with her family, and she struggles to connect with them," said Clingman. "They're all in their own, little worlds, so they're all concerned about themselves."
He said his actors are doing well. "Everybody's learning their lines and there's good cast cohesion," said Clingman. "It's a relaxed play, not heavy, there are a lot of jokes and the audience will enjoy all the spoofs."
Calling directing fun, he's enjoying getting to know his cast members and joking around with them. "You have to trust your actors," said Clingman. "The hardest part is getting all the staging and props in order."
'Everything You Want'
Directing "Everything You Want" is Binta Barry. "It's a drama with some humorous aspects," she said. "It's about Josephine, a young journalist who believes she doesn't have the right words to say, so she doesn't want to speak, at all. It's also about Harry, a computer technician who hasn't been communicating much and wants to start again."
Playing those roles in the two-person cast are, respectively, Miranda Newman and Connor Gillooly. "It's fun working with them because they're both good learners and listeners," said Barry. "They're really great at absorbing my notes and projecting them back to me."
What's most appealing about this play, she said, is that it's not plot-driven, but character-driven. So, said Barry, "The audience will enjoy seeing the two characters' revelations and the conflict between them."
"I've always wanted to direct, so this is a dream come true," she continued. "I just love being able to be behind the scenes, after doing so much acting. There are a lot of different styles of directing, and the most difficult thing is suggesting, not telling, my actors what to do and letting them come up with some of their own ideas."
'Balloon Shot'
Featuring a cast of six, Emma O'Brien is directing the comedic drama, "Balloon Shot." The lead actress is Katja Milosevic who portrays Desiree. "It's about Desiree, who's one of four cell mates, and the others don't know if they can believe her when she tells them she's broken out of high-security prisons," said O'Brien. "But they want to escape with her if she is telling the truth."
Actually, O'Brien put her own spin on this show. It was originally written for four men, but she changed the characters to women. "We're using bunk beds as jail cells," she said. "We just finished all the blocking and everyone's off book [script] now. The audience will like the dynamics between these interesting characters, and my actors give very in-depth portrayals."
She said directing's stressful, but also rewarding "because it's neat to see something you were in charge of come together. I didn't realize how expensive things would be, though. For example, the rights to the show for just two performances were $70. But directing's a really nice experience I'm glad I had."
'Cinderella Wore Combat Boots'
Sarah Wills directs the comedy, "Cinderella Wore Combat Boots," calling it "the classic Cinderella tale with a quirky twist. It's a fun story with the basic elements, but all the characters act differently and Cinderella and the prince meet in a different way. There's also a lot of interaction with the audience."
The eight-person cast features Emily Hoffman as Cinderella, Alec Smith as the prince and Austin Burch as the storyteller. "My actors are primarily freshmen, and I wanted to work with freshmen to get them interested in theater," said Wills. "They amaze me with how talented they are; they're all doing a really good job."
She said the audience will enjoy interacting with the cast and will like the story because it's a familiar tale, but told in a way that's "entertaining and hilarious."
"Directing is definitely a change for me because I'm not bossy," said Wills. "I don't want to be harsh, but I want to help the actors grow into their characters. I didn't realize how many things go into directing and how hard casting is. But it's nice being able to carry out my own vision for the show."
'Circuits'
Directed by Daniel Lindgren, "Circuits" has a cast of three, Ashley Leightley and Scott Stevenson as sister and brother, Emily and Jack, and Connor Gillooly as Emily's love interest, Hugh. Lindgren describes it as a comedy with dramatic elements.
"Emily's brother has died in a car accident and she's going to his funeral," said Lindgren. "The entire play takes place in her room, but the audience doesn't know whether she sees Jack as a coping mechanism because of all the stress or if he's a ghost."
He said the audience will like the relationships between the characters and will relate to the way the siblings interact. "The story does a good job of dealing with a serious issue in a more lighthearted way and, in the end, it has a solid message," said Lindgren. "The actors really understand the script and how their characters are supposed to relate to each other, and I've been impressed with that."
Calling directing an "interesting experience," he said, "I've been in one-acts since I was a freshman, so it's cool to finally have that control. I'm now better able to see my own vision of a show than I was before. I'm analyzing things more, and I've learned how important it is to get scripts out of people's hands so they can focus on the acting. I'm also enjoying seeing what kinds of things they bring to the table. I like having my mind changed, at times, but also seeing my original plan come to fruition."