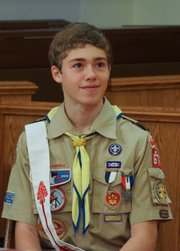 Spencer Weiss is the latest Eagle Scout in Troop 673 sponsored by the Great Falls United Methodist Men. Spencer, who is currently the senior patrol leader of the troop began his scouting career in 2004 as a Cub Scout in Pack 1884, where he was the undefeated Pinewood Derby champion from 2004-2009.
For his Eagle project, Spencer planned and led over 40 volunteers to construct a set of stairs and a path between Embry Rucker Community Shelter and Reston Regional library using primarily reclaimed materials.
A freshman at Jefferson High School, Spencer earned the National Outdoor Award for Camping in September of 2012. He participates in football, Model UN, and the student council.