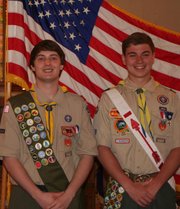 Ian Toloczko and Owen Dankworth, of Eagle Scouts from Troop 673 in Great Falls –- sponsored by the Great Falls United Methodist Men – are the most recent among more than one hundred Eagle Scouts developed by the Troop for over 50 years of activity.
Owen Williams Dankworth, son of David Dankworth and Pamela Williams of Great Falls, joined Troop 673 in 2009, after achieving the award of Arrow of Light as a Cub Scout. Since joining the troop, Owen has served as Chaplain's Aid, Patrol Leader, Assistant Senior Patrol Leader twice, and Den Chief. An enthusiastic participant in scouting, Owen attended nearly every troop outing while in elementary and middle school, multiple boy scout camps each summer, and participated in the Triple Crown of High Adventure trips: Sea Base in 2012, Northern Tier in 2012 and Philmont in 2013. He advanced to the level of Order of the Arrow (Scouting's National Honor Society) in 2010 and achieved the rank of brotherhood in 2011. Owen's various distinctions include 50 miler awards in bicycling, canoeing, and hiking; National Junior Shooting Award; National Youth Leadership training; National Outdoor Achievement Awards in Camping and Adventure; and an Eagle Gold Palm.
Owen's Eagle Project was the construction of an outdoor fire pit at the Great Falls Methodist Church, providing a place of fellowship for the numerous groups who meet at the church. Under his supervision, scouts, youth, and adults excavated and leveled a site and constructed a three-foot diameter fire pit.
Owen is a sophomore at Woodberry Forest School in Madison County, Va. Active in the Great Falls United Methodist Church Youth Group, he has participated in domestic and international mission trips. This summer, Owen will be travelling to China to continue his study of Mandarin.
Ian Carlyle Toloczko, son of Matthew and Lynn Toloczko of Great Falls, transferred to Troop 673 in 2012. He has served as Assistant Senior Patrol Leader, Chaplain Aide, Quartermaster, and Assistant Patrol Leader for the troop. Ian has attended summer camp every year since joining scouts in 2007, and participated in the Florida Sea Base High Adventure trip in 2013.
For his Eagle project, Ian cleared the upper meadow of Riverbend Park and constructed brush pile habitats for small animals. Working with park staff, Ian developed a plan to return the meadow to its pre-wooded state. Working over two weekends, he supervised scouts to complete the project, benefiting the park and its ecosystem.
Ian is a senior at Langley High School where he is a member of the Future Business Leaders of America, and DECA, the association of marketing students. After high school, Ian plans to pursue a degree in Risk Management and Insurance with a minor in International Business at the University of South Carolina's Darla Moore School of Business.