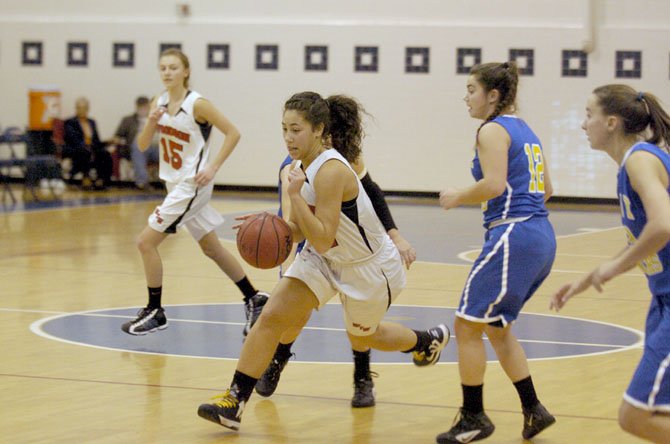 Fairfax — Woodson senior guard Keara Finnerty, a first-team All-Patriot District selection, hasn't played in a Northern Region tournament since her freshman season. Senior guard Anna Walker, a member of the all-district second team who played two seasons at Falls Church before transferring to Woodson, has never experienced regionals.
The Woodson girls' basketball team started the season 0-6, not exactly a strong indicator of future success. But the Cavaliers responded by winning nine of their next 10 games and earning a top-four seed in the Patriot District tournament. On Tuesday, Woodson's season of resurgence went a step further as the No. 4 Cavaliers defeated No. 5 Lee 45-32 in the first round of the district tournament at Woodson High School. With the victory, the Cavaliers advanced to the semifinals and secured a berth in the Northern Region tournament for the first time since the 2009-10 season.
"It feels great," said Finnerty, who was a freshman on the Woodson varsity when the Cavaliers defeated T.C. Williams in the 2010 district tournament, earning Woodson a regional berth.
According to stats from the Washington Post's Web site, Finnerty averages a team-high 18.7 points per contest. The Cavaliers' second-leading scorer, Walker, averages 9.1 and senior Katie Hayes, third on the team in scoring, averages 4.7. Against Lee on Tuesday, Finnerty finished with 11 points, but didn't score until knocking down a 3-pointer with less than 4 minutes remaining in the second quarter. Thanks to sophomore Emma Kirschner, Woodson was able to jump out to an early lead without a major contribution from its primary offensive threat.
"It feels like all the hard work that we've put in this season is paying off because we started off really rough and now we're winning."

--- Woodson senior Anna Walker
Kirschner knocked down a trio of jumpers in the first quarter, helping the Cavaliers to an 8-2 advantage. She finished with nine points and nine rebounds.
"Anna Walker has always been a decent scorer for us, but we've been searching for other scorers," Woodson head coach Patrick Neri said. "Emma Kirschner came out strong and gave us a boost."
Walker led Woodson with 15 points. The Cavaliers led 19-14 at halftime and after a pair of free throws by Tianay Zeigler extended Woodson's lead to seven, Walker knocked down a 3-pointer and a jumper to give the Cavaliers a 26-14 advantage in the third quarter. Another Walker jumper gave Woodson a 31-20 lead at the end of the third quarter and the Cavaliers held a double-digit lead for the remainder of the contest.
Walker, who was a member of the Falls Church varsity team her freshman and sophomore seasons, will play in her first regional tournament.
"It feels really good," she said. "It feels like all the hard work that we've put in this season is paying off because we started off really rough and now we're winning."
Senior guard Addie Block led Lee with 18 points. Junior center Amber Bryson finished with eight points for the Lancers.
The victory improved Woodson's record to 12-11. The Cavaliers will face No. 1 West Springfield in the district semifinals at 6 p.m. today. The district championship game is at 7 p.m. on Friday, Feb. 15 at Lake Braddock Secondary School.
"I give them a lot of credit for hanging in there and playing through the losing streak," Neri said, "and keeping their heads together."