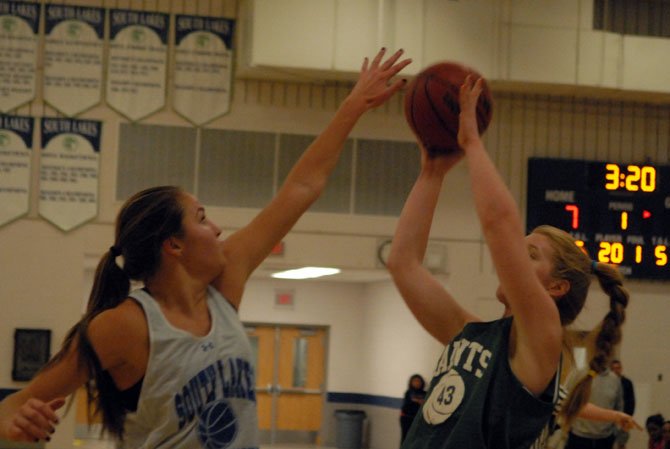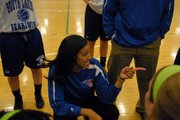 The South Lakes girls' basketball team ended the 2012-13 season on a wild ride, with five of six postseason games decided by three or fewer points while earning a trip to the state tournament.
The Seahawks have positive memories from the 23-win campaign, including Caitlin Jensen's buzzer-beater that knocked a talented Mount Vernon team out in the region quarterfinals, and memories of disappointment, including a two-point loss to Stonewall Jackson in the state quarterfinals.
Unfortunately for the Seahawks, memories are all they have to show for last season.
Despite a deep postseason run, South Lakes failed to win a district, region or state championship. The Seahawks lost to Madison by three in the Liberty District semifinals, fell to Edison by eight in the Northern Region championship game and came up short against Stonewall at states. None of the athletes on the South Lakes roster have experienced a high school postseason championship.
This season, South Lakes has its sights set on taking care of unfinished business.
"We want to cut down nets," said Jensen, referring to the celebratory act following a championship. "That's definitely big for us. Being right there, it's kind of a sour taste in your mouth for all four years, so we definitely want to cut down those nets."
South Lakes possess the fire power to make championships a reality. The Seahawks return nine athletes from a team that finished 23-6, including a pair of seniors who will play college basketball. South Lakes has size, perimeter scoring and the motivation to improve.
"Even though everyone was like, oh, great year, there was still kind of an unfinished feel to it because we didn't cut nets."

--- South Lakes girls' basketball coach Christy Winters Scott
"Even though everyone was like, oh, great year, there was still kind of an unfinished feel to it," South Lakes head coach Christy Winters Scott said, "because we didn't cut nets."
Jensen is a 5-foot-5 senior combo guard who can handle the ball and score. Her jumper at the buzzer gave the Seahawks a 46-45 win over Mount Vernon, advancing South Lakes to the region semifinals for the first time since 1997. She will play for the University of Mary Washington.
"Last year," Jensen said, "really raised our expectations."
Abby Rendle is a 6-foot-4 senior center who can fill up a boxscore. Rendle has the size to be a double-digit rebounder and the wingspan to be a shot-blocking force. She can also run the floor and finish in transition. Rendle will play for William & Mary.
"I just want them to be consistent," Winters Scott said about her college-bond standouts. "Every game, I want them to be the same player [and] I want them to be relied upon by their peers."
Six-foot-2 junior Princess Aghayere is a force in the paint and senior guard Sasha Sprei (5 feet 5) is an experienced contributor. Senior guard Chauntell Dunbar (5-8), junior guard Brenda Kamga (5-9), senior guard Natalie Toma (5-9), senior guard Colette Toma (5-8) and senior forward Kristen Cornwell (5-10) also return from last season.
"Every single year we get a better connection," Rendle said. "We have great chemistry."
After the VHSL six-class realignment, South Lakes will play its first season in the 6A North region's Conference 6, which includes Fairfax, Langley, Madison, McLean, Hayfield, Washington-Lee and Yorktown.
The Seahawks will scrimmage Centreville, which also reached last year's region final four, at 10 a.m. on Saturday, Nov. 23 at Centreville High School. The Seahawks will open the season on the road against Stone Bridge at 7:30 p.m. on Dec. 3.
The Seahawks will have a target on their backs this season and Winters Scott said the team has to focus on improving.
"We're not the ones gunning for the Oaktons and the Mount Vernons," she said. "Now, they're going to be coming to us because of what happened last year in those games when we beat them."
If the Seahawks work hard, their talent and experience just might earn them more than memories this season.
I want [championship banners] on the wall," Winters Scott said. "… I want it to be a prideful thing and not (have to) look up like, we didn't
get it done."