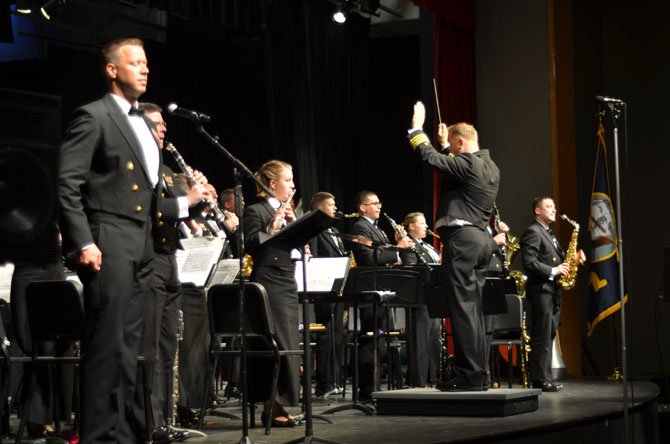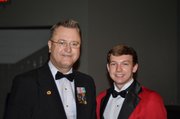 Herndon High School hosted the United States Navy Band the evening of May 9. The band performing was the U.S. Navy Concert band, based in Washington, D.C. This is the fourth time Herndon High School (HHS) has hosted a performance with the Navy Band. "It is a wonderful opportunity that the Navy Band gives freely of their time and talent to encourage the musical growth of our children," said Rhonda Reeves-Long, a member of the school band's boosters group.
Captain Brian O. Walden conducted the evening concert which included music from composers John Williams and Karel Husa. "It is great to be able to come play before such an enthusiastic crowd," said Walden. The Navy Band requested top seniors perform a selection with the band. The HHS seniors who performed with the Navy Band were: Kimberly Strother (flute), Dasha Bradfield (clarinet), Tiberiu Baicoianu (clarinet), Jay Kotra (bass clarinet), Michael Chen (trumpet), Trevor Little (trumpet), Lewis Morgan (trombone), Blake Morgan (percussion), and Dylan van Vierssan (percussion). "We are honored to host this wonderful, patriotic band," said Kathleen Jacoby, HHS Band Director. "Our seniors who are performing will cherish this opportunity to play with these talented group of musicians."
Returning to Herndon for the show was Chief Musician Stacy Loggins. A resident of Alexandria, Loggins joined the Navy Band in 1994. "It is nice to come back," said Loggins. From September 1994 to November 2005, Loggins taught the Herndon High School drum line and was a percussion instructor and composer. Senior student Blake Morgan took the opportunity to greet Loggins. "He was my teacher back when I was in middle school, and was a major influence for me," said Morgan. In January 2014 Morgan showcased his talent during a halftime performance at the nationally broadcast U.S. Army All-American Bowl in San Antonio, Texas.
"We feel fortunate we have such an amazing group live by so closely and play before us," said Jacoby. "Nothing compares to a live performance."
The Herndon High School Bands next performance will be the Spring Concert scheduled for Tuesday May 20 at 7 p.m. at the Herndon High Auditorium. This event will feature percussion, flute choir, sax choir, jazz band, symphonic band, and the Wind Ensemble. To read more about Herndon High Band, visit herndonband.net.