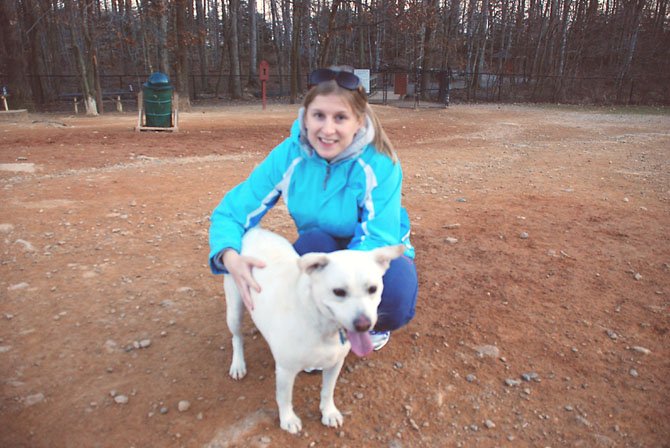 The ASPCA estimates that nationwide, somewhere between five and seven million "companion animals" wind up in shelters each year. Of that number, 60 percent of dogs and 70 percent of cats are euthanized ... each year. The prominent humane organization also figures only about 20 to 30 percent of cat and dog pets were acquired from rescues and shelters.
Unfortunately not every animal can find a home before it's too late, but for the lucky ones who do get adopted, many end up becoming indispensable members of their foster families. Each of these women brought at least one shelter-rescue animal into their lives. And each animal has carved a special place in its adopted family.
SPRINGFIELD RESIDENT Amy Lubinski adopted Daphne, a mix of Labrador, pit bull and boxer, two years ago from Dog World Rescue in Alexandria (dogworldrescue.com). The pair makes weekly visits to the South Run Dog Park, where Daphne displays the more outgoing side of what Lubinski described as a "split personality."
"At home, she's sweet and cuddly," Lubinski said, "but she can be very protective. She thinks the UPS man is coming to kill me."
The defensive instinct is part of a strong maternal inclination in Daphne, according to Lubinski. In addition to a suspected abusive past, Daphne was reportedly picked up as a stray, scavenging through trash to provide for her own litter of pups. "Wherever we go, she attracts puppies," said Lubinski. "They'll just come up and try to nurse off of her, and she will stand there in all her motherly glory."
A WHIPPET-BEAGLE MIX named Tangle was adopted by Laurel Ward and her family over four years ago on the very day the animal was scheduled to be put down in a Greenville, S.C., high-kill shelter. The Fairfax Station resident found Tangle through an online agency called K-9 Lifesavers (k-9lifesavers.org).
The non-profit organization seeks to remove animals from "high risk" scenarios and set them up with foster homes and ultimately long-term adoptions.
Looking through the listings for small to medium-sized animals, Ward said, "I saw that there were 500 dogs 30 pounds and smaller up for adoption, and it broke my heart. I'm surprised I stopped at one."
The Ward family was replacing a crossbred Labradoodle that looked like the perfect fit, on paper. "She was supposed to be a wonderful combination of loving personality, trainability, modest size," said Ward, but by the time the puppy had become a 75-pound adolescent, she was "none of the above."
Finally, an incident involving an attack on another dog forced Ward to look for another home for the dog, which she was fortunately able to accomplish. Tangle, despite an initial anxiousness in most social situations, warms up quickly to an attentive, cherubic disposition.
Ward previously owned a rescued animal, whose loving and loyal personality was sorely missed in the Labradoodle. Tangle has picked up the torch for the family. "We're adoption people," said Ward. "I would do it again in a heartbeat."
THE WAICKWICZ BACK YARD in Fairfax Station is a bit worse for wear, thanks to the playful interactions of two golden retrievers—7-year-old sisters Molly and Maddie—and a 14-month-old bull mastiff named Sassy.
Fortunately, the family's additional three cats and horse all play elsewhere. Growing up on a farm north of Baltimore with "the whole menagerie of cats and chickens," Eleanor Waickwicz admits it's only natural that her home is packed with pets. (To be fair, the retired thoroughbred "JP" is boarded in Richmond and receives weekly visits from Waickwicz's daughter Emily.)
"The lows are the vet visits," she said, "and the amount of fur. I vacuum every day. But everyone who has pets can relate. I wouldn't give it up."
Waickwicz and her family spent three years living in Iceland and five in San Diego, adding strays and adoptions to their own menagerie along the way. That includes 12-year-old alpha feline Asa who hails from Iceland. The 7-pound blend of European Burmese and Icelandic Siamese is "very different, all the way around," according to Waickwicz, and "controls everything around the house."
Seeking a replacement for a second cat from Iceland that didn't survive the move, the family found Lynxie at a Petco adoption day in San Diego (petco.com). The tabby was soon joined by another stray, that "appeared on our doorstep—pathetic little thing," said Waickwicz.
The house was at cat capacity, so she attempted to find a no-killing shelter in the area. "They laughed at me," Waickwicz said. It appeared the second tabby was staying put. "My husband said, 'What's one more?'" Now Fatty, as she's called, "is just the sweetest cat, sweetest personality and disposition—what a doll, everyone loves her."
"They're all part of the family," concluded Waickwicz. Which is a more desirable fate for any animal than becoming another grim statistic.