Halil Parks had struggled of late to make an impact for a Wakefield boys' basketball team in the midst of a run to the state tournament.
With a trip to the semifinals on the line, however, the junior guard made his presence felt early and came up with a clutch bucket in the final minute that helped the Warriors earn a trip to Richmond.
Parks' bucket with 25 seconds remaining extended the Warriors' lead to three points and Wakefield, the 5A North region's No. 2 seed, held on to beat 5A South No. 3 Deep Run 50-48 in the state quarterfinals on Saturday at Robinson Secondary School.
Wakefield will face 5A South champion L.C. Bird in the semifinals at 11:45 a.m. today at VCU.
Parks, who transferred to Wakefield from Washington-Lee, scored eight of his 10 points during the first 9 minutes of the game.
"You look at the last four or five games, [Parks] hasn't done anything for us, but he's still a threat while he's on the court," Wakefield head coach Tony Bentley said. "When he hit those two 3s early in the game, it's like, OK, we're good. Now you've got to know where he is at all times. Now it opens up for Deng [Nhial], opens up for Amari [Cooper]."
Parks knocked down a pair of 3-pointers in the first quarter and gave Wakefield a 12-7 lead with a pull-up jumper during the opening minute of the second quarter.
"I just took the shots that coach encourages me to take," Parks said. "… I guess I was just hitting it tonight. My shot was on from the jump. They told me to keep shooting, so I just fed off that."
Parks was the latest player to step up for a Wakefield team that improved to 25-2 with the win over Deep Run.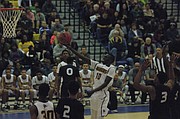 "At this time of the year, you want to have different guys [who can score]," Bentley said. "You don't want to have one or two guys because that's not going to win you a championship."
Wakefield's Alan Treakle also finished with 10 points --- all of which came from the free-throw line in the second half. The junior guard made 10 of 12 attempts from the foul line, including 8 of 10 in the fourth quarter. Treakle connected on 1 of 2 free throws with 7.2 seconds remaining, extending the Warriors' lead to four.
"You give me Alan Treakle at the free-throw line all day long," Bentley said. "I'm happy with Alan at the free-throw line."
Nhial, a senior guard, led Wakefield with 12 points and Cooper, a sophomore forward, finished with seven.
Bentley said the Warriors took a more conservative defensive approach against Deep Run, choosing to back off and force the Wildcats into jump shots rather than apply pressure and risk surrendering layups.
Deep Run senior guard Jorge Pacheco scored 27 points and knocked down six 3-pointers, but Wakefield came away with the victory.
"That No. 1," Bentley said, referring to Pacheco's uniform number, "was special."
Wakefield returned to the state semifinals for the first time since 2013, when the Warriors lost to John Marshall in the AAA final four.
For Bentley, this is his fifth trip to the state tournament in 14 seasons with the Warriors. Wakefield won its fourth consecutive conference/district championship this season and finished region runner-up.
"We weren't' able to get the regional championship," Treakle said, "so we just want to get the next one."