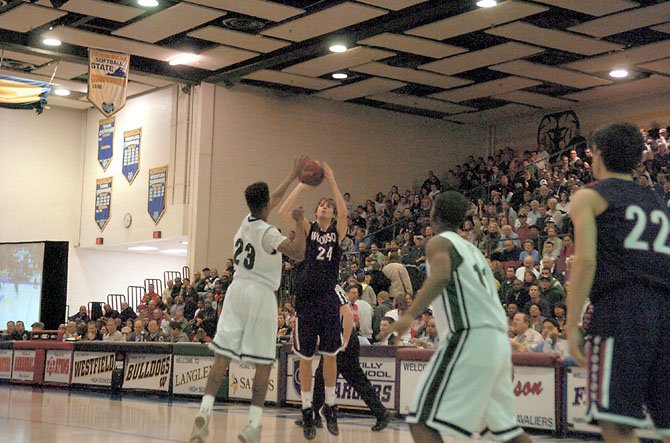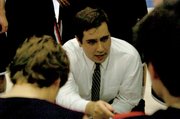 Fairfax — Woodson boys' basketball coach Doug Craig, wearing a white shirt and a red, white and blue tie, climbed a ladder placed underneath one of the goals at Robinson Secondary School.
His black hair soaked with sweat, Craig ascended until he reached the net and made the final celebratory snip, separating twine from iron. With the net in his grasp, Craig pumped his fist in the air before descending to the court and placing the net around the neck of senior Peter Murray.
"That was fantastic," Murray said.
After three quarters of Saturday's Northern Region championship game were in the books, the likelihood of a Woodson postgame celebration appeared slim as the Cavaliers trailed Wakefield by 19 points. Woodson's shots weren't falling and the Cavaliers had been limited to a combined 16 points in the second and third quarters. With a state tournament berth already secured, Woodson wasn't faced with a win-or-go-home scenario. But as it turned out, the Cavaliers didn't need the fear of their season ending to pull off a miraculous comeback.
Woodson defeated Wakefield 75-70 in overtime during the Northern Region tournament final on Feb. 23 at Robinson. Woodson secured its first outright region championship in the school's 50-year history and provided those in attendance with a memorable performance.
THE CAVALIERS were down by as many as 22 points in the second half and trailed 52-33 entering the fourth quarter. Over the next 12 minutes, Woodson outscored Wakefield 42-18, including 26-7 in the fourth quarter to force overtime.
"To be honest, I think we were a bit worried, but we knew we could do it," Woodson senior Alex Boock said about the team's mindset entering the final quarter. "We knew it would be tough, but we knew we could do it."
"To be honest, I think we were a bit worried, but we knew we could do it. We knew it would be tough, but we knew we could do it."

--- Woodson senior Alex Boock
Woodson opened the fourth quarter on an 11-0 run, cutting the Wakefield lead to eight on a Tommy Stepka bucket with 6:08 remaining. Murray's 3-pointer with 3:49 left pulled the Cavaliers within five and Boock's 3-ball 40 seconds later cut the Warriors' lead to 55-52. Each was part of a 22-3 run.
Murray made another 3-pointer with 1:20 remaining, tying the score at 59-all. Neither team would score during the remainder of regulation, sending the game to overtime.
"We just told them … to just keep playing because we knew we could do it," Craig said. "We knew we could score a lot of points, we knew we could get hot and make some shots. We just went cold for about two quarters --- we just couldn't throw it in the ocean. …
"There's no magic potion or anything. We just kept playing hard."
Wakefield struck first in overtime on a bucket by senior Khory Moore, but Woodson responded with a 3-pointer by senior guard Damian Bell, giving the Cavaliers a 62-61 advantage --- their first lead since the 5:33 mark of the second quarter.
"I think they got the first basket (of overtime) and [Bell's 3-pointer] was the dagger," Murray said. "At that point, once we took the lead … I think Wakefield just kind of crumpled up and backed down."
A free throw by Moore tied the score at 62-all, but Woodson's Stepka answered with a 3-pointer with 2:10 remaining and the Cavaliers led for the remainder of the contest.
"The bottom line is," Boock said, "we started playing the right way at the right time."
Murray and Boock each finished with 19 points for Woodson. Stepka had 12 points, and Eric Bowles had 11 and Bell each had 11.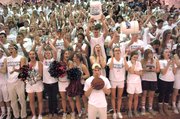 Murray was named tournament MVP. Stepka and Boock made the all-tournament team.
Moore scored 37 points in defeat for Wakefield. Dominique Tham scored 12 points and grabbed 10 rebounds. Each was named to the all-tournament team.
Wakefield outscored Woodson 15-6 in the second quarter to take a 31-23 halftime lead. The Warriors increased their lead to 22 points when Moore's sixth 3-pointer of the evening gave Wakefield a 52-30 advantage with 1:02 remaining in the contest.
How did the Warriors take the loss?
"Tough," head coach Tony Bentley said. "I want them to take it tough, because if I had a bunch of guys that came out here and were just happy, I'd be pissed. Yeah, they're taking it hard, especially some of the seniors who worked hard to get to this point. You don't want to just get here and walk away with this [runner-up trophy] in your hand, you want the big prize."
Despite Wakefield leading by 19 entering the fourth quarter, it was Woodson leaving with the "big prize." The Cavaliers lost to Lake Braddock in the Patriot District tournament semifinals, but were able to rebound with Northern Region tournament victories against Yorktown, Herndon, South County and Wakefield.
"Woodson has had a great tradition --- 19 district titles in [50 seasons]," Craig said. "There's been something missing there in that region banner [but] we finally got it now."
Wakefield will travel to Richmond to face Northwest Region champion Mountain View in the VHSL AAA state quarterfinals at 5:30 p.m. on Thursday, Feb. 28 at VCU's Siegel Center.
WOODSON WILL FACE Northwest Region runner-up Battlefield at 8:30 p.m. on Friday, March 1 at Robinson.
Craig said he enjoyed cutting down the net after winning a region championship. Now the Cavaliers have a shot at a state title.
"That felt pretty good," Craig said. "Hopefully we can do that again in a couple weeks."