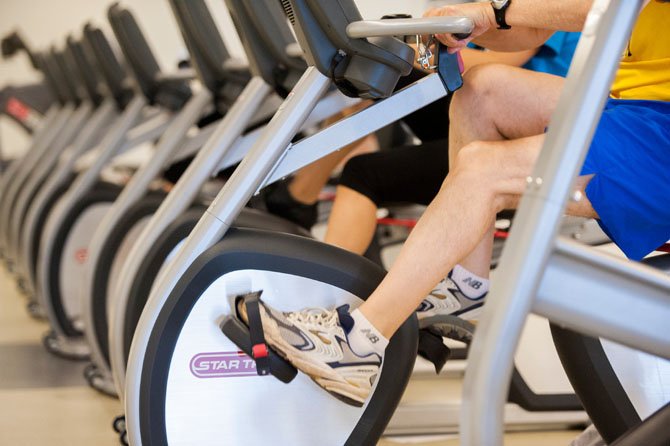 During Martin McKay's annual physical examination shortly before the holidays, his doctor suggested that he consider intensifying his cardiovascular exercise routine.
"It was kind of funny because there's nothing to intensify. I don't do cardio workouts," said McKay, who lives in North Potomac, Md. "I don't work out at all for that matter."
"[P]lan on starting slow, and gradually increasing the number of minutes per week or days per week."
— Joel Martin, Ph.D., George Mason University
The Centers for Disease Control and Prevention recommends that healthy adults get at least 150 minutes of moderate aerobic activity or 75 minutes of vigorous aerobic activity each week. The benefits include weight control and a decreased risk of heart disease. Local fitness experts offer tips for beginning or increasing an aerobic workout.
For those like McKay who aren't engaged in cardio exercises, experts say begin slowly. "The person should plan on starting slow, and gradually increasing the number of minutes per week or days per week," said Joel Martin, Ph.D., professor of kinesiology at George Mason University. "During the initial weeks they should plan on exercising at a low intensity level until their body adapts to the new stress it is being exposed to. Many people make the mistake of pushing themselves way too hard in the beginning and end up getting hurt."
Martin says that those who are not currently engaged in formal exercise should begin by limiting themselves to walking 20-30 minutes each day for two weeks. "The next step would be to mix in some short jogs with their walking regimen," he said. "After that, they can move on to doing several short runs per week. Once they are able to run two to three miles at least three times per week at an easy pace then they can start worrying about increasing the intensity of their runs."
THIS STRATEGY APPLIES not only to running but also cycling, swimming, and other forms of cardio exercise. In fact, Martin recommends that people not limit themselves to one form of exercise.
"Running two days a week and swimming one day would also be a good idea," said Martin. "Performing the same form of cardio everyday also may lead to injury by inducing the same stress on themselves over and over again. Swimming is a good alternative because you can still get a really good cardio workout but the forces your body is exposed to is much lower."
Experts acknowledge that getting aerobic exercise might be more challenging during winter months. "You may not be able to go running or swimming during the cold winter season, but you can do other physical activities like dancing [or] ice skating," said Rosa Ganey, Burke resident and nurse health educator for Fairfax County Health Network. "If you're a member of a gym, try taking classes."
Developing a support system is key to maintaining morale when a workout plan. "Join a walking group or jogging group," said Michelle Walters-Edwards, Ph.D., professor of health and human performance at Marymount University in Arlington.
Stay motivated by setting small goals. "Once a person reaches [the first] goal they should set a new one," said Martin. "For example, running one mile in under 10 minutes would be a good goal for someone just setting out. Once they achieve that they could either set a new goal of one mile in under nine minutes or two miles in under 20 minutes. One of the advantages to someone just starting an exercise program is that they are going to see a lot of improvement initially. Signing up for a 5k that is 6 months to a year away would also be a trick they could use to stay motivated."