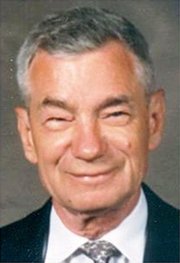 Long time civic and community leader John W. Russell passed away on Dec. 24 at his home. He was 89. Russell is best known to residents as the city's mayor from 1970-1974 and again from 1982-1983.
He was the only mayor in the City of Fairfax to serve two separate terms, before his election to the Virginia State Senate. He was also appointed to the state education board by former Governor George Allen and served on the Fairfax City Council and the city's school board.
"The city mourns Mayor Russell's passing and has lowered all city flags to half-staff in honor of his service to the community," said Mayor Scott Silverthorne, who added that Russell and his father became friends later in life.
"Russell defeated my father for his third term as mayor in 1982 by 148 votes. Later in their lives, both men put their partisan political differences aside and became friends," Silverthorne said. "Mayor Russell was politically shrewd and had a wicked sense of humor, which my father seemed to appreciate when they were no longer rivals on the ballot."
What people may not know about Mayor Russell, Silverthorne said, is that he loved the arts and helped create the Fairfax Art League.
"I recall seeing many of his paintings prominently displayed in Fairfax's Old Town Hall over the years," Silverthorne said.
Russell is preceded in death by his wife of 61 years, Ruth Marie Russell, and his three brothers. He is survived by his two daughters, Kathy Russell and Robyn Marshall (Brad), his granddaughter Heather and his two sisters.
Russell was retired from the Department of Defense where he worked as an intelligence officer. Russell was a long-standing member of the Fairfax U.M.C., and a member of the Optimist Club and the American Legion. A gathering was held at the Everly Funeral Home in Fairfax on Monday, Dec. 31. Interment is at the Fairfax City Cemetery.