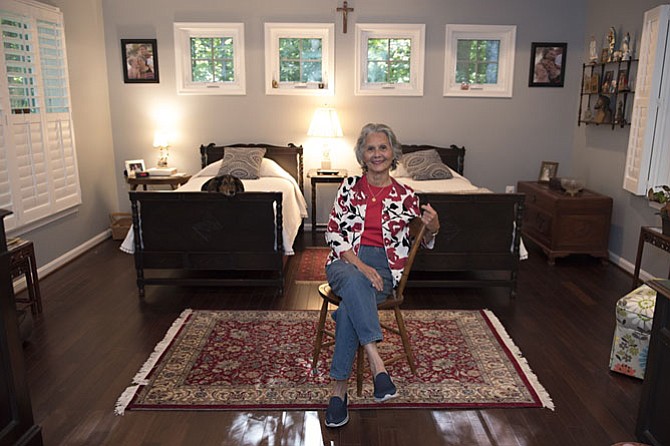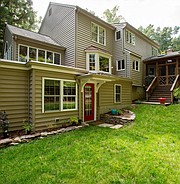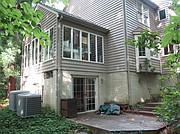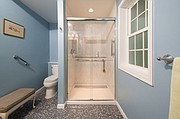 Julia grew up in the Fort Hunt section of Alexandria in a close-knit family. She started dating a neighbor's son, Jack MacInnis, while still in high school and, in time, the two friends married. In the late 1990s Julia's father, Don Clark, died leaving her mother, Lita Clark, alone in the family home. A survivor of the Japanese occupation of the Philippines, Clark (as always) remained upbeat, independent; a loving mother and friend.
Fast forward a few years and Jack and Julia MacInnis own a house not far from Clark with whom they are in daily contact. Then, in 2010 — with two sons growing quickly — the couple purchased a four-bedroom contemporary on a 1.5 acre lot in Fairfax. It's only a half hour drive from Clark, but the timing for a larger house was just right.
In the intervening years, Clark (who turns 84 this month) would visit the MacInnis residence regularly, often staying over one or two nights a week. At this stage, the three of them began actively planning ways to augment the household by building an in-law suite on some part of the existing property. Eventually, attention focused on a side elevation of the existing house which offered views of surrounding wooded acreage.
THE LOT ITSELF presented challenges. The grade sloped radically on the northeast side where the lower-level (the intended site for the new in-law addition) exited from a pair of sliding glass doors to a small deck. Because of the slope, there were potential water run-off problems; also, Fairfax County's building code required that any new construction had to allow for a full 25 feet of "set-back" from the rear of the property.
"We knew an addition of this size on this grade was going to require careful engineering," said Craig Durosko, whose firm Sun Design Remodeling found both the design and structural solutions that would make the project feasible. "Still, it's helpful when the homeowners are proactive in the decision-making process at every juncture."
Added Julia MacInnis: "We were looking for a plan that would provide privacy and independence for Mom, yet also fully incorporate her into the household. We've functioned as a family for our entire lives. Mom helped to raise the boys, and she was raised in a multi-generational culture. We saw this change as a way of creating an expanded environment that would work for everyone far into the foreseeable future."
Clark's new suite would be a 580-square-foot annex constructed outside the existing house directly parallel to the lower level. A sliding glass door that accesses the outside would be converted into an interior pocket door that opens into a downstairs recreation room.
The space plan would consist of a 17-foot-by-17-foot master bedroom surrounded by windows on three sides, a master bath with a walk-in shower and heated floors, and a sitting room/kitchenette equipped with a small refrigerator, a sink and a microwave. The sitting area includes a bistro table for four with a view of the surrounding woodland. The entire household, nonetheless, share meals and kitchen duties together every day. By the same token, Julia and Jack MacInnis and sons (Jackson and Harry) are free to drop-in on Clark just about any time.
"It's a very comfortable, harmonious arrangement," Clark said. "Very much what we hoped for."
That said, engineering the suite's durable footprint was something of a feat.
"Because of the site's grading, we ended up designing a slab foundation with both stem walls and integral footings," said John Benedetto, the addition's lead designer. "To assure structural integrity, there were two concrete pours: one to form the stem walls on the new addition's left side; a second to form the slab with integral footings on which the addition is built."
Footings are placed 30-inches below grade; the slab itself is approximately one foot above grade. The goal: assure that the weight of the new structure is adequately supported — soil compaction being a key part of the equation.
FOR ALL THE DEFT engineering, it's the suite's interior that proves memorable. The three primary living areas were designed specifically to profile heirlooms, furnishings and other personal items that Clark brought from the Fort Hunt residence.
"There were two twin beds that had been in the family for years," Julia MacInnis said. "A chest of drawers, an old vanity. Sun Design used these pieces as focal points for shaping the bedroom and sitting room. And it's not just that everything fits well … but also that the floor plan is well-rationalized. The twin beds, for instance, fit perfectly under high windows that assure privacy, yet allow a lot of natural light. Overall, the entire suite is spacious, and quite comfortable."
On that note, the new addition has been fitted with a mini-split HVAC unit that allows Clark to adjust the suite's temperature to her requirements. Meanwhile, the bathroom has a heated floor with its own thermostat.
The addition's exterior elevations are blended with the existing house. Vinyl siding, fascia and soffits, gutters, and downspouts are all matched. Low-E Argon glass vinyl windows allow for abundant natural light and views while keeping temperatures where the thermostat requires.
In all, a comfortable accommodation … within a thriving household.
Sun Design Remodeling frequently sponsors tours of recently remodeled homes as well as workshops on home remodeling topics. Headquartered in Burke, the firm has a second office in McLean. For more information, call 703-425-5588 or visit www.SunDesignInc.com. John Byrd (byrdmatx@gmail.com) has been writing about home improvement for 30 years.