As the Town of Herndon prepares for the arrival of the Silver Line and changes to its downtown, they've taken an important step in making sure Herndon has its own identity: giving Herndon its own brand.
"The Town of Herndon has always been a place that embraces its history, and we want to embrace the future, with the Metro and changes to the downtown in the same way," said Mayor Lisa Merkel.
The town's Economic Development Task Force was tasked with the idea of finding ways to attract businesses and residents to the town.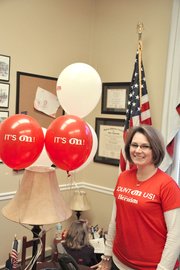 According to their recommendations, published in April 2011, "There is momentum now for crafting a strong, unified message that businesses and residents can get behind and can be used to market the town to its businesses, residents and travelers."
Soon the town hired Trialogue Studio, a Washington, D.C. based branding, design and communications firm, and appointed a Branding Advisory Committee comprising elected officials, marketing executives, town residents and more.
"We had a lot of members that were marketing executives with chief marketing officer-level responsibilities," said Anne Curtis, public information officer with the town, and member of the committee. "That was by design, it helped give a lot of credibility to the outcome."
THE COMMITTEE spent five months in 2012 conducting focus groups, interviews, online surveys and in-person surveys at Reston Town Center to get "a solid objective understanding of how Herndon is perceived," Curtis said.
After their research, they came up with a positioning statement.
"A next generation small town pulses on the edge of Fairfax County. Turn off the highway and find yourself in a place that welcomes innovators, risk-takers, history seekers and family-keepers," it reads. "This is where the roots of history help to grow the ideas of tomorrow."
Trialogue also created a logo for the town, featuring a font that is meant to be both classic and contemporary, as well as a color palette for various uses.
Town business has already been using the new logos on letterheads and business cards, and the town's website was relaunched Monday, Jan. 7 with the new logo in place of the town's seal. Merkel said the town's vehicles, such as public works trucks, will carry the logo soon.
"The logo has gone in place of the town's seal in many places, and people have asked us if that means the seal is going away. It is not," Merkel said. "There's still a place for the town seal, the logo is just more of a marketing tool."
The logo connects the final two letters O and N in Herndon, creating a catchphrase that they hope will be adapted to many different uses.
"We're not Coca Cola, we don't have those kinds of resources to keep coming up with new logos," Merkel said. "As a municipality, we knew this is something that's going to last a while, so we wanted ours to be as adaptable as possible."
Using the "on" as a jumping off point, the town is able to incorporate a number of different activities into the brand. For example, "it's on" for regular events and activities, "lunch is on" for the restaurants or "rock on" for Friday Night Live.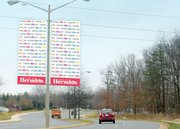 Other proposed slogans are: "come on in" for town welcoming groups, "on the tee" for the golf course, "on your side" for the Herndon Police Department and more.
"We figured this logo is going to be on a lot of signs and other materials that are going to be around for a while, so we didn't want it to be something people can look at and say 'that looks like 2012,'" Curtis said.
TOWN EVENTS like the Herndon Festival have already incorporated the new logo to the website and future promotional materials. Other signature events, such as Friday Night Live, which is run by the Herndon-Dulles Chamber of Commerce, could begin to include the new logo, colors and style guide if they wish.
The town has also sent out packets with information about the logos, should they choose to use it in their future promotional materials.