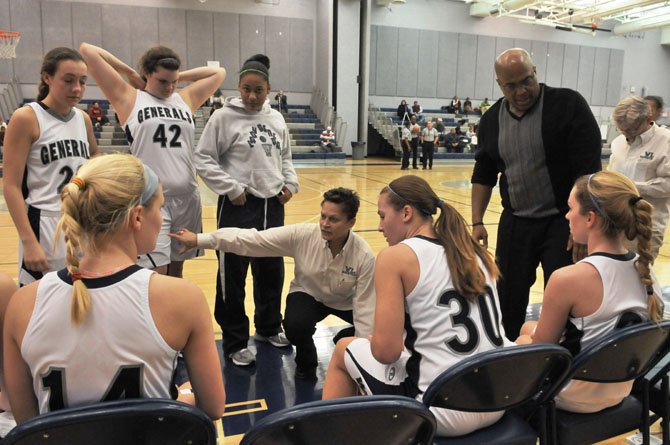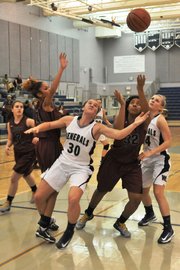 Arlington — Senior guard Ari Urcia buried a jumper from the right corner during the game's opening minute. Junior guard Sarah Bauman's bucket beat the halftime buzzer and the Generals cut down their turnovers from 22 in the first half to 10 in the second.
The Washington-Lee girls' basketball team faced the tough task of hosting Mount Vernon on Thursday. The Majors returned most of their players from last year's team that finished one win shy of reaching the state tournament. They entered the contest with an 11-2 record and were undefeated in National District play. Factor in that W-L's leading scorer, junior Tatianna Torres, sat out due to knee tendonitis and the Generals were left searching for positives.
Positives they found. A win, however, was too much to ask.
Mount Vernon defeated W-L 64-32 on Jan. 17 at Washington-Lee High School. The Generals dropped to 8-8 overall and 4-4 in the National District, but tried to make the most of a difficult situation.
"We played well with what we had and I was very proud of that," head coach Angie Kelly said. "The effort was there the entire game. That's a positive."
W-L fell behind quickly with 5-foot-10 Torres and her 20-points-per-game scoring average on the bench. Facing Mount Vernon's full-court press, the Generals turned the ball over 15 times in the first quarter and trailed 23-5 entering the second. The Majors led 41-10 late in the first half, but sophomore guard Marie Serfis buried a 3-pointer and Bauman beat the buzzer with a bucket to end the half on a positive note for the Generals.
W-L took better care of the ball in the second half, but couldn't put a dent in the Mount Vernon lead.
"The first half, we were kind of frazzled. [At halftime] we said, 'Hey, this isn't us. We're better than this.'"

— W-L senior Ari Urcia
"The first half, we were kind of frazzled," Urcia said. "[At halftime] we said, 'Hey, this isn't us. We're better than this.' Everyone stepped up and we cut our turnovers from 22 to [10], so that was good. People started shooting and taking care of the ball and that's just what it's about — not ever giving up. …
"In the first half, it was kind of catch it and give it away. In the second half, everyone just said, 'I can dribble. We're all good players. We can play.'"
Urcia led W-L with eight points, including a pair of 3-pointers. Serfis and Bauman each scored six points, freshman forward Audrey Bartz and junior center Laura Pastre each had four, and junior guard Janel Moore and sophomore guard Arielle Hogan each had two.
W-L defeated Wakefield 47-41 on Tuesday, improving the Generals' record to 9-8 overall and 5-4 in the district. W-L will travel to face Hayfield at 7:45 p.m. on Friday, Jan. 25.