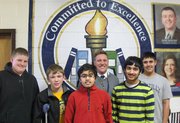 Rocky Run Middle School has just won the 2013 Governor's Award for Educational Excellence. But according to school Principal Matt Eline, "We were just doing what we do all the time."
It's one of just two schools in the state to win this award; the other one is Kemps Landing Magnet School in Virginia Beach. They'll both receive a banner to display, plus a signed resolution of commendation from Gov. Bob McDonnell.
"This is our fourth year in a row winning this award," said Eline. "But this year is extra-special because they've changed the standards so it's even harder to reach the criteria they've set."
To qualify for this award, schools must meet all state and federal achievement benchmarks for at least two consecutive years and achieve all applicable excellence goals for their grade levels. The 2013 award is based on student accomplishment and other performance indicators during the 2011-12 school year.
McDonnell and the state Board of Education announced the winners March 13. "Excellence doesn't just happen; it is achieved through hard work and a commitment to continuous improvement and innovation," he said. "I congratulate the students for the accomplishments these awards recognize and the outstanding teachers and other educators who prepared them to excel."
Eline said SOL proficiency, academics and meeting federal and state No Child Left Behind standards all figure into the award computation. "We also had to have a certain number of students taking algebra — and increase that number each year," he said.
Winning schools had to amass 80 base points in math, English, science and Social Studies and meet all state objectives "for increased achievement and expanded opportunity." And, said Eline, "They also look at how challenging and rigorous the classes are."
Delighted with Rocky Run's performance, he said, "We're really celebrating. We have wonderful, motivated students who want to learn and think it's fun and interesting. We also have a really supportive community of parents, plus incredibly hardworking teachers, truly dedicated to helping kids learn."
And that, said Eline, is the recipe for success — "Great students, supportive parents and a talented staff. You put it all together and you're going to win awards. School is cool at Rocky Run; I'm the luckiest principal in the county to work at a school like this. It really is fun to be here and interact with such great kids."
Eline's also delighted that Rocky Run was one of the two schools in all of Virginia to receive this recognition from the governor. "We're ecstatic," he said. "I'm so proud of everybody, and I think this is something the kids will be very proud of, too. We'll plan something special for them; we need to celebrate as a school and a community."