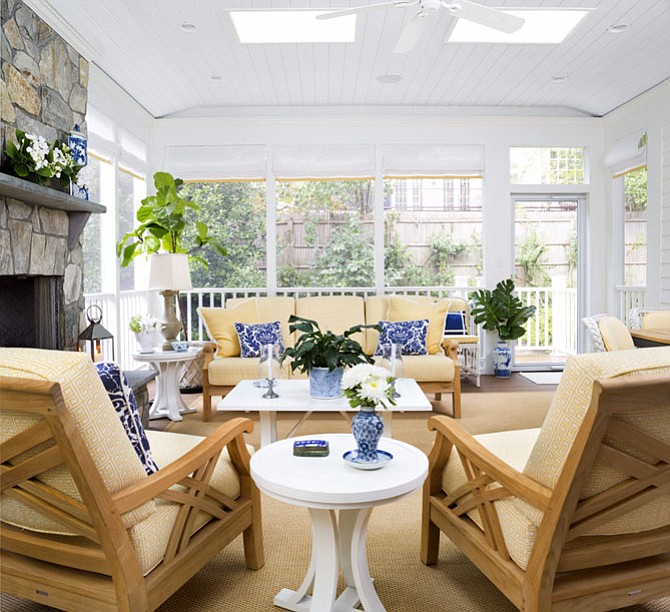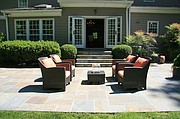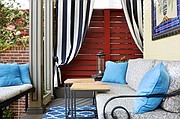 When designing the patio of her McLean home, interior design professor Jean Freeman of Marymount University, relied on the natural surroundings to create a backdrop for her outdoor oasis.
"I have an area in the backyard that has small stones and lounge furniture," she said. "Our backyard is next to Pimmit Run Trail and has lots of trees, some of which I planted. Also, I planted several holly trees so that the area would attract more birds and sometimes the bird chirping gets quite loud and wonderful."
Gentle breezes and mild temperatures are some of the pleasures of spring that beckon many outdoors for parties and family dinners, but turning a winter-worn patio into a space for entertaining can feel daunting. Breathing new life into a landscape dulled by snow and frost or creating an entirely new outdoor space might be easier than it appears.
When considering a patio furniture purchase, avoid the battle against Mother Nature by selecting pieces that can stand up to the elements. "The number one rule in furnishing your patio is to purchase quality furniture," said Anne Walker of Anne Walker Design LLC. "There are a lot of outdoor furnishings that look alike, but they are not all the same. Dedon, based in Germany and Janus et Cie, based in California, make excellent outdoor furnishings that will stand the test of time … [and] will not fade, warp or degrade even if left outdoors in the elements for years.
Less expensive look-alikes will fall apart after just a few years or months of exposure to the elements, continued Walker. "I can't stress it enough: invest in high-quality outdoor furnishings or you will just be throwing your money away. Buy the best you can afford, and work little by little if need be to complete your outdoor space. You won't be sorry."
When choosing fabrics for that furniture, Todd Martz, co-owner of Home on Cameron in Old Town Alexandria, says, "Accessories like pillows and draperies as well as chairs, sofas and rugs are all available in low maintenance fabrics."
Selecting smaller, easy-to-move pieces of furniture over large sectionals will produce a design plan with versatility. "You'll be happy to have the flexibility to move things around when you entertain or when the sun shifts and you want to get into or away from the direct sun," said Walker.
Incorporating potted plants into the landscape design offers versatility. "Mix several sized plants … very large as well as different types of plants in smaller planters," added Kelley Proxmire of Kelley Proxmire, Inc. "Vary the textures as well as the color of green leaves such as ferns, palms and flowering plants."
Use planters to create architectural features like walls and borders. "The plants will add beautiful visual interest, and the planters are moveable, allowing flexibility in use and design," said Walker.
For those who want to build a stone patio, go for variety, but establish a solid base to avoid costly repairs later. "Combinations of flagstone and brick are elegant and more interesting than use of only one type of materials," said Walker. "Make sure you have a professional set your patio in concrete. It's much less expensive to set the stone in stone dust, but within a year or less the stones will begin to shift and weeds will grow through the gaps."
Lighting matters, says Proxmire, and she suggest that when designing or even sprucing up patio, "Use different sources of light [such as] inside-outdoor lamps, different sizes of lanterns, candlesticks with glass hurricanes," she said. "The candles with batteries are great for using outside because the wind isn't an issue."
Now that summer is on the horizon, Walker has a plan for getting her patio guest-ready. "I will power wash with my personal home power washer, plant a few flowers and boom! Ready to entertain," she said. "We love to entertain on our patio. It's our favorite space."