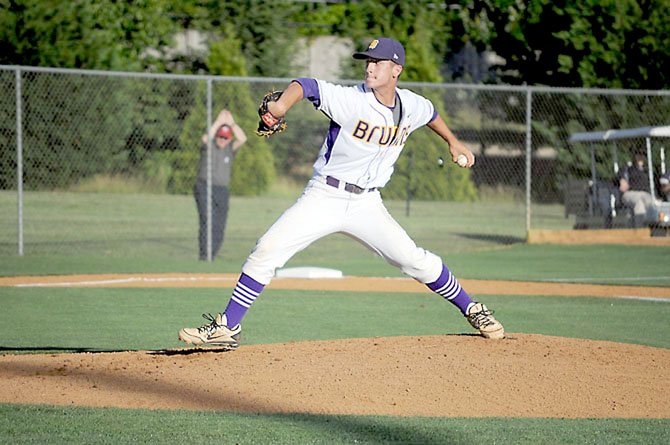 Thomas Rogers played a major role in the Lake Braddock baseball program capturing its first state championship in 2012.
The left-handed pitcher combined with Michael Church to make a formidable 1-2 punch on the mound. The Bruins finished 26-3 and won the Patriot District title. Against Kellam in the state championship game, Rogers, then a junior, tossed a four-hit shutout and hit a home run.
After the season, Rogers had Tommy John surgery on his pitching elbow, which limited his availability during his senior year. Over time, Rogers' pitch count increased and he earned big victories against Madison in the region tournament and Patriot in the state tournament.
While Lake Braddock fell short of repeating as state champion, the Bruins took home the 2013 Northern Region title. After a successful high school career, Rogers, a 2013 Lake Braddock graduate, will pitch for the University of North Carolina. He recently participated in a Q and A with The Connection.
*Connection: What made UNC the right fit for you?
Rogers: Dream school ever since I can remember. Love the campus and coaching staff. Just felt like this was the place for me.
*Connection: What will you study?
Rogers: Business administration
*Connection: Any word on playing time as a freshman?
Rogers: No word on that. Just have to play the fall season and see where I'm at after that.
*Connection: Did you receive a scholarship?
Rogers: Partial scholarship.
*Connection: You originally committed to the University of Georgia. Why the change?
Rogers: I changed because the more I thought about it, I would be way too far from home and my parents wouldn't be able to watch me all the time.
*Connection: What is your favorite memory of playing baseball at Lake Braddock?
Rogers: Going to practice every day and getting to hang out with all the guys.
*Connection: If you could go back and change one thing about your high school athletic career, what would it be?
Rogers: I wouldn't change anything. I had a lot of ups and downs throughout my high school career and it made me the player I am today.
*Connection: You had Tommy John surgery after your junior season. What were your initial thoughts when you found out you needed the procedure?
Rogers: I was a little upset, but the more I read about the surgery and the rehab, I found out most people come back stronger, just like I did. It's sort of a thing of the past. Sometimes I forget I even had it done.
*Connection: How does your arm feel now compared to before the surgery?
Rogers: It's the first time my arm hasn't hurt at all since I can remember.
*Connection: When did you realize playing college baseball was a possibility for you?
Rogers: I honestly thought college baseball was attainable when I was in Little League.
*Connection: What are you most looking forward to about the transition from high school to college?
Rogers: I'm most looking forward to not having classes starting at 7 a.m. every morning.
*Connection: Who is your favorite music artist? Why?
Rogers: Aerosmith, because it can be played at any time and I just love the band.
*Connection: What's your favorite movie? Why?
Rogers: "Step Brothers," because of its constant comedy throughout the movie.
*Connection: What is your favorite hobby outside of baseball?
Rogers: I'm an avid video gamer.
*Connection: What location is the farthest you've traveled from the Washington, D.C. metro area?
Rogers: I went to Hawaii before my freshman year.
--- Jon Roetman