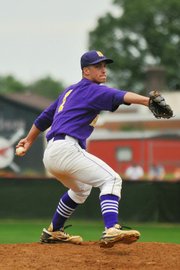 Vienna — Lake Braddock baseball coach Jody Rutherford didn't want to play the "underdog" card, feeling his players wouldn't approve. As it turned out, Rutherford's big-game pitcher already felt the Bruins had something to prove.
Senior left-hander Thomas Rogers, who threw a four-hit shutout in last season's AAA state championship game before undergoing offseason Tommy John surgery, took the mound for the Bruins on Monday afternoon in the Northern Region quarterfinals. His opponent was the Liberty District champion Madison Warhawks, winners of 22 in a row prior to Monday's matchup. Lake Braddock had lost to South County in the Patriot District championship game on May 20 and dealt with injuries early in the season. Despite being the defending state champ, Lake Braddock, on paper, was an underdog.
With the Bruins' season on the line Monday, Rogers was on a pitch limit of 75 as he continues working his way back from offseason surgery.
He made them count.
Rogers kept Lake Braddock in the game, allowing one earned run in 4 1/3 innings, and the Bruins beat the Warhawks 9-6 at Madison High School. Rogers surrendered four runs --- one earned --- on four hits while walking three and striking out six. He threw 74 pitches before being pulled with one on and one out in the bottom of the fifth inning, with Lake Braddock leading 6-3.
"This is an ultra-competitive game and not being out there all the time all year long and being thrown out into a really ultra-competitive game is tough on a kid," Rutherford said. "[Rogers] competed his [butt] off. He just probably needed to control his emotions a little bit more early on. When he's on the mound, our team has the utmost confidence in him."
Lake Braddock earned a trip to the region semifinals, where the Bruins will face Marshall, the Liberty District's No. 4 seed, at 7 p.m. on Wednesday at Madison High School. The winner earns a berth in the state tournament.
Did Rutherford play the "underdog" card prior to Monday's game?
"I didn't really play the underdog card because I think if I would have said that to my guys, they would have looked at me like, are you crazy coach? Where's coach Rutherford? That type of deal," Rutherford said after the Bruins beat Madison. "I just approached it [as] if we're the better team, then it will be decided on the field."
How would Rogers have reacted if Rutherford said the Bruins were underdogs?
"We felt like we had something to prove today and I feel like we proved that."

--- Lake Braddock senior Thomas Rogers
"I probably would have thought since we were the champions last year and nobody was giving us any credit with all our injuries and everything, and it seemed like everybody was overlooking us," Rogers said. "We felt like we had something to prove today and I feel like we proved that."
Lake Braddock struck first with three runs in the top of the first inning. Senior catcher Garett Driscoll ripped a two-run double and Rogers added a sacrifice fly.
Madison responded with two runs in the bottom half and tied the score at 3-all with a run in the third.
Lake Braddock took the lead for good when sophomore second baseman Nick Neville drove in a run with a single in the fourth. The Bruins would extend their lead to 6-3.
Neville, who joined the Bruins this season after moving from Arizona, went 3 for 4 with two RBIs, including a two-out RBI single in the seventh, which gave the Bruins a 9-5 advantage.
"Lefty-lefty, I was just trying to stay back, just trying to drive the ball up the middle," Neville said of his seventh-inning at-bat. "[The pitcher] hung a curveball and [I] just hit it back up the middle."
Madison brought the tying run to the plate in the bottom of the seventh, but Lake Braddock reliever Nick McIntyre ended the game with a strikeout.
Driscoll went 2 for 3. Third baseman Alex Lewis finished 2 for 4 with two RBIs. Center fielder Alex Gransback was 1 for 3 with an RBI.
Logan Claybrook and John Defazio each had two hits for Madison, and Michael Nielson went 1 for 4 with a double and two RBIs.