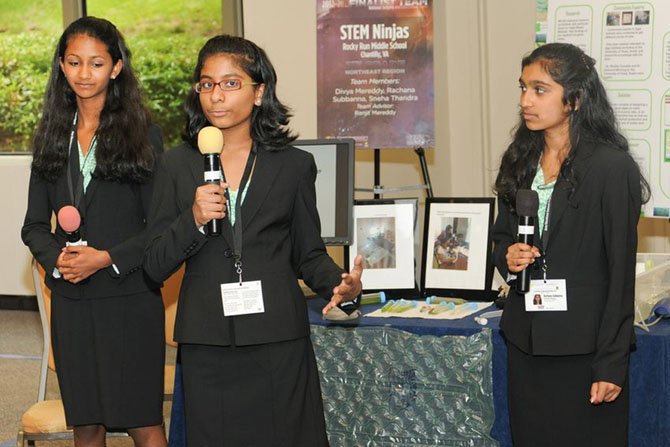 Photo Gallery
Cybermission Success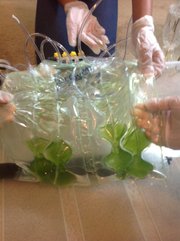 A team of three, seventh-grade girls from Rocky Run Middle School just won the national championship in the U.S. Army's 11th annual eCybermission competition.
Click Photo for Flash
A team of three, seventh-grade girls from Rocky Run Middle School just won the national championship in the U.S. Army's 11th annual eCybermission competition.
Coached by dad Ranjit Mereddy, the members of Team STEM Ninjas are daughter Divya Mereddy, Rachana Subbanna and Sneha Thandra. Each girl received a $5,000 U.S. Savings Bond (matured value), besides the $1,000 bonds awarded to them as state winners in April and the $2,000 bonds as northeast regional winners in May.
"How incredible is that to win a national award? It's very exciting," said former Rocky Run Principal Matt Eline. "I'm very proud of you all," he told the girls afterward. "That is beyond awesome."
The online science contest is designed to cultivate interest in science, technology, engineering and math by encouraging students in grades six through nine to develop solutions to real-world problems. After the June 17-21 competition at the Leesburg National Convention Center, a national champion was crowned in each grade level.
A panel of Army scientists and engineers selected the winners based on criteria including use of scientific method/inquiry or engineering design process, collaborative effort and community benefit.
"Our team worked hard and was very professional," said Mereddy. "The judges were impressed by the team's research focus, live presentation and benefit to the community and nation."
The team investigated algal biofuels derived from algae as an alternative source of energy to replace fossil fuels and foreign oil. "We wanted it used in a car [in place of gasoline] without changing the vehicle's infrastructure," said Rachana.
Earlier, Divya had attended a workshop at the University of Texas, learning about algal biofuels' importance and how to extract them using chemical processes such as transesterification. She also learned how to use equipment such as a centrifuge, and she shared her knowledge with her teammates.
They'd formed their team before she left; then, over the next seven months, Mereddy — who has a biochemistry background — guided them. "My dad and I bought a species of algae called 'chlorella vulgaris' from the university, and it grew quickly in our experiment," said Divya.

"I was interested in the NASA Omega project, taking sewer water and growing algae inside floating bags on that water," she continued. "The object was to produce oil and put it into rockets so they wouldn't have to stop and refuel. Algae are a renewable energy source, so it can keep being recycled."
So, said Rachana, "We found a floating bag in which to grow algae to produce oil. Sneha said it's FP International's Air Cushion bag, used for packaging, but they renamed it FLO-PAC (Floating Photobioreactor for Algal Cultivation).
"They tested three types of plastic bags, and only the air-cushion bag met all their needs," said Mereddy. The girls then used an engineering-design process to create their own, recyclable bag to demonstrate their idea.
"It had to be biodegradable and let in light so algae could grow," said Rachana. It also needed to float and be reusable. Next, they inserted aquarium tubing into it.
"We had an air pump go into the tubing so carbon dioxide could enter," said Sneha. "And a second tube in each bag had oxygen coming out of it. We put cotton at one end so bacteria couldn't contaminate it."
It also prevented the water from escaping, said Rachana. Then they placed their 11x14-inch bag in fresh water inside a small plastic container. To make sure it wouldn't leak, they placed yellow food coloring inside the tubing and let it sit a week. When the water wasn't yellow after a week, they proceeded.
"We inserted the algae into one of the tubes with a syringe to get the algae into the bag," said Sneha. "Then we attached the second, or exhaust, tube inside the bag and let it float inside the bin filled halfway with water."
Eventually, noted Mereddy, "They want to place several, larger versions of the bags on the Chesapeake Bay to clean it up."
Meanwhile, to show they could grow algae and produce oil using their bag, they performed two experiments with three trials each. "In experiment one, algal cells grew in the bags on the water for one week and we counted the number of cells under a microscope," explained Sneha. "They grew from 6 million cells/milliliter of water to 32 million/milliliter of water in one week."
In experiment two, said Rachana, "We tested to see if the carbon dioxide infusion increased algae growth or not. Our results showed it did, so we believe our FLO-PAC works effectively to grow algae."
So how did they turn algae into oil? First, they build an algal biofuels lab with scientific equipment in Divya's home. Then, she said, "We harvested the algae. We poured it out of the FLO-PAC and into a centrifuge and processed it to remove the water. Then we put it into another piece of equipment to crush the algae cell walls to release its oil."
But they still had a mix of algae and oil, so they used transesterification to separate them. And overnight, the oil — or biodiesel fuel — separated from the algae.
"We put the oil in a container, added a wick and lit the wick to see if it would burn brightly," said Rachana. "That meant our oil would burn in engines and would work better than normal gasoline. Since it's made from algae, it produces less carbon dioxide, therefore reducing pollution and the chance of global climate change."
They also surveyed the community and learned that people were agreeable to switching to algal biofuels if they didn't cost anymore than gas. Currently, gas is roughly $3.50/gallon, whereas the alternative is $8-$30/gallon.
"So scientists are working to lower the cost," said Divya. "They say oil is running out in 39 years, so that's why it's important to look at algal biofuels."
Furthermore, said Mereddy, if America produced algal biofuels, "Our soldiers wouldn't have to go overseas to protect our oil dependency on the Middle East." Proud of the girls' accomplishments, he said how thankful they all are to the Army "for sponsoring this competition and providing money toward their college educations."
Team members also received medallions and a huge trophy. "We felt really excited and proud," said Divya. "We worked so hard."
Rachana said all their effort paid off and they were proud to represent Rocky Run. "The competition was tough, but we were confident in what we did," added Sneha.
"At nationals, they had to build and demonstrate their prototype in front of the judges, give an oral presentation and explain their project on a display board," said Mereddy. Noting the growth he saw in each girl and how well they performed as a team under pressure, he added, "I'm very proud of all of them."