Martha Gallagher enjoyed her first trip to the West Coast enough that she decided to plan for a lengthy return.
Gallagher, a rising junior at West Potomac High School, flew to California for a lacrosse camp at Fresno State University in early July. While there, she visited the campus and stayed in a dorm. The coaching staff had shown interest in Gallagher and she enjoyed the West Coast's "laid back" environment and non-humid weather.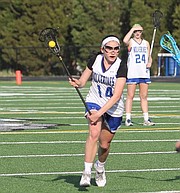 "It was so different over there, but different in a good way," Gallagher said. "I really liked how it was over there."
Gallagher was "scared" at first of the idea of going to college on the other side of the country, and her parents voiced their concerns, but Gallagher felt comfortable in the Golden State. On July 22, Fresno State offered Gallagher a scholarship to play lacrosse. Three days later, she verbally committed and hopes to be admitted into the university's honors college.
"I really loved the campus [and] the coach (Jessica Giglio) is very optimistic," Gallagher said. "… I love the school, I love the other girls that are on the team and I love the coach's philosophies."
Gallagher has played for the West Potomac varsity girls' lacrosse team each of the last two seasons. As a freshman in 2014, she earned second-team all-Conference 7 honors. Last year, as a sophomore, she totaled 19 goals, 15 assists, 21 ground balls, 25 draw controls and 11 caused turnovers in 18 games. She received first-team all-conference honors and was honorable mention all-6A North region.
Gallagher, who played Fort Hunt Youth Lacrosse from first through eighth grade, helped West Potomac reach the 2015 conference championship game under second-year head coach Cindy Lopez-Yusuf.
"She's a very driven player," Lopez-Yusuf said. "I would consider her to be a leader on the team. She's someone who leads by example in terms of play on the field [and] how driven she is. She's definitely an integral part of the team."
Gallagher, who also plays basketball for West Potomac, is the second player to commit to a Division I school during Lopez-Yusuf's time with Wolverine girls' lacrosse program (2014 graduate Jordyn Elliott plays for Winthrop). Lopez-Yusuf said players like Gallagher committing to Division I colleges can help build the West Potomac program, and possibly convince local athletes who are considering private schools to attend West Potomac.
"It absolutely is good for the program," Lopez-Yusuf said. "We're in a position where she's kind of trailblazer. Other girls can see her do it and say 'I can do it.' … Other girls can look up to her. … Girls considering going to West Potomac or a private school … they'll see that they can [play Division I lacrosse] by being a part of this program. You can play at the next level by being a part of West Potomac."
Gallagher was also voted to be junior class president for the 2015-16 school year.
"We're incredibly proud of her," Lopez-Yusuf said. "She's a player that we know can play at the next level. The fact that she went out and pursued this opportunity and is taking advantage of the opportunity that's given to her … [is] great."